The shortest way to reach Kedarnath is from Rudraprayag to Gaurikund, the distance is 78.9 km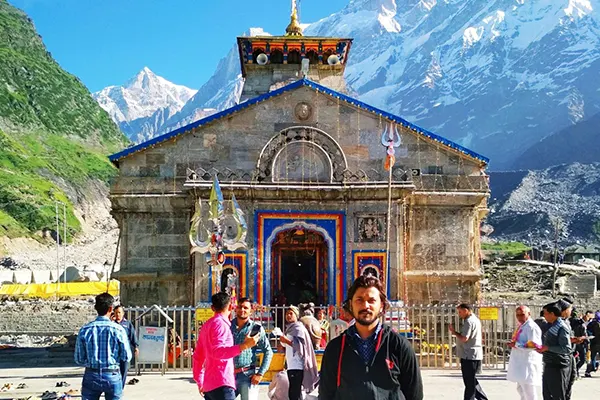 Kedarnath is a well-connected pilgrimage linked with the important places of Uttarakhand. Getting there is not a difficult task. However, the trek to Kedarnath can be a little tough due to its rough terrain, but it's adventurous. People who are always excited to get a thrill, then this religious place is for you. Kedarnath Temple provides various Route Maps from which you can choose the best route suited. How to reach Kedarnath – There are multiple options to reach Kedarnath, either take a route via Rishikesh, Haridwar or Dehradun and reach the pious destination with ease. Get on the best-suited mode of conveyance – Road, Train, or Helicopter and explore the most charismatic sight of Lord Shiva.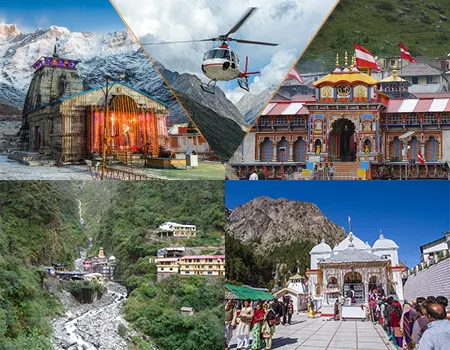 Kedarnath Location: 30°44′6.7″N 79°4′0.9″E
Kedarnath State: Uttarakhand
Kedarnath District: Rudraprayag
Kedarnath Height: 3,583 m (11,755 ft)
Kedarnath Temperature: 5.1°C
Kedarnath Weather: Extreme Cold
Kedarnath Nearest Railway Station: Rishikesh Railway Station
Kedarnath Nearest Airport: Jolly Grant Airport, Dehradun
Best Time to Visit Kedarnath: May-June, September-November
Kedarnath Temple Opening Date 2023: 29th April 2023, the eve of Akshay Tritya
Kedarnath Temple Closing Date 2023: 29th Nov 2023 (Tentatively)
Kedarnath Dham Darshan Time Table: 6:10 Am
Kedarnath Dham is located in a pristine town of Rudraprayag District of Uttarakhand. The pilgrimage is the most important among Panch Kedars. The Dham is nestled at the bank of River Mandakini, near the Chorabari Glacier, Kedarnath is flanked by snow-capped peaks. Millions of devotees pay a visit to Lord Shiva in Kedarnath who is considered as Purifier and destroyer. To visit Kedarnath Dham catch a train from the nearest Railway Station to Kedarnath which is Rishikesh Railway Station, or Catch a flight from the nearest Airport to Badrinath which is Jolly Grant Airport in Dehradun.
How to go Kedarnath Temple: For reaching Kedarnath, you can avail of any way to Kedarnath via Road, Rail, or through Air. You can avail easy access to the Do Dham yatra by helicopter service that are available from Dehradun. After reaching to the nearest point of Kedarnath, get on the 18 km Kedarnath trek route from Gaurikund. From Dehradun, Gaurikund is located at a distance of 250 km. Catch a train from Rishikesh, the nearest railway station to Kedarnath with a distance of 209 km or board a flight from the Jolly Grant Airport in Dehradun. If you take on the route to Kumaon Region in Uttarakhand, then Haldwani will be the tourist spot with a distance of 317 km from Gaurikund.
If devotees coming from various directions of India, such as Ahmedabad, Pune, Mumbai, Hyderabad, Chennai, Kolkata, then firstly, reach at Rishikesh via Delhi and refer the best Kedarnath Yatra Route Map Guide for the fastest way.
Let's check-out the best possible Route to reach Badrinath Temple.
Kedarnath Yatra By Road
How to reach Kedarnath temple: Kedarnath Dham is well-linked by accessible roads that are connected by major destinations of Uttarakhand. You can get easy availability of road transport such as buses or taxis to SonPrayag or Gaurikund from the important cities or towns in Uttarakhand such as Haridwar, Rishikesh, or Srinagar. There's no direct Haridwar to Kedarnath Bus to reach the most invigorating place of India.
From Gaurikund, trek on the 16 km route that is usually 4-5 hours while walking or riding on Mule. Only a few vehicles can be parked at Gaurikund, so it is advisable to break your journey at Sonprayag which is 5 km from Gaurikund.
Kedarnath Yatra can be traveled via Road, start your Travel from Delhi NCR.
Kedarnath Yatra By Train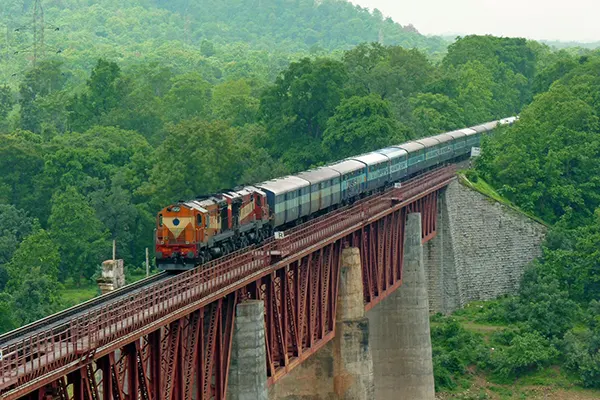 How to reach Kedarnath Dham: The nearest Railway Station to Kedarnath Temple is Rishikesh Railway Station that is located at a distance of around 229 km from Kedarnath on NH107. Rishikesh Station is well-linked to Indian Railway Network and connected with most major points of India. Frequent trains are available to Rishikesh or Dehradun from Delhi. You can select either way to reach Kedarnath dham Mandir.
Kedarnath Yatra Route by train starts your travel from the Delhi Railway Station-
Kedarnath Yatra by Helicopter
How to reach Kedarnath by Air: The most comfortable Kedarnath Yatra Route is by Air. Jolly Grant Airport, located in Dehradun is the nearest airport to Kedarnath Dham. The Airport is situated at a distance of around 103 km from the temple. This airport is well-connected to Delhi and other major ports of the country by regular flights. You can also avail Helicopter services by Sahastradhara Road in Dehradun and reach directly to either Sonprayag or Gaurikund, continue your trip to Kedarnath Yatra by trekking on foot or hire a pony.
Kedarnath Yatra Route by Air starts from the Delhi Airport-
Kedarnath Popular Route
You can also choose to travel through the most popular Route to Kedarnath Mandir. You can either take a route from Haridwar to Kedarnath, Dehradun, or Rishikesh from Delhi. Reach to the next destination to Guptkashi or Sonprayag, where you can park your vehicle and continue your journey by trek route to Kedarnath via Sonprayag or Gaurikund to Kedarnath.
LIH the best tour agency in India for Chardham Yatra invites you to pay a visit to Kedarnath Yatra by Char Dham Yatra by Helicopter with your family. Make your trip so easy and comfortable by taking helicopter services from Sahastradhara Road which is located at Dehradun. Do not bother the high rough landscape of Kedarnath Temple, fly high with your high spiritual spirits and chant the name of Lord Shiva with complete devotion and make your Kedarnath Yatra a wonderful experience with LIH.travel. Get your Kedarnath Yatra Registration done now!
Kedarnath Dham is the most popular Adobe dedicated to Lord Shiva, nestled in the great Himalayas at an altitude of 3,584 meters above sea level. The place is located in a compact town and guarded by Nar and Narayan Mountain Range. Here's the whole guide to How to Reach Kedarnath Temple by Road, Train, or Helicopter via various Chardham Yatra Routes. Do explore nearby best places to visit in Kedarnath Yatra such as Gandhi Sarovar or Chorabari Tal, Vasuki Tal, and more. Get your bookings done now and create an unmatched experience of trekking on snow-capped mountains with LIH.travel.