Chardham is one of the holy places in India, which is a set of four most religious destinations in India. They are Badrinath, Kedarnath, Gangotri, and Yamunotri. It is believed that visiting Chardham yatra will remove all your sins that you have done and give you moksha from the cycle of birth and rebirth. Chardham Yatra is known for its deep spirituality and alluring beauty that gives you some peaceful moments with yourself in the charming beauty of the Himalayas covered with snow. Other than these temples, there are some other Chardham yatra places to explore.
Chardham yatra is a peaceful journey between the mountains covered with snow, but this journey requires a lot of physical strength as well as mental strength. So, to explore the spiritual journey with ease, we recommend you book the Chardham tour package by helicopter from Dehradun. Book Chardham Yatra for VIP Travellers to enjoy all of the luxurious facilities and comfy accommodations with VIP Darshan.
If you want to explore this beautiful journey, don't miss these Chardham yatra places to visit during your trip. But before exploring these places, know the best time to visit Chardham Yatra so that you can enjoy the fullest. Furthermore, You can also book the Chardham Yatra Package from Mumbai and take a direct flight from Dehradun after completing your yatra by helicopter or bus and taxi services.
Chardham Yatra by Helicopter

Do Dham Yatra by Helicopter
Chardham Yatra Places to Visit during Yamunotri Yatra
1. Surya Kund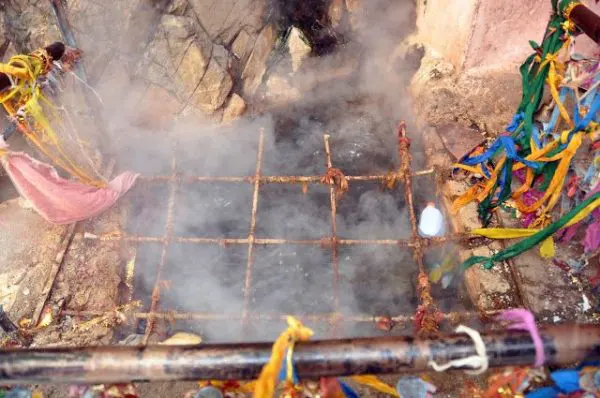 Surya Kund is one of the major attractions, which is situated near the main temple. It is a place. All tourist stops here to pay respect to the sun, which is the father of Yamuna. Surya Kund is a thermal hot water spring whose temperature is 88 degrees, and it has some medicinal properties which give relief to travelers after hectic travelling and cures skin diseases and joint problems after taking a dip in this water.
2. Saptrishi Kund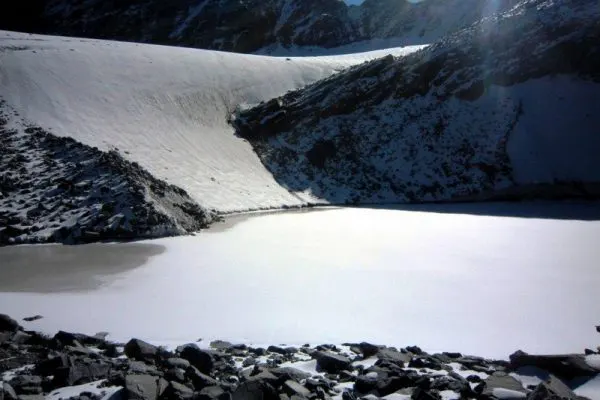 This kund is situated 10 km away from the Yamunotri temple. It is surrounded by Brahma kamal, which is a rare Himalayan flower. This Saptrishi kund is named after the seven great rishis who performed penance and yoga here. This kund was spotted with the help of a travel guide as this lake is situated in a remote area. You will get to see the alluring view here. Saptrrishi Kund is a must-visit Chardham yatra place.
3. Divya Shilla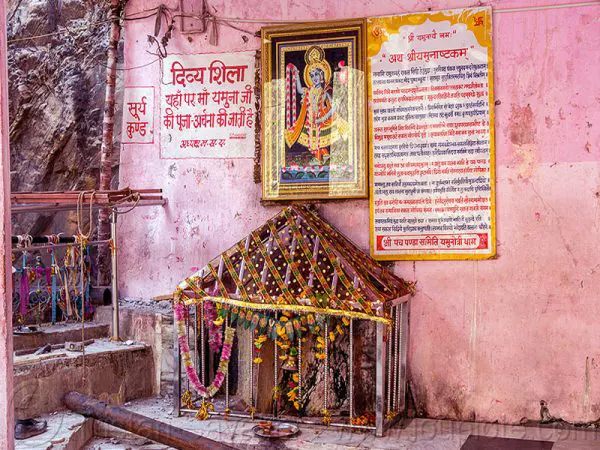 Situated near Surya Kund, Divya Shilla is a strong rock pillar. Before entering it Yamunotri temple, people will pay homage to this pillar. This place has a mythological significance.
Chardham Yatra Places to Visit during Gangotri Yatra
4. Harsil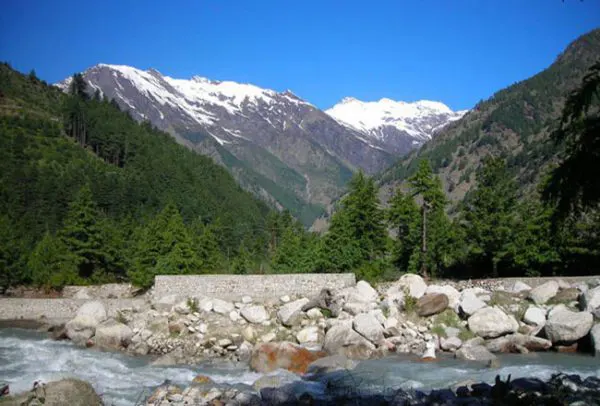 Harsil is one of the main preserved gems of the Himalayas, located within walking distance of just 25 minutes from the Gangotri temple. Surrounded by tall, lush green trees and snowbound peaks. The accommodation option is also available in harsil, and the idol of goddess Ganga is brought here to the temple after the main gate of Gangotri is closed. This is one of the famous tourist places to visit, Chardham Yatra.
5. Jalmagna shivling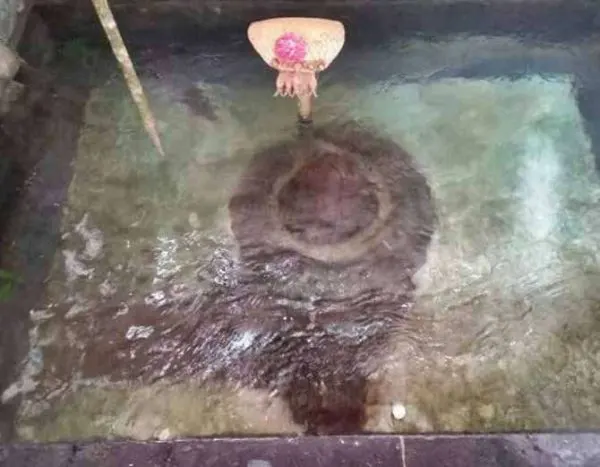 It is believed that this is where lord shiva held the river Ganga in his matted locks before flowing. This Shivling or idol of lord Shiva has half-submerged inside the clear water during the time of summer when the sea level rises too much. If you want a different experience, then definitely visit this Jalmagna Shivling.
6. Gangotri National Park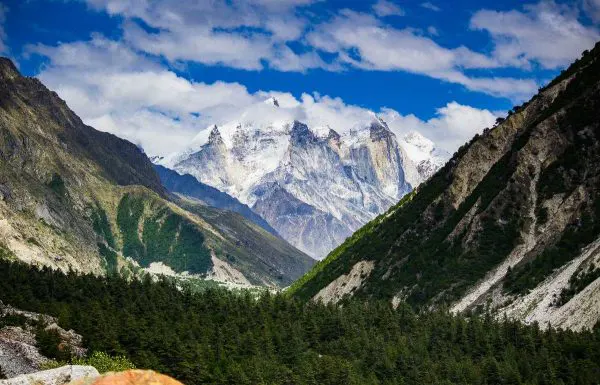 Gangotri National Park is one of India's most popular high-altitude wildlife sanctuaries situated in the Uttarkashi district of Uttrakhand. It is the third-largest wildlife sanctuary in Uttrakhand. Its habitat consists of alpine meadows, glaciers, and coniferous forests. This national park is home to a vast collection of flora and fauna. One of the major attractions of this national park is the Gurmukh glaciers, which are the origin place of the river Ganga. Gangotri National Park is one of the Chardham yatra places to visit during your Journey.
7. Guptkashi and Uttarkashi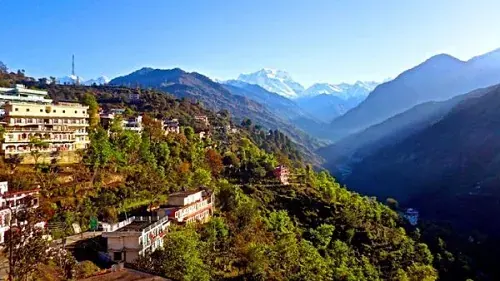 Guptkashi is situated in the Northern Himalayan belt within the Mandakini Himalayan valley, famous for the Vishwanath temple dedicated to lord shiva.
Uttarkashi has a lot of temples and ashrams and is the home of the national mountaineering institute. It is known as the "Kashi of the north." You can also visit the Kashi Vishwanath temple here, which is very popular among devotees. Stay here for a day and explore the attractions of Uttarkashi.
The best way to Reach Gangotri Dham either take a route via Haridwar, Dehradun, or Rishikesh by riding on the best-suited mode of travel – Road, Train, or Helicopter and visit the most sacred sight of Goddess Ganga.
Chardham Yatra Places to visit during Kedarnath Yatra
8. Gandhi Sarovar/ Chorabari tal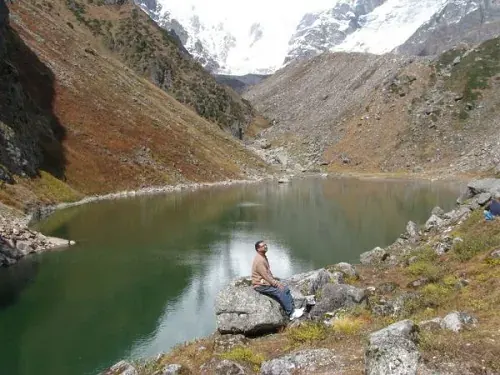 Gandhi Sarovar is named after Mahatma Gandhi when his ashes of him were immersed here. Situated 4 km away from the Kedarnath temple and altitude of 3,900 meters above sea level. This small lake holds crystal clear water, and it is believed that the lord Shiva has imparted his knowledge of yoga to Saptrishis. The trek of Gandhi Sarovar is beautiful and comfortable through the grassy fields. You get to see the beautiful Madhu Ganga waterfall on the route. Here, you get to see the beautiful view of the Himalayas covered with snow. Gandhi Sarovar is a wonderful Chardham yatra place. There are several ways to Reach Kedarnath reach by Road, by Train, or by Air.
9. Vasuki Tal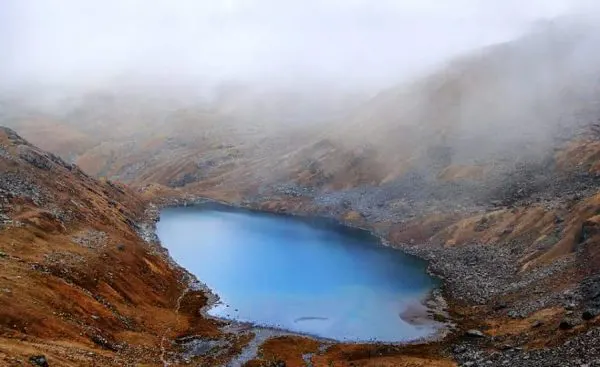 This lake is situated 5 km away from Kedarnath, and the altitude is 4,328 meters above sea level. Vasuki Tal is one of the most fantastic trekking destinations for adventure lovers. The crystal clear, glimmering melting water from the mountains nearby drains into this lake, giving you the most stunning view. Vasuki Tal is named after his shape, which resembles the snake Vasuki, which is coiled around the neck of lord Shiva. A fantastic view of Chaukhamba peaks has been seen from Vasuki Lake.
Also, Check the best time to visit Kedarnath Yatra is in the summer months of May & June and September & October (the beginning of winter)
Chardham Yatra Places to visit during Badrinath Yatra
Badrinath Dham is located in a small town in the Chamoli District of Uttarakhand. The place is beautifully nestled in the Garhwal Himalayas on the banks of the River Alaknanda. If you want to Reach Badrinath, you can avail of any option by Road, Rail, or through Air. The best time to visit Badrinath Dham is in the months between May and June and September and October.
10. Bheem Pul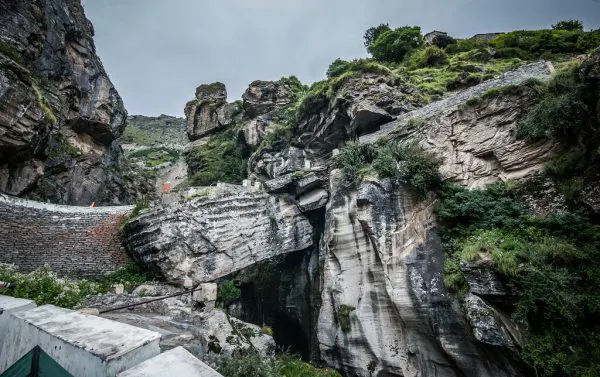 It is built over the Saraswati River and situated in the Mana village, which is the last village in India. This pul is named after one of the Pandava brothers, Bheem, who made this bridge for his loving wife, Draupadi, who was unable to cross the river. Bheem decided to fill the gap, and then he made this pul with the help of mountain rock near it. Bheem Pul is one of the prime tourist locations near Badrinath. Bheem Pul is among the Unusual Chardham yatra places to Visit.
11. Vasudhara falls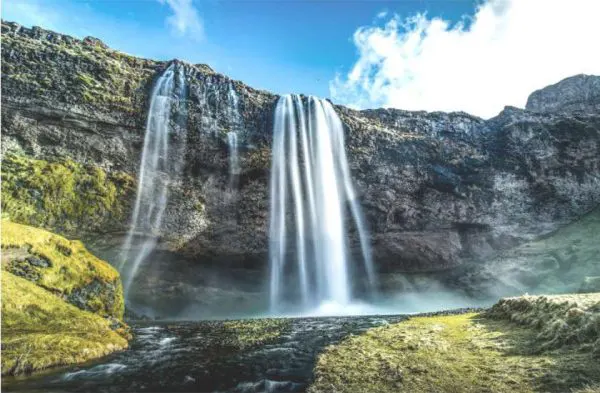 If you want to experience the true spirituality of Badrinath, then you should definitely visit here. It falls from an incredible height of 400 feet. This journey opens from the second week of May to October and November. Vasudhara Falls is an astonishing trek for anyone who is in search of adventure in your spiritual yatra. This fall is 9 km away from the temple and offers a fantastic view of majestic mountains.
12. Valley of flowers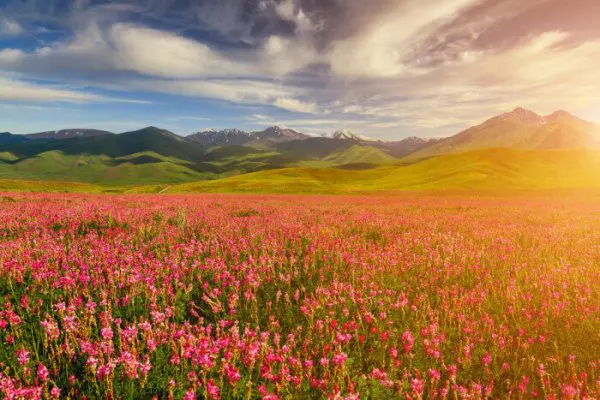 Valley of Flowers is Located near Badrinath Temple. This valley of flowers is a must-visit destination to explore if you have any time on your journey to Chardham Yatra by helicopter in 2023. The Valley of Flowers is visited during the summertime from May to July, and some people also visit Hemkund Sahib from here. Valley of Flowers is one of the beautiful places to visit on Chardham yatra.
13. Auli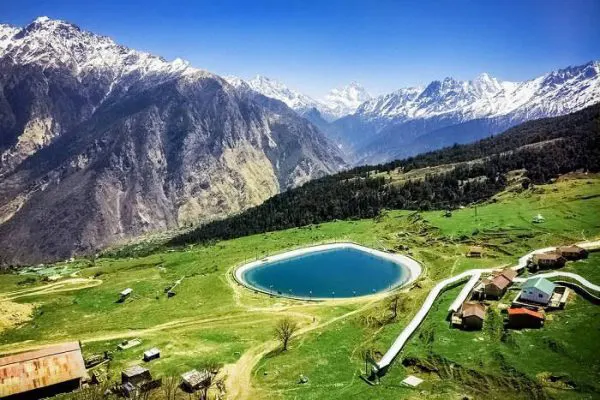 Located near Joshimath en route to Badrinath Dham, Auli is one of the beautiful hill stations at a height of 2,500 meters, where a lot of winter games have been played. You will see a magnificent view of Mana Parvat, Kamat and Nanda Devi from here. People from foreign countries who are professional skiers visit here to enjoy the thrill of the slopes. Auli is a beautiful Chardham yatra place to visit.
Other Chardham Yatra Places to Visit
Other Places to Visit in Chardham Yatra
Mana Village
Brahma Kapal
Gaurikund
Nilkantha Peak
Badrinath Temple
Kanch Mahal
Alkapuri
Sunset Point
Deoria Tal
Tapt Kund
Kalimath
Kharchakund
Yog Dhyan Badri
Sonprayag
Adi Shankaracharya Samadhi
Triyugi Narayan Temple
Kedarnath temple
Chandrapuri
Bhairavnath Temple
Kedarnath Peak
Anusuya Devi Temple
Madhyamaheshwar Temple
Gangotri Temple
Tapovan
Nandanvan
Gangnani
Nelong Valley
Yamunotri Temple
Bali Pass Trek
Bali Pass Trek
Barkot
Janki Chatti
Hanuman Chatti
Divya Shila
Rudraprayag
Hemkund Sahib
You can also check out the package of Do Dham yatra by Helicopter if you want to travel to Kedarnath & Badrinath. LIH.travel provide Yatra on the same day and the 2 Nights and 3 days option for the tour. And for someone who is interested in travelling by Road, LIH provides you with a Chardham Yatra package from Haridwar for 10 days and 9 nights.
Above is a list of Chardham yatra places to visit, so enjoy and explore the various places on your Chardham yatra.
Other Chardham Packages
---
Chardham Yatra Travel Guide