"The fastest way to reach Gangotri is from Rishikesh to Gomukh, the distance is 117 km"
Gangotri Dham can be reached by road, plane, train, or trekking. The nearest airport is Jolly Grant Airport in Dehradun and the nearest railway station is Rishikesh, and the nearest city is Uttarkashi. From these places, you can take a cab or a bus to reach Gangotri. Another way to get to Gangotri is by hiking through Gangotri National Park. It should be noted that Gangotri Dham is closed during the winter months due to heavy snowfall.
Gangotri Location: 30.98°N 78.93°E
Gangotri State: Uttarakhand
Gangotri District: Uttarkashi
Gangotri Elevation: 3,415 meters (11,200ft)
Gangotri Height: 3,100 meters (10,200ft)
Gangotri Temperature: 8°C
Gangotri Weather: Extreme Cold
Gangotri Nearest Railway Station: Rishikesh Railway Station
Gangotri Nearest Airport: Jolly Grant Airport, Dehradun
Best Time to Visit Gangotri: May-June, September-November
Gangotri Temple Opening Date 2023: 26th April 2023, the eve of Akshay Tritya
Gangotri Temple Closing Date 2023: 15th Nov 2023 (Tentatively)
Gangotri Dham Darshan Time Table: 6:10 Am
Gangotri Dham is located in the magnificent town of Uttarkashi District of Uttarakhand. The holy pilgrimage is located at the banks of River Bhagirathi and cuddled by the Garhwal Mountains at a height of 3,100 meters. The beautiful place is flanked by snow-capped peaks with the most enchanting flow of Mother Ganga. The revered place is inhabited by 600 people residing downhill 19 km from Gangotri Glacier. To learn how to reach Gangotri Dham- You can either catch a train, bus, or flight from Delhi and reach the desired destinations, such as Dehradun, Rishikesh, and Haridwar, or you can avail of the Chardham Yatra by helicopter from Leisure India Holidays which is the Best Tour and Travel agent in India for Chardham Yatra that gives you comfortable Helipad services throughout the journey. Furthermore, Book Chardham Yatra for VIP Travellers for all the luxurious facilities, comfort, and efficiency tailored for VIP travellers seeking a remarkable pilgrimage experience.
How to reach Gangotri Dham
To reach Gangotri Dham, you can take it anyway to Gangotri via Rail, Road, or Air. There's also easy access to Dham by availing of Helicopter services that are available from Dehradun to Harsil (the nearest helipad spot). However, if you are coming by road or train, you can either catch a bus or taxi to reach Gomukh, the starting point of the trek route. Get on to the trek of 18 km on foot or hire a pony from Gomukh. From Rishikesh, Gomukh is located at a distance of 117 km. The nearest Railway Station to Gangotri is Rishikesh, with a distance of about 266 km, and the nearest airport from Gangotri is the Jolly Grant Airport in Dehradun. Further, before you leave, check the best time to visit Chardham Yatra for weather conditions and other crowd conditions.
Chardham Yatra by Helicopter

Do Dham Yatra by Helicopter
If you are coming from diverse directions of India, such as Mumbai, Pune, Kolkata, Chennai, Hyderabad, and Ahmedabad, then you need to reach first at Rishikesh via Delhi and also refer to Chardham Yatra Route Map Guide for the shortest way to reach Gangotri. Further, you can reach Chardham from Mumbai from Lih Travel with Chardham Yatra Package from Mumbai.
Let's check out the best possible route to reach Gangotri Temple.
Gangotri Yatra By Road
The Gangotri Dham is well-linked by accessible roadways that connect the major cities of Uttarakhand. Buses are easily available to Dehradun, Rishikesh, Haridwar, or Srinagar from Delhi, ISBT Kashmiri Gate. You can also reach Gangotri Yatra By Road by hiring a cab or taxi directly to the destination or the nearest point of the Dham. Take the next Haridwar to Gangotri bus services via Uttarkashi or Gomukh, the nearest accessible route to Gangotri. Next, walk on the shortest Gangotri trek route of 18 km from Gomukh. You can either hire a pony, or mule or be a part of devotees in Kawad Yatra trekking on foot.
LIH.travel provide the best Chardham Yatra package from Haridwar for a Comfortable car destination from one place to another, for local sightseeing as per itinerary, and Meals included as per package (Breakfast+Dinner), and many more.
Start your Travel to Gangotri Yatra by Road from Delhi NCR.
Gangotri Yatra By Train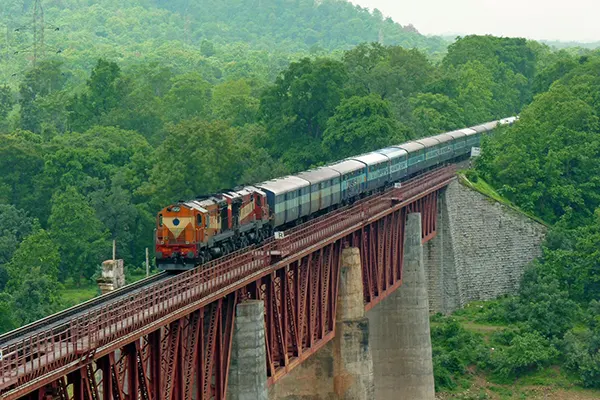 How to reach Gangotri Temple: if you reside in any part of India, you need to first reach Delhi and start your Gangotri Yatra. The train route is the safest route to travel on, you can catch a train from Delhi either to Dehradun, Rishikesh, or Haridwar. After reaching the destination, catch a bus or hire a taxi to Uttarkashi or Gomukh due to are no train facilities for the further trip. After reaching Gomukh, trek on foot or hire a mule or a pony. The trekking route to Gangotri passes from Gangotri National Park.
The Route of Gangotri Yatra by train starts from the Delhi Railway Station-
Gangotri Yatra By Helicopter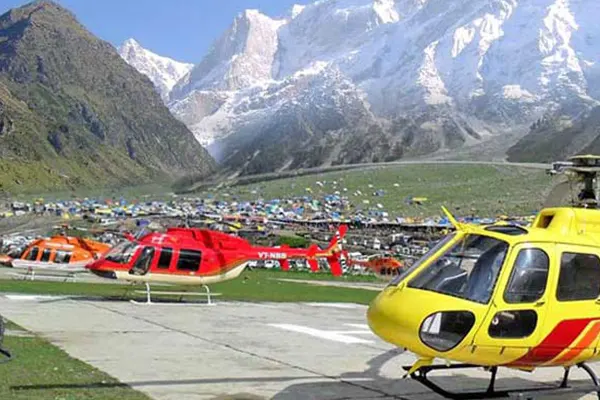 How to reach Gangotri Yatra by Air: The fastest way to reach Gangotri is by Air. You can start your journey by boarding a flight from Delhi Airport to Jolly Grant Airport in Dehradun. Hire a cab to Sahastradhara Road and catch a short helicopter flight to Harsil (the nearest helipad center to Gangotri). From Harshil catch a taxi or a sharable jeep to Gomukh and continue your journey by trekking to Gangotri Dham.
The Route of Gangotri Yatra by Air starts from the Delhi Airport-
This way, you can plan an awe-inspiring trip to Gangotri Temple. You can make your trip easy and more comfortable by booking for Gangotri Yatra by helicopter with LIH.travel. You can avail of any mode of travel to reach Gangotri Dham that fits your budget. The journey to Gangotri Mandir is very adventurous, and the best time to visit Gangotri is during summer due to its pleasant weather in April-June and October- November. You can explore nearby best places to visit in Gangotri Yatra, such as Harsil, Jalmagna Shivlinga, or Guptkashi & Uttarkashi. Moreover, sightseeing will spellbind you with its natural charisma. With the gushing sound of River Ganga, take the best experience of trekking on the hinterlands of the Himalayas and get your Gangotri Yatra Registration done in advance.
You can also look at our top-performing package of Do Dham yatra by Helicopter if you want to Reach Kedarnath and Badrinath in a single day.
What else to do near by Gangotri Dham?
Gangotri Dham is a famous Hindu pilgrimage site in the Uttarkashi district of Uttarakhand. When visiting Gangotri Dham, there are many other attractions to see in that area. Here are some options:
Gaumukh Glacier: The Gaumukh Glacier is the source of the Ganges and is a famous hiking area.
Tapovan:- This is a high-altitude mountain meadow with breathtaking views of the Himalayas.
Kedar Tal:- A beautiful high mountain lake surrounded by snow-capped mountains, located about 17 kilometres from Gangotri.
Harsil:- A lovely community around 24 kilometers from Gangotri, famous for its apple orchards and natural beauty.
Uttarkashi:- Uttarkashi is a city located 99 kilometers from Gangotri, known for its ancient temples and beauty.
Yamunotri:- Another important Hindu pilgrimage site, about 200 kilometers from Gangotri.
Nelong Valley:- A beautiful valley about 50 kilometers from Gangotri, known for its animals and scenic splendour.
FAQs
Q. How far is Gangotri from Kedarnath by Road?
The distance between Gangotri to Kedarnath by Road is around 408 kilometers.
Q. How far is Gangotri from Yamunotri?
The distance between Yamuntori to Gangotri is 227 Kilometers.
Q. How can I go to Gangotri from Haridwar?
There are no direct flights or trains from Haridwar to Gangotri. The road is the most convenient and cost-effective route to get from Haridwar to Gangotri. You can take a cab or bus from Harrawala to Gangotri.
Q. Is a Mobile network available in Gangotri?
Airtel has offered seamless 4G/3G/2G connectivity for pilgrims in Kedarnath, Haridwar, Gangotri, and Yamunotri.
Q. How to reach Gangotri from Rishikesh?
The distance between Rishikesh to Gangotri by road is around 270 Km.
Q. How far is it from New Delhi to Gangotri National Park?
The distance between New Delhi and Gangotri National Park is 401 km.
Q. What is the best time to visit Kedarnath?
The best time to visit Kedarnath is in the months of May & June and September & October.
Q. What is the best time to visit Badrinath?
The best time to visit Badrinath is in the months of May & June and September & October.
Other Chardham Packages
---
Chardham Yatra Travel Guide