The fastest way to reach Badrinath is from Rishikesh to Rudraprayag, the distance is 141 km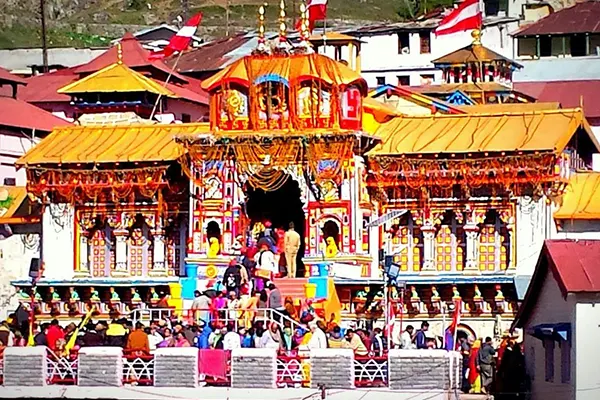 Badrinath is a well-developed pilgrimage linked with major cities & towns in Uttarakhand. Getting there is not a difficult task, the pilgrimage provides the diverse Badrinath Yatra Route Map where you can choose the best route suited. Either take a Route to Badrinath via Rishikesh, Haridwar or Dehradun and reach with ease. Get on the best-suited mode of transport (Road, Train, or Helicopter) and reach the most enchanting Shrine of Lord Vishnu in your Badrinath Yatra.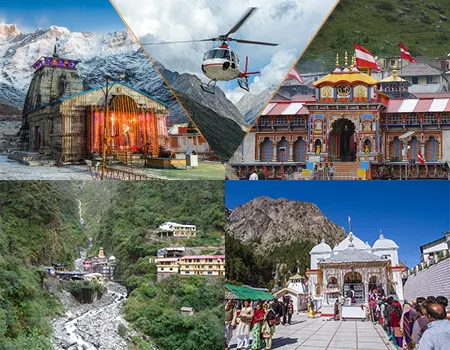 Now the best route in How to Reach Badrinath Temple.
Badrinath Location: 30.744°N 79.493°E
Badrinath State: Uttarakhand
Badrinath District: Chamoli
Badrinath Elevation: 3,300 meter (10, 830ft)
Badrinath Avg Temp: 15°C
Badrinath Weather: Cold
Badrinath Nearest Railway Station: Rishikesh Railway Station
Badrinath Nearest Airport: Jolly Grant Airport, Dehradun
Best Time to Visit Badrinath: May-June, September-November
Badrinath Temple Opening Date 2023: 28th April 2023
Badrinath Temple Closing Date 2023: 30th Nov 2023 (Tentatively)
Badrinath Darshan Time 2023: 4:15 am to 1:00 pm
Badrinath Dham is located in a small town in the Chamoli District of Uttarakhand. The place is beautifully nestled in the Garhwal Himalayas on the banks of the River Alaknanda. Charistmatically, the small town is located about 9 km east of Nilkanth Peak and nestled between the Nar & Narayan Mountain Ranges. Get on a train from the nearest railway to Badrinath which is Rishikesh Railway Station, or Catch a flight from the nearest Airport to Badrinath which is Jolly Grant Airport in Dehradun.
For reaching Badrinath, you can avail of any option by Road, Rail, or through Air. Even Helicopter services are also available from Guptkashi to Phata. There's an easy route to reach Badrinath from Sahastradhara Helipad services to Badrinath temple by Helicopter. There's a 45km trek route from Joshimath where you can hire a taxi or car to reach to the point. Badrinath is the only temple among all the four Chardham Uttarakhand which is well-linked with motorable roads and can be reached directly through the road.
If you are coming from different directions of India, such as from Mumbai, Ahmedabad, Pune, Kolkata, Chennai, or Hyderabad, then, to start a journey to Badrinath, reach to Rishikesh (nearest Railway Station) via Delhi and refer to the best Route Map Guide for proper knowledge.
Let's check-out the best possible Route in How to reach Badrinath Temple Guide.
Badrinath Yatra By Road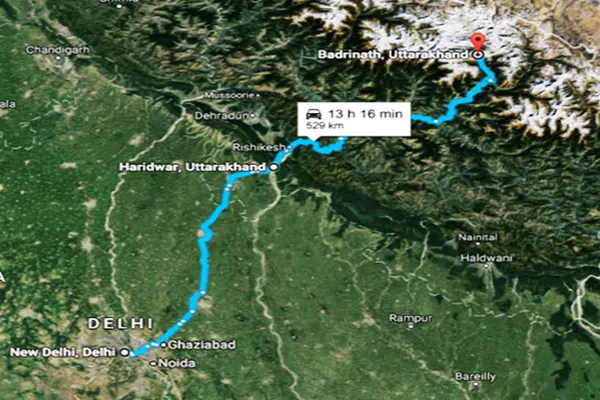 Badrinath Dham is well-connected by accessible roads linked by major points of Uttarakhand. You can catch easy buses or taxis from Srinagar, Haridwar, Rishikesh from ISBT Kashmiri Gate. You can choose either way from Haridwar to Badrinath or Rishikesh to Badrinath, according to your convenience. Easy avail to Haridwar to Badrinath bus services to reach the Dham. The major accessible points of the states that connect Badrinath Mandir are Chamoli, Rudraprayag, Karnprayag, Srinagar, Pauri, etc.
How to reach Badrinath Dham: Badrinath Yatra can be traveled via Road, start your Trip from Delhi NCR.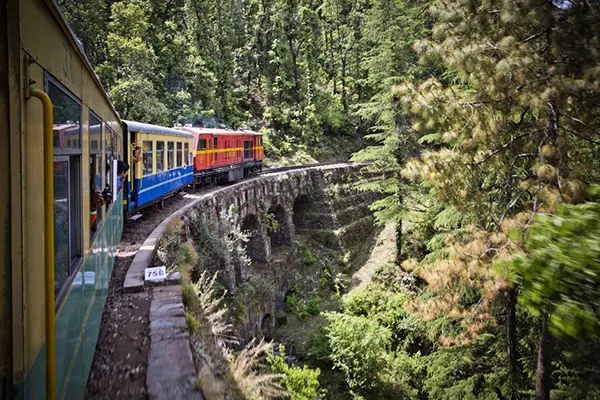 The nearest Railway Station to Badrinath Temple is Rishikesh Railway Station that is situated with a distance of around 295 km from Badrinath Mandir on NH58. Rishikesh Railway Station is well-connected to Central Indian Railway Network and linked to all major Stations of the country. You can choose either way from Haridwar to Badrinath or Rishikesh to Badrinath, according to your convenience. There are regular and frequent trains from Delhi to Rishikesh, Haridwar, or Dehradun. You can choose the way and continue your trip to Badrinath via roadways or Badrinath Yatra by Helicopter.
How to go Badrinath Dham: Badrinath Yatra Route by train starts from the Delhi Railway Station-
Badrinath Yatra By Helicopter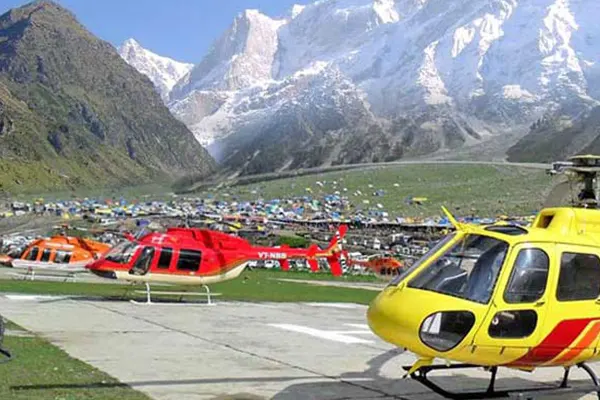 Want to know how to reach Badrinath Yatra by air? The easiest and convenient Badrinath Yatra Route is by Air. The closest airport from Badrinath Temple is Jolly Grant Airport nestled in Dehradun at a distance of around 314 km from the Dham. This airport is well-linked to Delhi by regular flights and for the further way continues to trip through helicopter or by car. With great excitement and thrill book your Do Dham Yatra by helicopter services at budget-oriented prices with LIH, the best travel agent for Dodham yatra.
How to reach Badrinath Dham: Badrinath Yatra Route by Helicopter starts from the Delhi Airport-
Kedarnath to Badrinath Yatra Route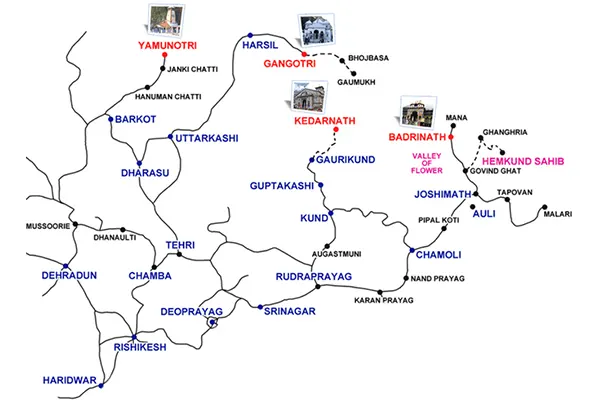 How to go Badrinath Temple- If you are opting for a round trip to Chardham Yatra, start your journey from Delhi to Yamunotri, Gangotri, Kedarnath, and Badrinath Mandir. Refer to the below-mentioned Badrinath Yatra Route Map which includes Shortest Route from Kedarnath to Badrinath. Get your journey on via this fastest route.
LIH.travel invites you to plan the Chardham Yatra by Helicopter with your family. Make your journey easy and convenient by availing Helicopter services from Sahastradhara Road in Dehradun without bothering the uneven terrain. Fly high with the enchanting holy spirit and reach your desired destination of Chardham Yatra and refer How to reach Badrinath Temple. With all excitement, get your advance booking of Badrinath Helicopter services. Get your Badrinath Yatra Registration done now!
Badrinath Dham is a very pious Shrine dedicated to Lord Vishnu and located at the most vibrant Himalayan Belt between the Nar and Narayan Mountain Range. Refer the whole guide to How to Reach Badrinath Temple by Road, Train, or Helicopter and catch a beautiful religious vibe. You can also explore nearby best places to visit in Badrinath Yatra such as Auli, Valley of Flowers, Vasudhara Falls, and many more. Get your bookings done now with LIH.travel.