Rajasthan has always welcomed everyone with open arms to explore its architecture, mythology, and beauty. Udaipur amongst all is always a must on the checklist when it comes to Rajasthan. The Holi in Udaipur is also called Dhulandi which means festival of colors and there are tons of reasons to celebrate this Holi in Udaipur, Rajasthan. Holi is one of the famous festivals in India and there are various types of Holi celebrated across the country. So plan your Holi in Udaipur in 2023 with LIH the best travel agency in Rajasthan and book your Rajasthan Tour Packages to enjoy the warm hospitality of Rangeelo Rajasthan and many other tourist places to visit in Rajasthan. You can also check our Luxury Rajasthan Tour Packages for visiting multiple locations in Rajasthan, checkout the Itinerary and Book Now!
Royal Holi Celebration in Udaipur Palace
This City of Palaces and Lakes is the royal destination of India. And doubtlessly, there is a grand two-day royal celebration of Holi festival in the palace with the descendants of the royal family. The royal family would light the bonfire and it would be followed by the fellow people taking rounds around Holika Dahan. Apart from this, there is also a royal dinner with traditional mouth-licking delicacies. The other day is celebrated with colors and water balloons and flowers all over the city in the alleys and palaces.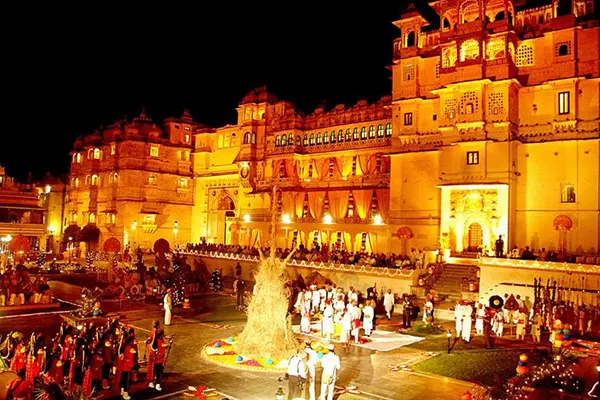 Holi in Udaipur with Natural Homemade Colors
Not only this, there's one more significant reason to keep Udaipur on the top in your Holi 2023 checklist. The colors used here are natural colors which are made by the tribal women living around Udaipur. Interesting, right? A record states that 1100 kilos of natural colors are made by the tribal women which helps them to earn a good amount of livelihood.
Holika Dahan in Udaipur
A day prior to Holi there's a celebration as Mewar Holika Dahan where the bonfire takes place at the City Palace. Visit City Palace is one of the best things to do in Rajasthan to see the royal celebration of Holi in Udaipur. Around this bonfire, the folk dance is performed which is just eye-pleasing. Alike Mathura and Vrindavan, in Udaipur also the celebrations are in full swing a week ago. Gandhara or Gangakund is believed to be the most auspicious lake with the presence of the holy river Ganga where devotees start gathering in advance. Encumbered temples are decorated and have special preparations for Holi. There are traditional meals with chats and regional dances and whatnot. There are decorated processions of horses, camels, and elephants around the city.
Also Read
Private Parties for Celebrating Holi in Udaipur
On one hand, the Holi event is celebrated in the most royal and authentic way in the palaces. While, on the other hand, there are numerous villas and resorts offering customized parties. The list includes Udaipur Holi Festival, Labgarh Holi Festival, Udaipur Tomatina Holi Festival, Yaro Di Holi, and a lot more. Ranging from a nominal charge of 200 INR to lacs, there are villas and parties for every budget.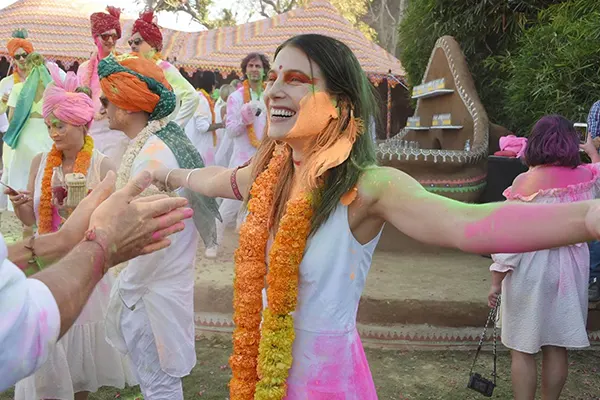 So, in a nutshell, Rangeelo Rajasthan is really Rangeelo during the Holi celebration and you'll regret your entire life if you'll miss this chance. Holi 2022 was a thing in the past, but you have Holi 2023 approaches. So buckle up your belts and plan your Holi Tour Packages to celebrate this Holi in Udaipur.