Udaipur- The City of dreams, is well equipped with Palaces, rich gardens, Lake views hotels, and vivid Aravalli hills to add a mark to the dazzle of this romantic city. The more you dream about it, the more you're gonna get from this city. The charms of lake view hotels in Udaipur city invite family vacationers and honeymooners from all over the world.
With all pristine settings, the city is one of the best wedding destinations for luxury weddings. Fulfilling all perquisites, this awe-striking "Venice of the East" has the most stunning luxury hotels. These hotels were once upon a time were palace homes of royal families of the bygone era. Palaces turned hotels here have witnessed the shooting of various world-class cinemas including the Bond movie "Octopussy" and fairytale weddings of prominent celebrities. These eminent properties of Udaipur bestow its guests a golden chance to have lavish and classy experiences while residing here. Udaipur is one the best places to visit in rajasthan. So, to experience this Beautiful view from the Hotels, Book your Rajasthan Tour Packages with LIH to explore famous Places to visit in Udaipur with one of the best Leading Tour Operators in India.
We've gathered a list of the best 5 lake view hotels in Udaipur. Take a note.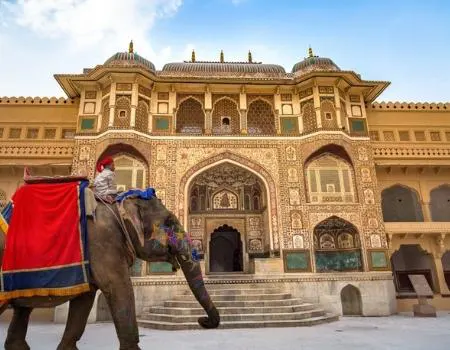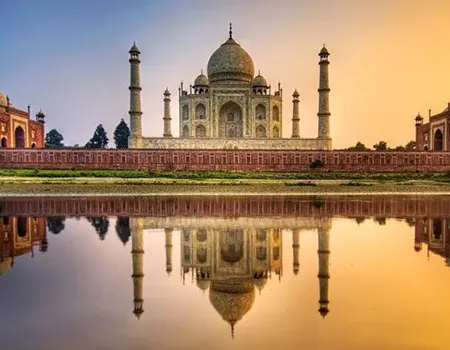 Golden Triangle Tour Packages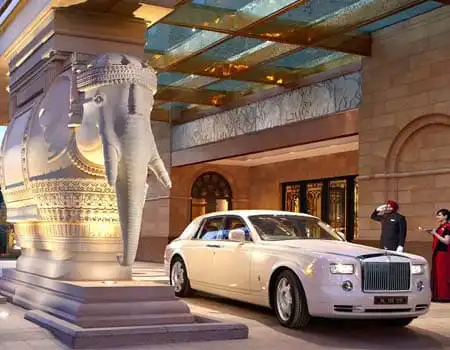 Luxury India Tour Packages
5 Famous Lake View Hotels in Udaipur
1. Taj Lake Palace

One of the most romantic hotels in the world, Taj Lake Palace floats majestically on the still waters of Lake Pichola. It is set amid pretty fairytale gardens, originally built as a 250-year-old summer palace. To showcase the epic royal saga, the palace brims with princely details including marble pillars, ornate glass work, intricate paintings and much more. This 18th-century palace has pavilions with inlaid stones, huge corridors and courtyards, mirror work and gilt moldings. Accessible through boats, the property is spread over an area of around 4 acres of the man-made island. This budget lake view hotel in Udaipur is perfect for both leisure and business guests.
The hotel includes 17 luxury suites and 83 rooms. Each room overlooks a lily pond or the terrace and is elegantly adorned. The guest rooms are divided into 5 categories- luxury rooms, palace rooms, royal suites, grand royal suites, and a grand presidential suite. Every room and suite is a combination of modern comfort and royal heritage.
Neel Kamal, Amrit Sagar, Bhairo, Jharokha are the four dining venues serving flavorsome delicacies of Indian and popular world cuisines, amidst superb views, splendid interiors, and relaxing ambiance.
The hotel with its royal charm has attracted many royal dignitaries and celebrities from all around the globe. The palace hotel is much famed around the world after the shooting of the Bond movie "Octopussy".
The term "Royalty" is the least used for the services presented at this lake view hotel of Udaipur to its guests.
Location: Lake Pichola, Udaipur, Rajasthan
Amenities: Luxurious rooms, fine dining restaurants, spa, swimming pool, and stunning views.
Starting Price: Approximately INR 25,000 per night
2. Oberoi Udai Vilas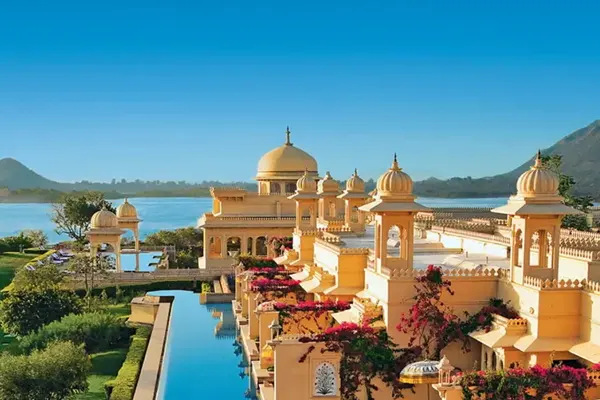 Next, to the list of best lake view hotels in Udaipur, Oberoi Udai Vilas is shining in stunning Lake Pichola overlooking its beautiful island palaces and the Udaipur City Palace is accessible by land and boat. Covering an area of 50 acres, this luxury property offers wonderful views of the Lake and the lush gardens all around. Set against the backdrop of the Aravalli hills, Udaivilas has beautifully landscaped gardens, fountains, and pavilions on its enormous premises. It offers a wide range of facilities with a touch of class and luxury. You name it and Udaivilas has it, 2 heated swimming pools, a gymnasium, library, music & video discs, boat rides, sightseeing tours, special spaces for business, private dinners, internet connectivity, 20 acres wildlife conservatory, etc.
The wildlife conservatory here houses wild boar, peacock and Indian spotted deer. It has also preserved the 200-year-old legacy of Royal Hunting Lodge, with original artwork, offering a panoramic view of the sanctuary and the surrounding lakes, hills, and palaces.
Oberoi Udaivilas consists of 63 Premiere Rooms, 19 Superior Premiere Rooms with semi-private pool, 4 Luxury Suites and 1 Kohinoor Suite that are blessed with royal ambiance, hand-picked furniture, fine furnishings, elegant furniture, LCD TV with satellite connected, butler service, personal mini-bar, electronic safety deposit, attached bathrooms with complimentary toiletries, world-class facilities and more. All rooms in the hotel are spacious and elegantly appointed with marble bathrooms overlooking private walled courtyards.Live life King-size here by indulging in royal comforts.
Location: Haridasji Ki Magri, Udaipur, Rajasthan
Amenities: Lavish rooms, exquisite dining, spa, pools, and beautiful gardens.
Starting Price: Approximately INR 40,000 per night
3. The Leela Palace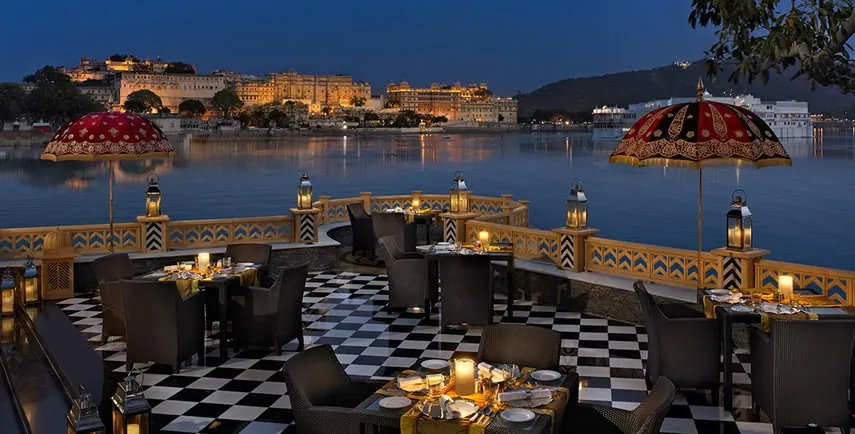 Leela Palace Stands spectacularly on the banks of Lake Pichola, providing breathtaking glimpses of Aravali Mountains. Whether arriving by one of the delightfully decorated boats or by luxury cars, the Leela Palace Udaipur offers its guests the peaceful setting of exploring the rich heritage of its surroundings in style and comfort. Few of its facilities involve a pool, luxurious tented spa, the gym fitted with the finest of equipment, etc.
Evoking the grandeur and magnificence of bygone eras, all 72 rooms and 8 suites overlook the tranquil waters of the lake. The rooms and suites are divided into categories- Maharaja Suite, Royal Suite, Suites (Duplex Suites – Luxury Suites) and Premiere Rooms (Grand Heritage Lake View Room – Grand Heritage Lake View Room with Balcony).
Dining Room (all-day dining area), Sheesh Mahal (roof-top venue with the view of the Lake), Library Bar (an elegant lounge) and Poolside bar (tasty snacks and beverages by the poolside) are the dining venues in the property, where the guests can relish lavish Indian and Western cuisines while sipping on their favorite beverage.
As one of the most popular lake view hotels in Udaipur, The Leela Palace is splendid in its manifestation, marking it as the "Essence of Luxury".
Location: Lake Pichola, Udaipur, Rajasthan
Amenities: Grand rooms, gourmet dining, spa, lakeside pool, and impeccable services.
Starting Price: Approximately INR 30,000 per night
4. The Lalit Laxmi Vilas Palace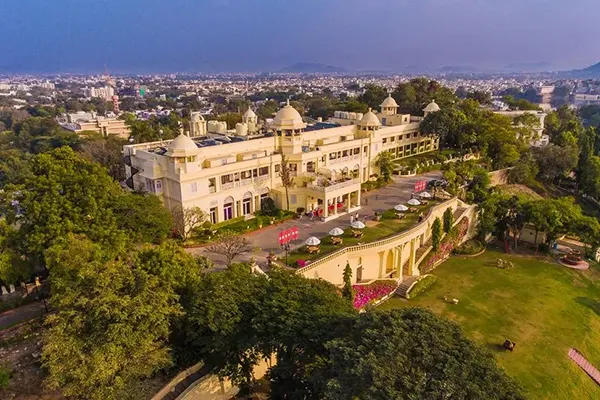 A perfect epitome of Mewar's architectural grandeur, The Lalit Laxmi Vilas Palace is the only heritage property facing Fateh Sagar Lake. Built by His Highness Maharana Fateh Singh in 1911, this heritage hotel sits on a hill with a background of Aravalli hill. Other than all royal and luxury amenities, it offers performances by The Bagpiper Band, puppet show, Rajasthani folk dances, dancing horses, billiards and indoor games.
This lake view hotel in Udaipur has 55 well-appointed spacious guest rooms and suites offering enchanting views of the valley, the Lake and the skyline of the city. Deluxe Rooms, Palace Suites, Princess Suites, Maharana Suite and Maharani Suite are the five different room categories, each capturing the royal splendour of the bygone era through its interiors and all lavish facilities.
Apart from that, varieties of the finest cuisines are served at two extravagant restaurants of the hotel – Aangan and Padmini. Eat your meal and enjoy live Rajasthani folk dance performances.Have an elegant stay in the royal premises of this palace property.
Location: Fateh Sagar Lake, Udaipur, Rajasthan
Amenities: Elegant rooms, dining options, spa, pool, and heritage charm.
Starting Price: Approximately INR 8,000 per night
5. Fateh Prakash Palace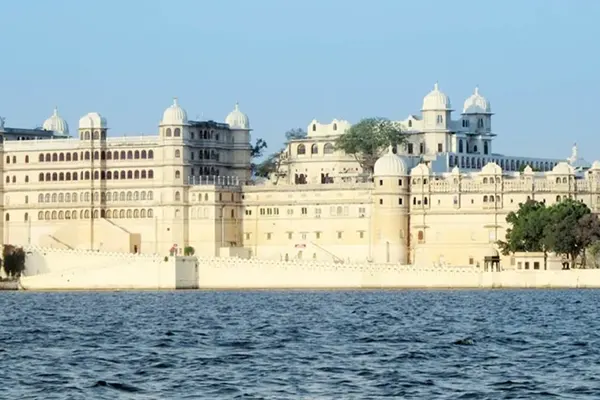 Fateh Prakash Palace is a major Part of the Grand City Palace complex, built by Maharaja Fateh Singh, on the shores of Lake Pichola. The palace is a striking depository of delicate chandeliers, unique crystals, and crockery collection and rare paintings.
The rooms and suites of the hotel are ornamented with original paintings and period furniture from the royal storerooms. The unique facilities offered by the hotel are boating, bird and wildlife watching. The palace has 21 high-class rooms and 14 ultra-luxury suites.
The property has 2 astonishing restaurants. At "Sunset Terrace", an open-air restaurant, savour tasty multi-cuisine delicacies while admiring panoramic views of Lake Pichola. At the well-stocked bar of the hotel, "Surya Darshan Bar", sip traditional English afternoon tea or evening beverages, while the sun is setting over the hills. The serene ambience of the palace offers relief from the hustle-bustle of daily life.
Mark your presence to gala luxury. Check in to splendid Palace-turned-hotels of Udaipur on your lavish Udaipur holiday. Luxury is calling, Udaipur is calling!
Location: Lake Pichola, Udaipur, Rajasthan
Amenities: Royal rooms, dining, cultural evenings, and lake views.
Starting Price: Approximately INR 10,000 per night.
Refer to our Comprehensive Rajasthan Travel Guide to explore more about Udaipur as well as other cities of Rajasthan.
FAQ's :-
Q1: What are the top lake view hotels in Udaipur?
The top lake view hotels in Udaipur include Taj Lake Palace, Oberoi Udai Vilas, Leela Palace, Lalit Laxmi Vilas Palace, and Fateh Prakash Palace.
Q2: What makes these hotels special?
These hotels offer stunning views of Udaipur's lakes and are often housed in historic palaces. They provide a blend of luxury, heritage, and scenic beauty that makes them unique.
Q3: Are these hotels suitable for weddings and special events?
Yes, many of these hotels are popular choices for destination weddings and special events. They offer grand venues, excellent service, and a romantic ambiance.
Q4: What types of rooms are available in these hotels?
These hotels offer a range of rooms and suites, each with its own unique features. Room categories may include luxury rooms, suites, royal suites, and more.
Q5: Can I enjoy traditional Rajasthani cuisine at these hotels?
Yes, these hotels typically have on-site restaurants that serve traditional Rajasthani dishes along with a variety of other cuisines.
Q6: Are there recreational activities available at these hotels?
Yes, these hotels often offer recreational activities such as spa treatments, boat rides, wildlife watching, and more to enhance your stay.
Q7: How can I book a stay at one of these lake view hotels?
You can book a stay at these hotels through their official websites, travel agencies, or by contacting them directly.
Q8: Is it necessary to make reservations in advance, especially during peak tourist seasons?
It's advisable to make reservations in advance, especially if you plan to visit during peak tourist seasons, to secure your preferred dates and room type.
Q9: Are these hotels suitable for families and couples?
Yes, these hotels cater to both families and couples, offering a range of amenities and services to make your stay enjoyable.
Q10: What is the best time to visit Udaipur and stay at these hotels?
The best time to visit Udaipur and enjoy your stay at these hotels is typically during the winter months, from October to March, when the weather is pleasant for outdoor activities.