Amidst the Aravali ranges, Jaipur is the land of forts, palaces, and royal grandeur history. The scenic landscape, the majestic cultural and magnificent architect, will keep you astonished all day long. There are various things to do in Jaipur in the day time as well as night time. In the article, we will provide you with information about different places that you can explore in the heritage city.
The nightlife in Jaipur also exhibits the different colours of life in the most illustrious manner. There are many things you can do to spend a safe and exciting nightlife in the city. There is a diverse range of places like night clubs, rooftop bars, hookah bars, late-night food places, to name a few in Jaipur.
What Can We do in Jaipur at Night?
Jaipur is one of the best places to visit in rajasthan and was part of the famous Golden Triangle Tour packages the city offers adventurous night safari, fine dining under the starry sky, the glamorous night in clubs and lounges. Experience the city view in tantalizing orange light from the hills, munching on late-night street food or even enjoying a close and romantic drive with your loved one.
How is Night Life in Jaipur
Jaipur is a safe and cosy place to visit. The nightlife in Jaipur is a high street about the safety and bells and whistles of the night culture. The majestic city is a hub for spending a night in the course of the mood you want to follow.
Things to do in Jaipur at Night for Adventurous People?
There are many things to do in Jaipur at night which can add some adrenaline rush to your adventurous heart.
#1 Evening safari: The Jhalana Safari park organizes evening leopard safari which is an adventurous way to spend your evening with family and friends. The park closes by 6:15 PM and is open for all days of the week. If you are looking for a thrilling experience then jhalana safari park can quench your thirst for adventure in Jaipur. enjoy the nightlife in Jaipur and fill your soul with adventure and thrill.
Cost for two: 3900 (with gypsy)
Timings: 6:45-9:30 am, 3:30-6:15 pm
Located at: Malviya Nagar Industrial Area, Malviya Nagar, Jaipur, Rajasthan 302017
57 Reviews / 4.0 ratings
#2 A trip to Nahargarh: The Nahargarh fort is set on the Aravalli ranges. The small journey in the hills to reach the Nahargarh Fort is itself an adventurous ride. The gates of the fort remain close in the night, but watching the city from any spot amidst the hills is an exciting way to have the cityscape.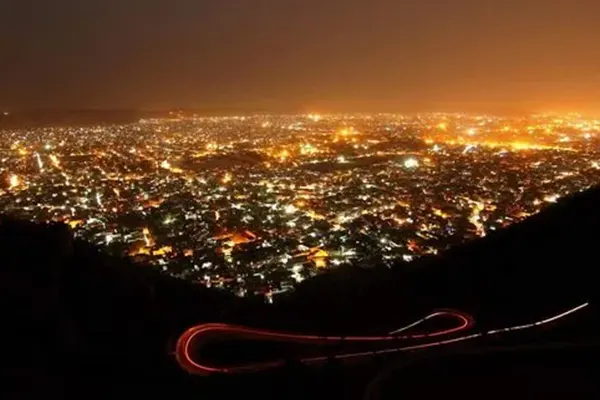 Located at: Krishna Nagar, Brahampuri, Jaipur, Rajasthan 302002
Entry Fee: Rs 50/-per person
Timings: 9 am-6pm
2160 Reviews/ 4.0 ratings
#4 Motorbike riders, marathon or any other event: Jaipur is a land of Royal Challengers. Many clubs keep organizing night bike rides, motorbike rides, and even night marathon. Register to any such event happening during your visit and enjoy the sweat rushing adventure in the night.
Places to Visit in Jaipur in Night for Late Night Food Cravings?
If you are the night owl and want to scoff on Jaipur savories than you should visit.
#5 Raja Park: It is an essential locality in Jaipur that remains open and is crowded at late night because of the various food outlets that serve mouth-watering fast food items at an affordable price.
Cost for two: 500
Located at: Raja Park
#6 Bus stand and railway station: The shops near the railway station and bus stand remain open till midnight serving Dal Batti, naan paneer, and even Maggie. Visiting such a shop can be your rescuer for hunger, such places count in one of the most popular nightspots in Jaipur to Satisfy the midnight food cravings with cheap and yummy food.
Cost for two: 750
Timings: 24 hours
Places to Visit in Jaipur at Night with Friends?
Nightlife in Jaipur is safe, glamorous and is very happening throughout the week, especially on the weekend. If you are planning to spend some exciting nightlife in Jaipur with friends, then visit.
Cafe and lounges in Jaipur
There are many cafes and bars that remain open till 2 A.M.throughout the year. Keventers, Jal Mahal, Cafe Cofee Day are a few places that serve coffee and sandwiches till midnight. But apart from those if you looking for clubs and pubs in Jaipur then read then consider places like:
#1 House of people: A popular spot among youth with good Dj and food and is reasonably priced, Located in the centre is safe for single girls also. Eat, dance, laugh and enjoy the nightlife Jaipur with the great ambience, food, and crowd.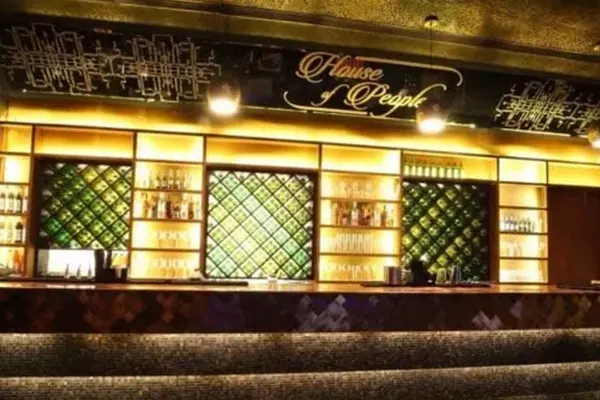 Cost for two: 2100 Rs
Timings: 7 am-1:30 am
Located at: Hotel Las Vegas, A1, Sehkar Marg, Bais Godam, Jaipur
893 Reviews / 4.2 ratings
#2 Asteria: A newly launched Clubhouse near the airport is again a reasonably priced hangout place with a friend. It offers indoor and outdoor sitting with lip-smacking food and astonishing live music.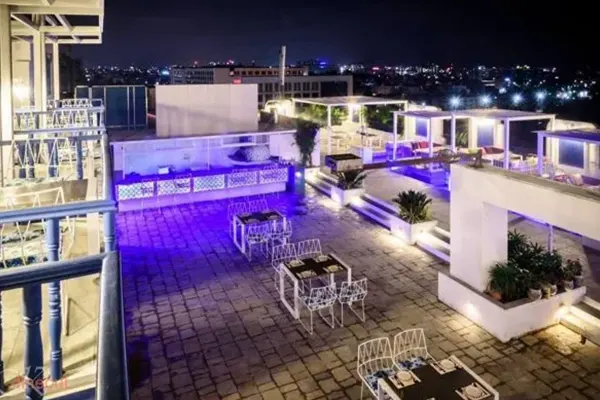 Cost for two: 1000 of two people(approx.)
Timings: 1 pm-1 am
Located at: 7th Floor, Jaipur Centre, B2 Bypass, Tonk Road, Jaipur
2710 Reviews/ 4.3 Ratings
#3 Blackout: Relish nightlife in Jaipur with aCentrally located rooftop is an excellent place with good music and food to spend a night with friends or loved ones. The place is perfect for late-night parties at a moderate price.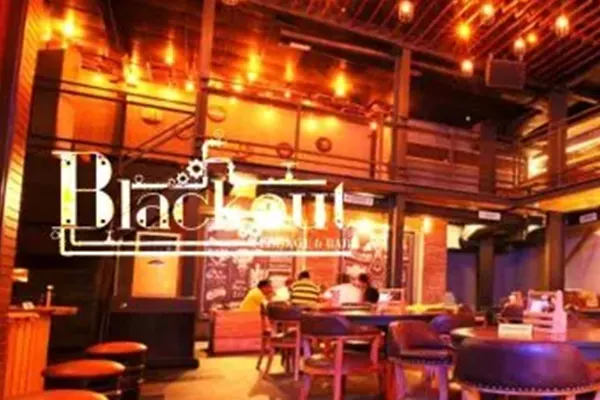 Cost for two: ₹2,200 for two people (approx.)
Timings: 6 pm – 4 am
Located at: Hotel Golden Oak, 9th Floor, Ahinsa Circle, Landmark Building, C Scheme, Jaipur
1 Reviews / 4.5 Ratings
#4 The grunge: A disco bar in The hotel fern is a beautiful place to spend to stomp your feet on grooving music. The site offers delicious food and a wide range of drinks, be mindful to keep a big budget for the place.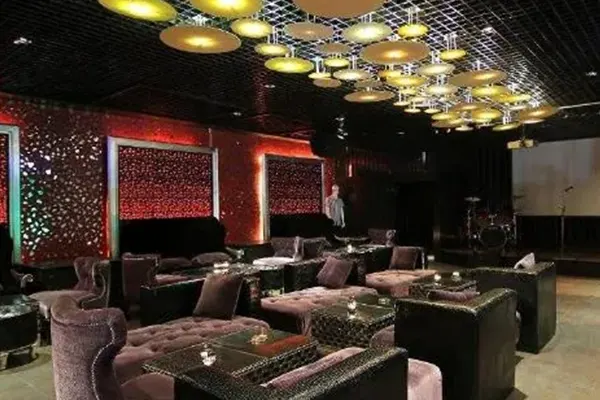 Cost for two: ₹2,700 for two people (approx.)
Timings: 3pm – 11pm
Located at: The Fern Hotel, 3, Airport Plaza, Tonk Road, Jaipur
176 Reviews/ 3.5 Ratings
#5 Playboy Club: A recently launched world-renowned club has fancy interiors to keep you staggering from the whole night with amazing food and music. The place is a bit overpriced but could best be experienced on Thursdays and Saturdays, especially for all the ladies out there who can enjoy free entry.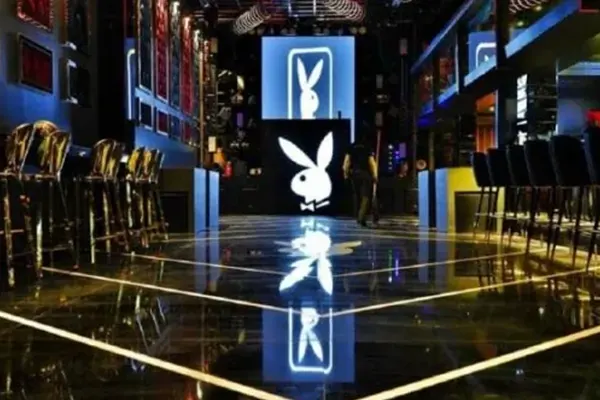 Cost for two: ₹2,200 for two people (approx.)
Timings: 5 pm-2 am
Located at: K 12, Level 8, Aarcade, Malviya Marg, C Scheme, Jaipur
Reviews/ 4.5 Reviews
#6 Jaipur Bar Stock Exchange – Grand Uniara is a hotel that runs the bar exchange, which is an exciting concept of keeping its customers engrossed during drinks. The prices of the drinks keep fluctuating throughout the night, depending on the demand. You might get lucky by having your drink at the lowest prices during slumpy hours.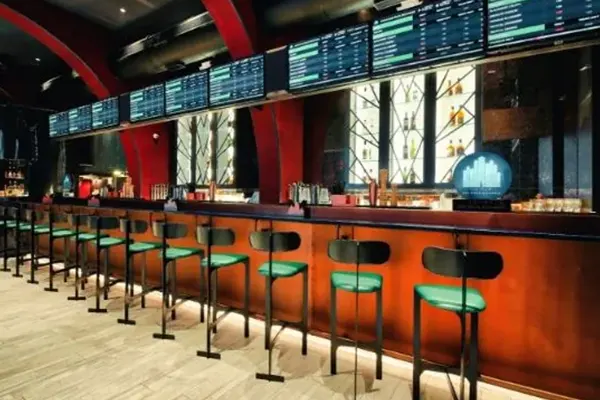 Cost for two: ₹1,300 for two people (approx.)
Timings: 4 pm – 1 am
Located at: Grand Uniara, Jawaharlal Nehru Marg, Near Trimurti Circle, Narayan Singh Circle, Jaipur
671 Reviews / 4.2 Ratings
#7 The Night Jar:
The Night Jar, located at the heart of the pink city is a delightful place where guests can enjoy the live band, good meals, and drinks with the real plants all over the vicinity. The place offers scrumptious food at an equitable price.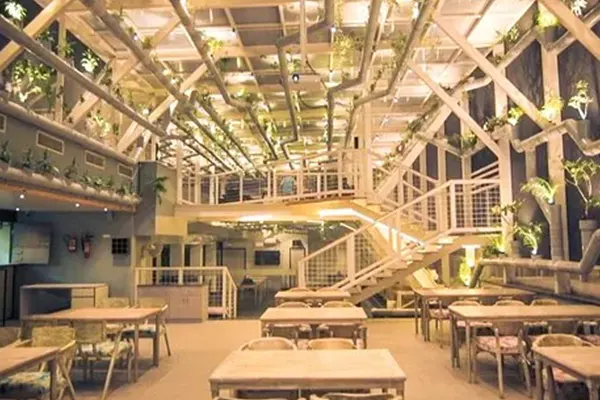 Cost for two: ₹1,200
Timings: 12 noon to 1 am
Located at: Leisure Inn Grand Chanakya, 3rd Floor, Panch Batti, MI Road, Jaipur
1759Reviews/ 4.7 Ratings
Romantic Places in Jaipur Under ₹ 2500
1. 1135 AD: It is a perfect date place with a kingly meal with a flabbergasting view of Amer at an affordable price. This place is a must-try if you are a couple and looking to spend the best evening with your loved ones.
Cost for two: ₹1,200
Timings: 12 noon to 1 am
Located at: Leisure Inn Grand Chanakya, 3rd Floor, Panch Batti, MI Road, Jaipur
1316 Reviews/ 3.9 Ratings
2. Tapri Central: Tapri Central as the name suggests is a centrally located place in Jaipur and is perfect for early morning breakfast and evening snacks. Relish the breezy place with delicious food and the view of the central park which works as a cherry on the cake.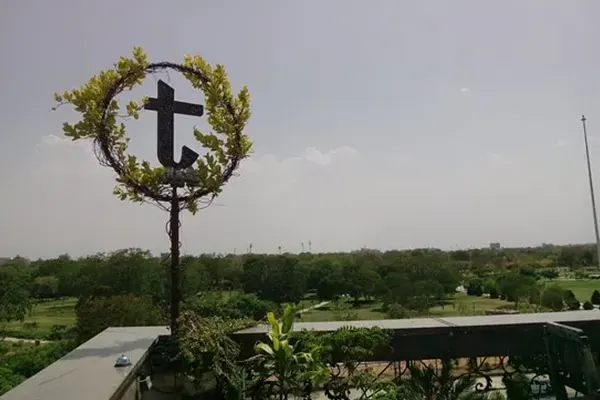 Cost for two: ₹1,200
Timings: 7:30 am to 9 pm
Located at: 43 Everest Colony Tonk Road Near Jaipur Nagar Nigam, Jaipur 302015 India
497 Reviews/ 4.5 Ratings
3. Colorbar: The Colorbar is again a dinner place to have a candlelight dinner date with your companion. The place is located on the rooftop of Raddison Blu Hotel Jaipur it is an absolute treat at night with the poolside sitting and colorful environment under the skies.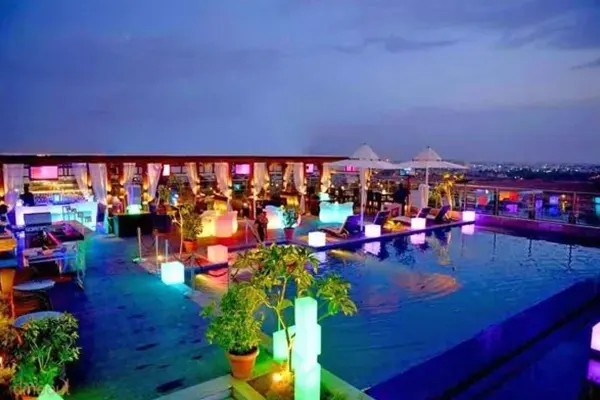 Cost for two: ₹2000 approx.
Timings: 7 pm to 2 am
Located at: C/O Radisson Blu Hotel, Plot No- 5-6, Tonk Road, Jaipur – 302018, Airport Plaza, Durgapura
519 Reviews/ 4.1 Ratings
4. Once Upon a Time in Bagh: The place is an absolute delight if you are looking for a peaceful yet happening place in Jaipur. The food is okayish though but the ambiance is open breezy and picturesque.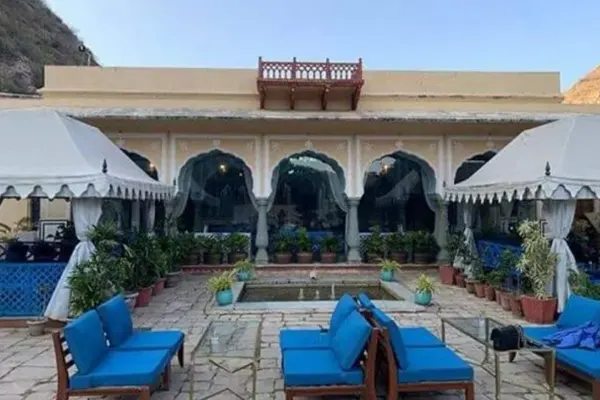 Cost for two: ₹1400 for two people approx.
Timings: 11 am to 1 am
Located at: Vidyadhar Ji Ka Bagh, Ghat Ki Guni, Agra Road, Jaipur
72 Reviews/ 3.8 Ratings
Jaipur is a culturally rich heritage city but, it has beautifully amalgamated the progressive mindset of youth and foreign tourists into its lifestyle that every nook of the city has something exciting to offer for everyone. If you visit Jaipur, LIH offers you the best Rajasthan Tour Packages for traveling in Jaipur and all over the best location to visit in Rajasthan for fun with family, and friends.
In a city like Jaipur, even nights are as colorful, and vibrant yet subtle to enjoy and cherish every moment spend here. Explore the nightlife in Jaipur with the scrumptious food and delightful places. So, Plan your trip to Jaipur with Leisure India Holidays the Best travel agent in Jaipur.
LIH (Leisure India Holidays) offers you the best Luxury Golden Triangle Tour package for the Luxurious life in Delhi, Jaipur, and Agra tours. Many of the visitors come from all corners of the world and enjoy a luxurious life.
Frequently Asked Questions about Nightlife in Jaipur
Q1. What can we do in Jaipur at night?
Jaipur nightlife has a plethora of things to offer like Late night parties, and peaceful views of Jal Mahal, Hawa Mahal, and Amer Fort. Hang out with your family at a fine dining restaurant with a great ambiance like a peacock, Peshawari, steam, and many more.
Q2. Romantic places in Jaipur for couples under ₹ 2500?
There are several romantic places in Jaipur that are affordable and luxurious at the same time like peacock rooftop, Capri central, colorbar, once upon a time in bagh, 1135 AD, cafe Palladio, and shikaar bagh.
Q3. Which are the places to visit in Jaipur at night?
The best places to visit in Jaipur at night include tremendous clubs in Jaipur, enjoy the view from the best rooftop bar, dine in with your friends and family in a lavish restaurant. visit Nahargarh Fort, Jal Mahal, watch eternal flame at Amar jawan Jyoti and much more.
Q4. Can I visit Nahargarh at night?
You can enjoy the best view of Jaipur from the outskirts of Nahargarh but may not enter the fort premises. View from Nahargarh look more astonishing at night so enjoy the nightlife in Jaipur to the fullest.
Q5. Which are the best seasons to visit Jaipur?
October to March is considered to be the best season as winter arrives in these months in Jaipur.