Are you also planning to visit the beautiful cities of Rajasthan? We have got you covered! Don't worry our Rajasthan travel guide will help you in planning your memorable trip.
Rajasthan is a popular tourist spot in India. Also known as the "land of the kings", Rajasthan is known for its monuments, forts, and beautiful lakes. Travelers from all over the world visit Rajasthan for cuisine, art, and historical places.
Rajasthan travel guide will inform you everything you should know to plan a trip to Rajasthan, like famous places, monuments, the cost of your trip, important tips, etc.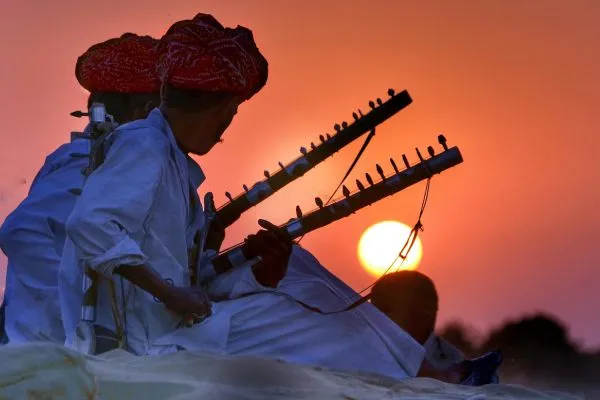 History and Culture
Notable dynasties that ruled Rajasthan include Gurjara Pratihara, the Chauhan dynasty and the Delhi Sultanate. Apart from these dynasties, rulers who shaped the history of Rajasthan include Maharana Pratap, Maharaja Sawai Jai Singh and Rana Sanga.
To learn about these rulers and dynasties, you can visit great historical destinations like City Palace, Amer Fort, Jantar Mantar and Chittorgarh Fort.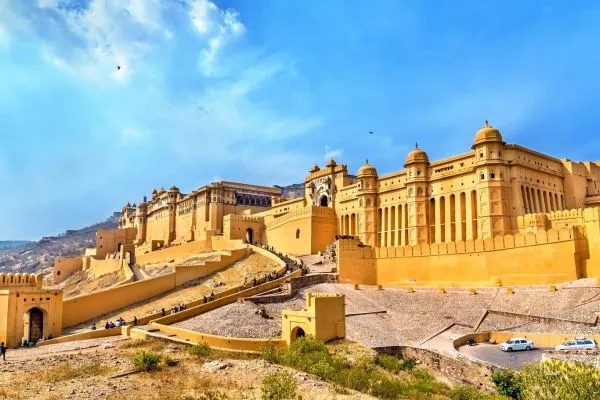 In addition to a rich history, Rajasthan also has a unique culture:
Traditional clothes: Women wear ghaghra choli, and men wear turbans (safas).
Food: Rajasthan is famous for its traditional food items like gate ki sabzi and dal baati churma.
Folk music and dance: Notable dance forms of Rajasthan include Ghumar and Bhavai.
Festivals: Some recommended festivals and fairs of Rajasthan are the Pushkar Camel Festival, Jaipur Literature Festival, and Elephant Festival.
Best Cities to Visit in Rajasthan
1. Jaipur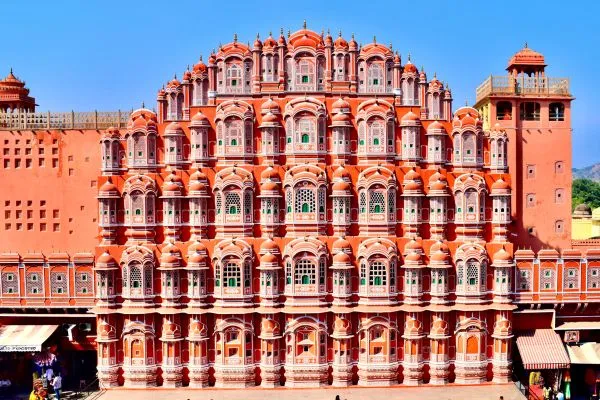 Jaipur is also known as the pink city of Rajasthan and is famous for temples, palaces, and forts. Some popular tourist destinations of Jaipur city include Jantar Mantar, Jal Mahal, Hawa Mahal, Amer Fort, and Nahargarh Fort. Popular cultural festivals of this city are the Jaipur Literature Festival and Jaipur International Film Festival.
2. Udaipur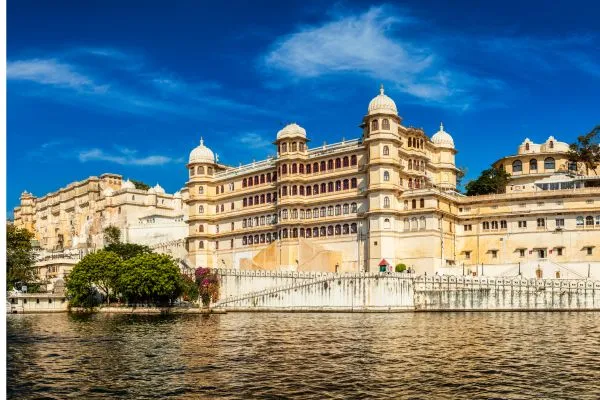 Also called the City of Lakes, Udaipur is known for its lakes and stunning landscape. You can visit Lake Pichola, Jaisamand Lake, Lake Palace and Jagdish temple in this city. Travellers can also ride boats in Lake Pichola and shop in Udaipur Bazars for textiles, jewellery and Rajasthani clothes.
3. Jaisalmer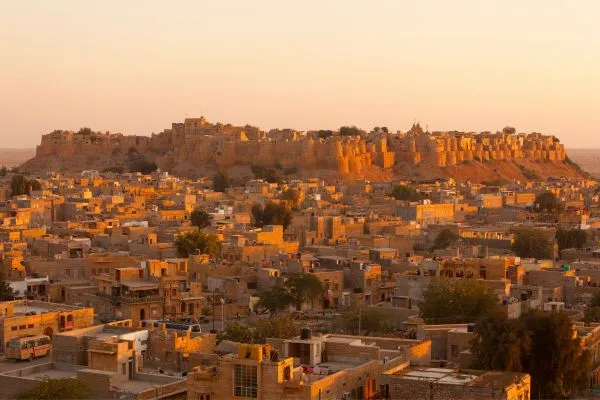 Jaisalmer is famous for the Thar Desert, stunning forts, and sandstone architecture. Some unique places to visit in this city are Jaisalmer Fort, Nathman ki Haveli and Sam Sand Dunes.
4. Jodhpur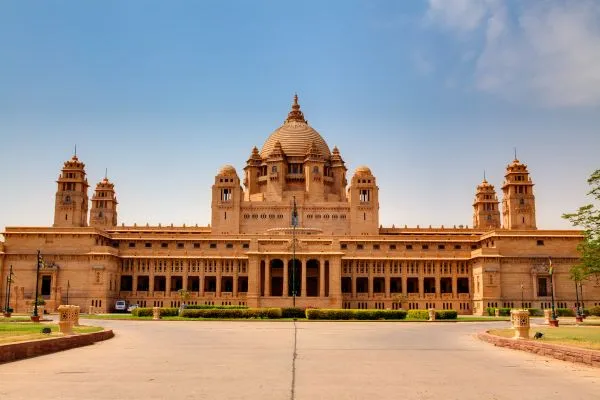 Jodhpur is also known as the blue city due to its blue-coloured houses. Tourists visit Jodhpur for majestic palaces, historical forts and markets. These include Mehrangarh Fort, Umaid Bhawan Palace and Sardar Market.
5. Pushkar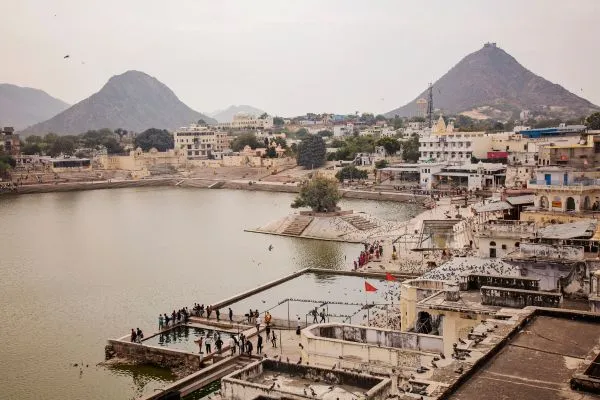 Pushkar is most famous for hosting the Pushkar Camel Fair, which attracts people from all over India annually. This city also has spiritual significance in Hinduism. Pushkar has amazing tourist spots like the Pushkar Lake, Brahma temple, and Man Mahal.
Tourist Places in Rajasthan
1. Rantahmbore National Park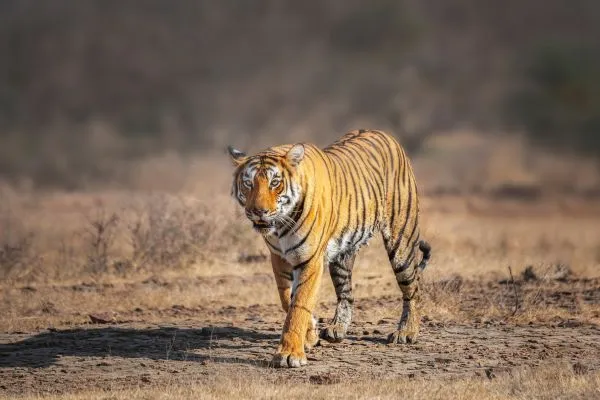 Ranthambore National Park is one of India's most famous national parks and preserves Bengal tigers. Apart from tigers, you can also see many other animals, leopards, blue bulls, sloth bears, etc. The safaris of Ranthambore operate between October and June.
2. Jantar Mantar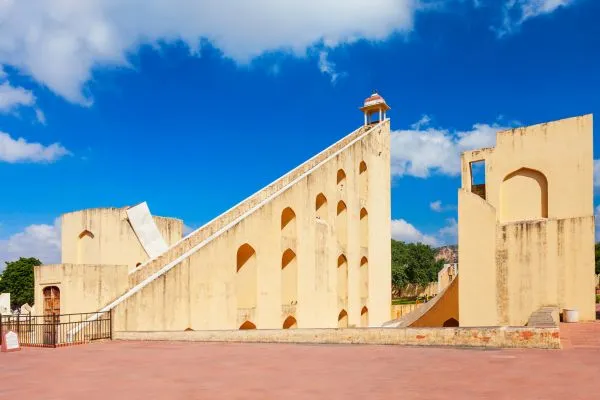 Located in Jaipur, Jantar Mantar was constructed by Jai Singh for astronomical purposes. Its observatory has 18 huge astronomical devices and a 27-metre-high sundial.
3. Hawa Mahal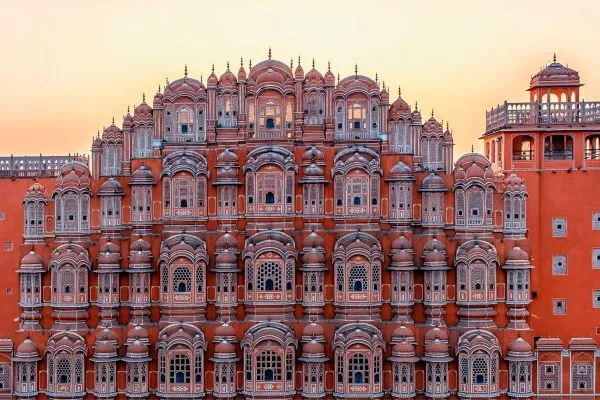 Also known as the Palace of the Winds, Hawa Mahal looks magnificent in the rising sun. The windows of Hawa mahal offer a stunning view of Jaipur city.
4. Dargah Khwaja Sahib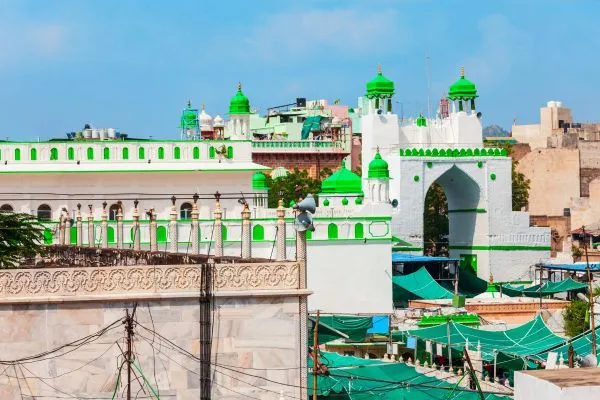 Dargah Khwaja Sahib is the most popular Muslim shrine in India. It is located in Ajmer and has the tomb of Khwaja Muin ud din Chishti.
5. Keoladeo National Park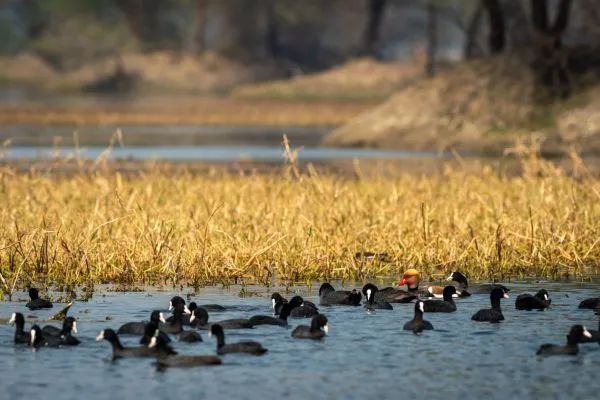 Located in Bharatpur, Keoladeo National Park is one of India's most popular bird sanctuaries. It is home to a large variety of flora and fauna. Some notable birds include the Siberian Crane, darters, egrets, and the Sarus Crane.
Things to do in Rajasthan
Visit Forts: You can visit the historical forts like Nahargarh Fort and Amber Fort to explore the beauty of this state.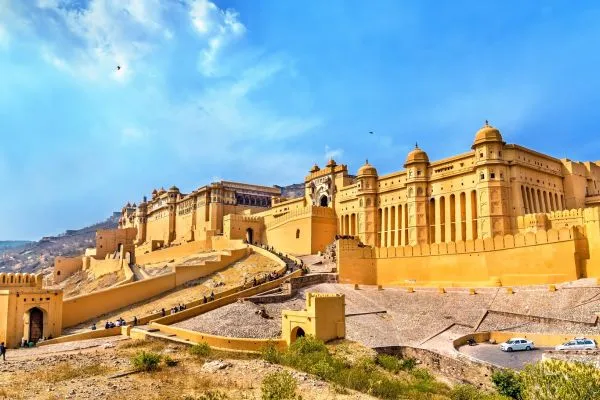 2. Explore museums: Tourists can learn about the rich history and culture of Rajasthan through museums like the Albert Hall Museum in Jaipur, the City Palace Museum in Udaipur, etc.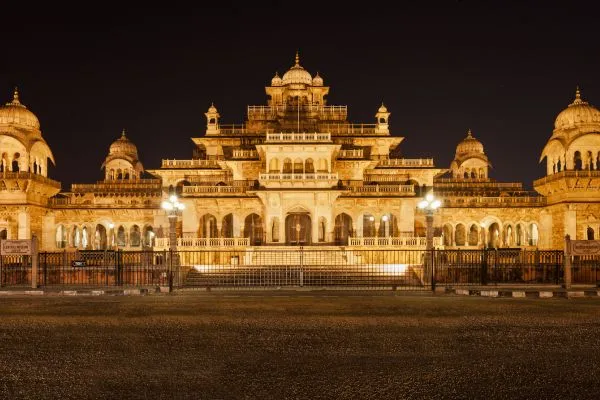 3. Pray in religious sites: You can visit some of India's most popular religious places, including the Brahma temple of Pushkar and Ajmer Sharif Dargah.
4. Take part in fairs and festivals: Travellers can participate in world-famous festivals like the Pushkar Camel Fair and Jaipur Literature Festival.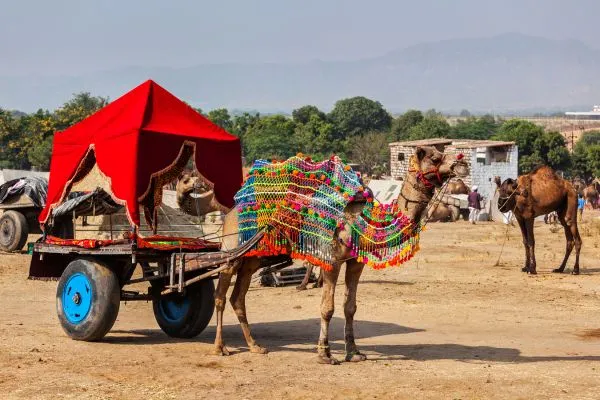 5. Watch the traditional folk performance: Traditional folk dances like Ghoomar and Kalbelia will introduce you to the rich culture of India.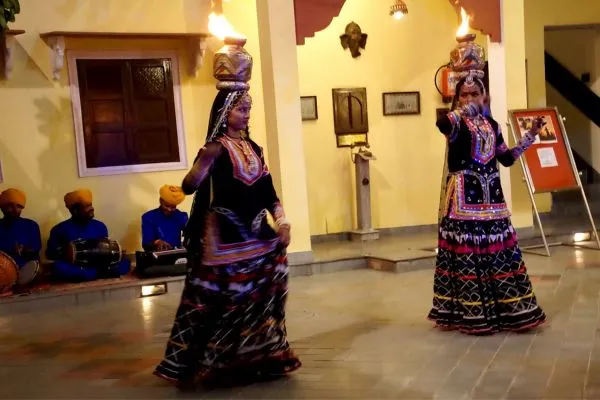 6. Shop from vibrant bazaars: You can buy jewellery, handicrafts and textiles from Johri bazar in Jaipur and Sardar market in Jodhpur.
7. Watch a puppet show: Witness a traditional Rajasthani-style puppet show, an art of storytelling through puppets.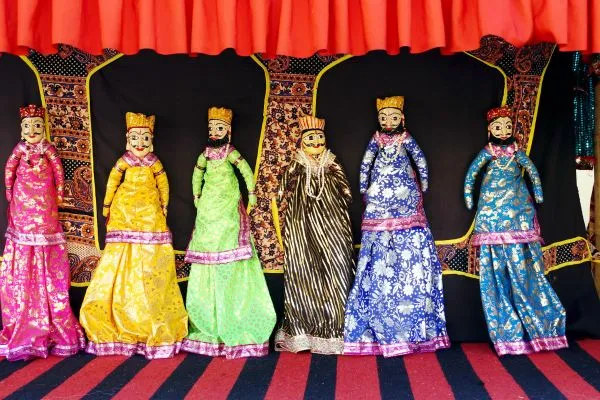 8. Explore step-wells and water conservation structures: Visit Chand Baori in Abhaneri to appreciate the traditional water conservation methods.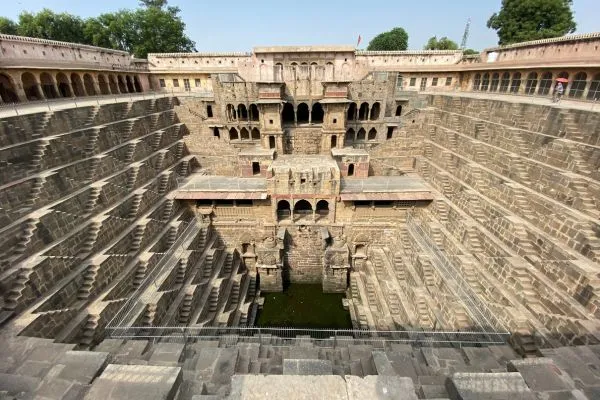 Best Hotels & Resorts to Stay in Rajasthan

Here is a list of top heritage hotels and palaces hotels in Rajasthan:
1. The Umaid Bhawan Palace(Jodhpur)
2. The Oberoi Udaivilas(Udaipur)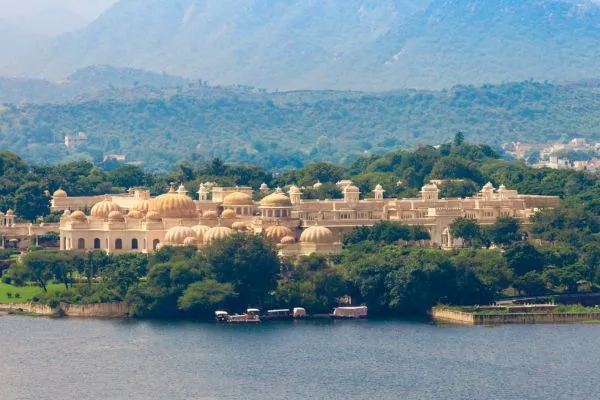 3. The Leela Palace(Udaipur)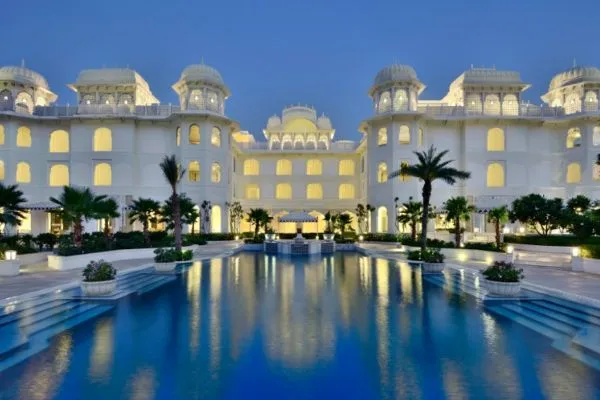 4. Rambagh Palace(Jaipur)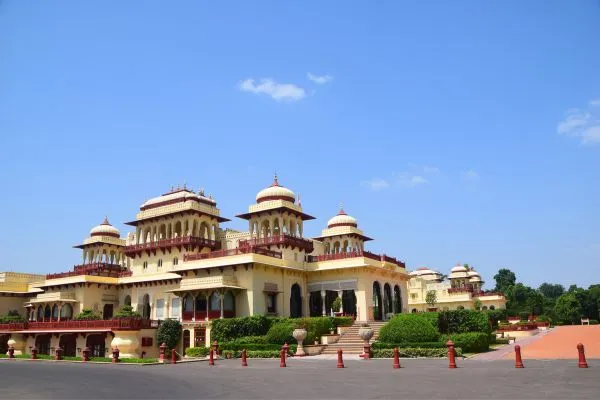 5. Oberoi Rajvilas(Jaipur)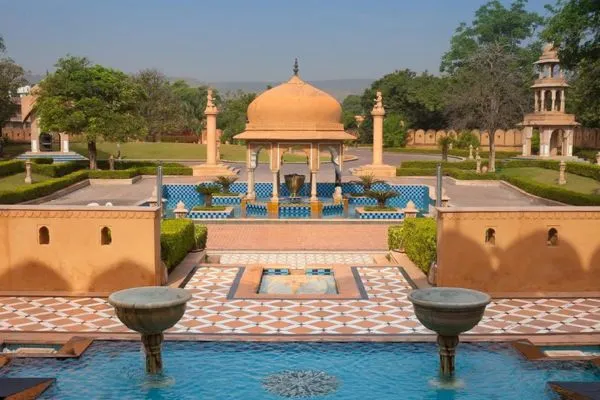 Explore the Arts and Crafts of Rajasthan
Rajasthan is famous for various arts and crafts representing its history and culture.
Miniature Paintings: These intricate paintings are often based on mythological stories and royal courts.
Blue pottery: This pottery is unique to Jaipur and is famous for its blue gaze.
Stone carving: You can witness stone carvings in the havelis and palaces of Rajasthan.
Jewellery: Some famous jewellery styles of Rajasthan include Kundan and Meenakari.
Lacquer work: You can witness amazing Lacquer work in Jaipur and Alwar. Artisans create bangles and decorative items through lac resin.
Safari, Adventure and Wildlife in Rajasthan
There are many activities for adventure enthusiasts in Rajasthan
Desert Jeep Safari in Jaisalmer
Hot air ballooning in Jaipur and Pushkar
Paragliding in Jodhpur and Udaipur
Trekking in Mount Abu and Aravali hills
Wildlife safari in Ranthambore National Park
Quad biking in Jaisalmer and Pushkar
River rafting in the Chambal River near Kota
If you are an animal lover, Rajasthan also has a variety of options for you to explore wildlife:
| | |
| --- | --- |
| Animal | Place |
| Bengal Tiger, Indian leopard and Sarus Crane | Ranthambore National Park and Sariska Tiger Reserve |
| Desert Fox | Thar Desert |
| Black Buck | Tal Chhapar Wildlife Sanctuary |
| Indian Peafowl | All across Rajasthan |
| Marsh Crocodile | Chambal River |
Entertainment and Cultural Centers of Rajasthan
Choki Dhani(Jaipur)
Raj Mandir Cinema
Mehrangarh Museum and Cultural Center
Umaid Heritage Art School
Albert Hall Museum
Popular Festivals and Events of Rajasthan
Pushkar Camel Fair(November)
Jaipur Literature Festival(January)
Desert Festival(February)
Elephant Festival(March/April)
Teej(August)
Makar Sankranti(January)
How do I Travel In Rajasthan?
By air: Tourists can use flights to travel to major cities of Rajasthan through Jaipur International Airport and Jodhpur Airport.
By railway: You can travel through railways to all the major cities like Jodhpur and Udaipur.
By road: Travellers can travel by autos, e-rickshaws and buses on the roads to visit tourist destinations within the cities.
By metro(only in Jaipur): You can save your time and travel in Jaipur metro to various parts of Jaipur.
How to travel to Rajasthan?
By flights: Jaipur International Airport is the major airport of Rajasthan. Apart from this, the city also has domestic airport, like Maharana Pratap Airport in Udaipur and Jodhpur Airport in Jodhpur, and these airports are well-connected to major cities of India.
By rails: Rajdhani and Shatabdi Express are popular travel choices for travelling to Rajasthan.
By road: National Highway 8 connects Rajasthan to Delhi and Mumbai.
Travelling Tips In Rajasthan
Hire a reliable guide with ID from the Tourism Board and State Govt.
Women should cover their heads in some worship places like temples and gurudwaras.
Carry cotton and woollen clothes, as the days in Rajasthan are hot, but nights can be chilly.
The local cuisine of Rajasthan can be chilly, so remember to carry antacids with you.
If you are looking for a budget-friendly stay, look for a "Dharmshala" and use platforms like Airbnb
Keep cash with you at all times
Carry protective clothing like scarves and hats if you visit during the summers
Remember to drink water to stay hydrated in the hot climate of Rajasthan.
Remove your shoes in religious sites.
Guidelines for Female Travelers in Rajasthan
If you are a solo female traveller, there are certain things to keep in mind to ensure your safety:
Despite being developed, most women stay at home in Rajasthan after dark. If you have to stay outside late, prefer crowded and well-lit places.
Buy a local SIM card to contact people and book rides through platforms like Ola or Uber.
Dress modestly. Cover areas like your legs, chest and shoulders to avoid unwanted attention.
Avoid sharing personal information with men and strangers.
Stay in reputed locations and hotels.
Responsible Travel in Rajasthan
Here are some tips to travel responsibly in Rajasthan:
Learn about local customs and traditions through travel blogs and travel guides.
Avoid the use of plastics to preserve the environment of Rajasthan.
Use eco-friendly transportation like e-rickshaws to reduce carbon emissions.
Beware of scammers around Lake Pushkar and gemstone scammers in Jaipur.
Avoid camel meat, as it is illegal to slaughter camels in Rajasthan.
Keep the natural heritages and reserves free from trash.
What to Pack for Rajasthan?
We advise you to pack the following things for Rajasthan:
Sunscreen: Always wear sunscreen to avoid sunburns in Rajasthan.
Woollen clothes: This state can be chilly at night despite its hot climate.
Modest clothing and scarves for women.
Cotton shirts and pants for men.
Power bank for long journeys.
First aid kit for any injuries.
Water bottles to store drinking water.
Conclusion
To sum up, a trip to Rajasthan can be fun and adventurous.
Forts, palaces, and the Havelis of Rajasthan make it an attractive choice for many tourists. Furthermore, the local cuisine, wildlife, and traditional art forms differentiate this state from the rest of India.
We hope this article on Rajasthan travel guide gave you valuable insights for planning your trip to this beautiful state.
FAQs regarding Rajasthan Travel Guide
Q: What are the languages used for communication in Rajasthan?
Languages used for communication in Rajasthan include English, Rajasthani and Hindi. A majority of people in Rajasthan speak Hindi.
Q: What are the traditional dishes of Rajasthan?
Traditional dishes of Rajasthan include dal bati churma, laal maas, mirchi bada, etc. You can taste these dishes in the local restaurants of Rajasthan.
Q: What are the health requirements to travel to Rajasthan?
Health requirements to travel to Rajasthan include getting vaccinated for Hepatitis B, malaria and dengue. You should always carry drinking water and first aid kits with you.
Q: When Should You Visit Rajasthan?
The best time to visit Rajasthan is between October and March to avoid the extreme heat of Rajasthan. You can also consider travelling in the monsoon season between July and September.