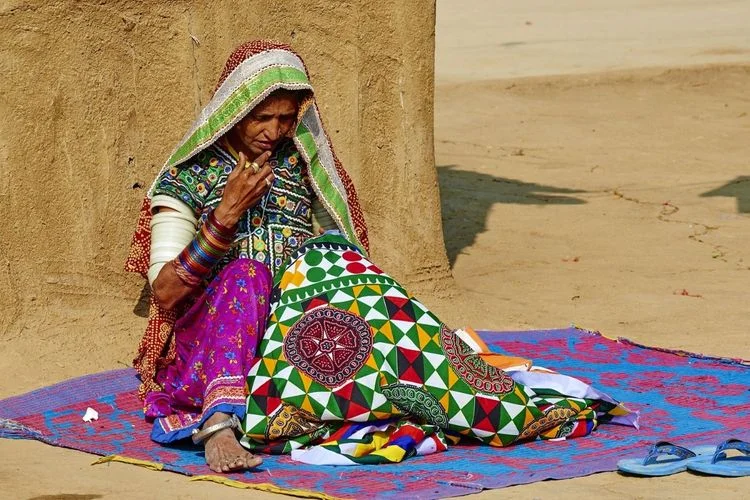 Are you interested in the culture of Rajasthan? Keep reading!
Rajasthan is a beautiful state with a diverse culture. Some essential aspects of the rich culture of Rajasthan are its food, festivals, and monuments. Furthermore, Rajasthan has a variety of people with different religions, languages, and backgrounds. All these people treat tourists with great hospitality. Hence, Rajasthan is the best place if you want to explore a place with a rich culture in India.
In this article, you will get a detailed overview of all the significant aspects of the culture of Rajasthan, including food, festivals, dresses, architecture, art, and dance forms.
History and Culture of Rajasthan
History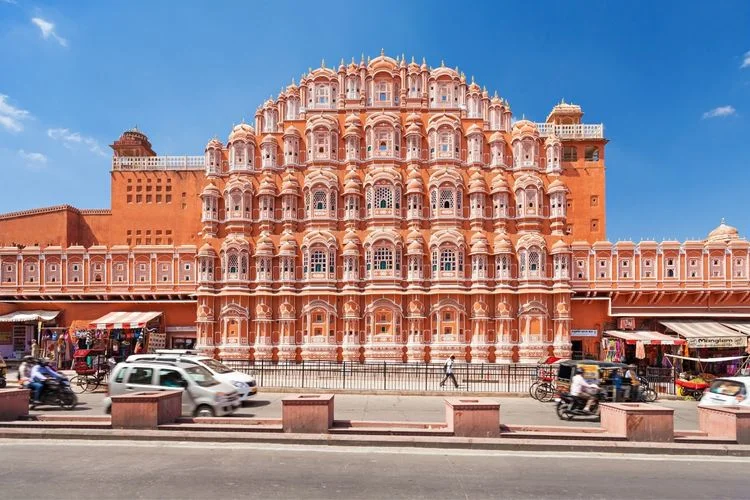 According to research, Rajasthan is at least 5000 years old state. Indus Valley civilization dominated the land of Rajasthan. Apart from this, kings ruled this state from 11th to 19th century. These kings were from various ethnicities, including the Rajputs, Mughals, and Marathas. Due to this, a variety of art forms, traditions, and rituals developed in Rajasthan. Also, many historical temples, dargahs, forts, etc., were built in these centuries.
Culture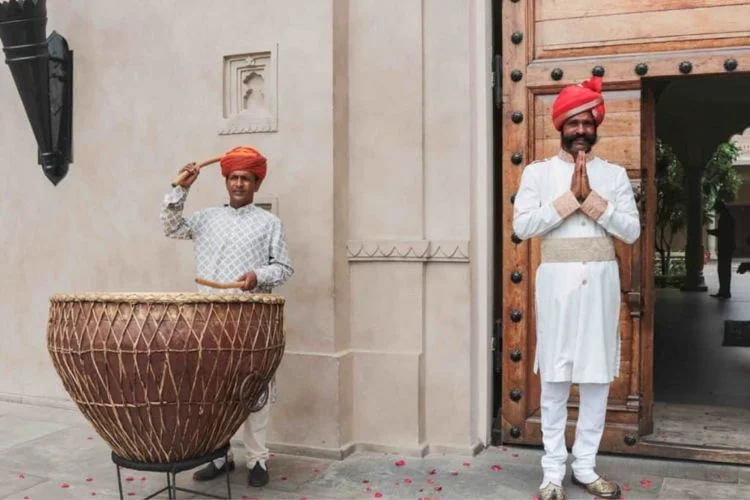 Rajasthan welcomes its tourists with open arms. Rajasthanis believe in 'Atithi Devo Bhava', or guests are a form of god. Hence, it is a tourist-friendly state, and the livelihood of many people depends upon tourism.
Here are some important aspects of the culture of Rajasthan:
Food: Rajasthani food includes dal bati churma, laal maas, ghewar, etc.
Traditional dance: Famous dance forms include Ghoomar, Chang, and Kathipuli.
Clothes: Rajasthani men like to wear kurta and pajama along with headgear. Rajasthani women wear odhni (Skirt, dupatta, and blouse).
Language– Important languages of Rajasthan are Hindi and Rajasthani.
Atithi Devo Bhava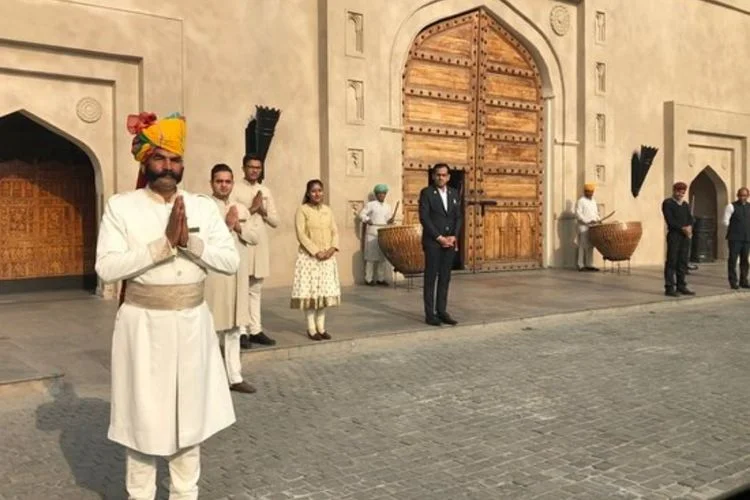 Rajasthan greets tourists like God. 'Atithi Devo Bhava' means guests are a form of god. This principle is deeply rooted in Rajasthani culture. Rajasthanis treat their guests with hospitality and kindness. Furthermore, many people in Rajasthan earn their living from tourism activities. Hence, they serve the tourists with utmost dedication. All this makes Rajasthan a tourist-friendly state.
Traditional Rajasthani Attire
For women-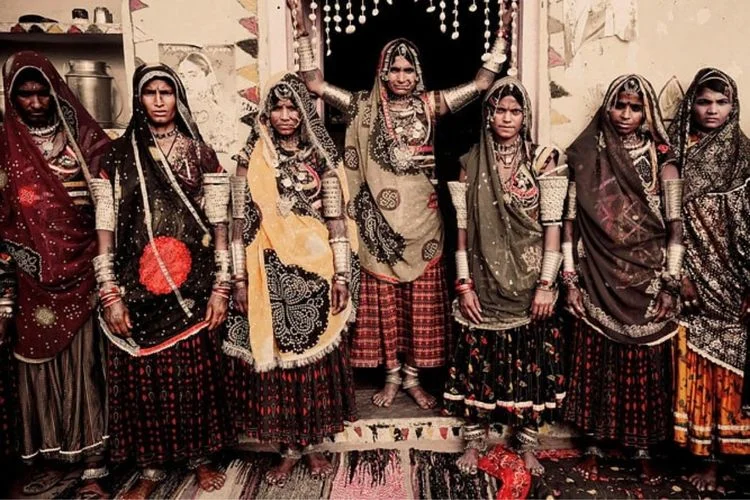 Traditional dress for Rajasthani women is ghagra, choli, and odhni. A ghagra is a skirt which covers the lower portion of the body. People use a variety of fabrics like silk or georgette to make ghagra. The most common prints of ghagra are tie 'n dye, laharia, and bandhej.
A choli covers the upper body of a woman. You can see Rajasthani women wearing various cholis with beautiful mirror work, cut work, corals, and shells. Apart from this, an odhni acts as a veil that helps women to cover their heads.
For men –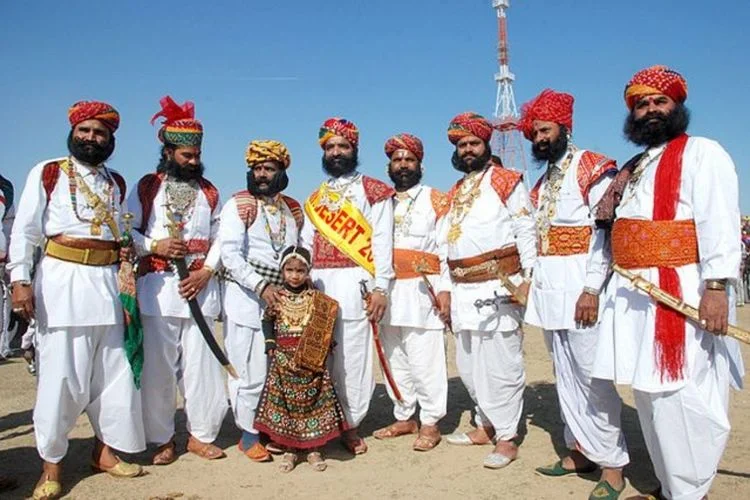 Rajasthani men wear angrakha and dhoti. A dhoti covers men's lower body, whereas the angrakha covers the upper body. Also, the whole attire is completed with a pagari or a headgear. A headgear is the honor of Rajasthani men. You can also see some men wearing round balis or studs.
Footwear-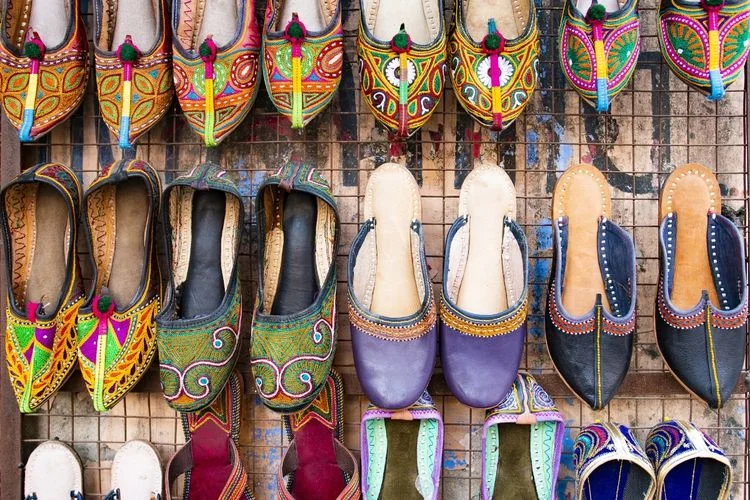 You can see Rajasthani people wearing mojaris or jootis. These are colorful and embroidered shoes made of goat, camel, or sheep skin.
Religion in Rajasthan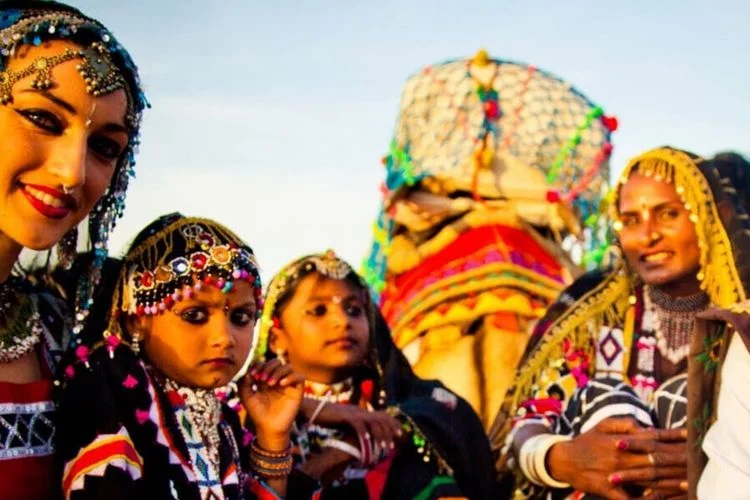 Major religions in Rajasthan include Hinduism, Buddhism, and Jainism. Among these religions, Hinduism is the most popular religion, and Hindus constitute 88.49 percent of the population in Rajasthan. Apart from this, you can also find Christians, Muslims, and Sikhs in this state.
If you want to explore the religious places in Rajasthan, you should visit the Birla Mandir Temple in Jaipur, Dilwara Jain Temple in Mount Abu, and Ukha Masjid in Bharatpur.
Cultural Festivals in Rajasthan
1. Teej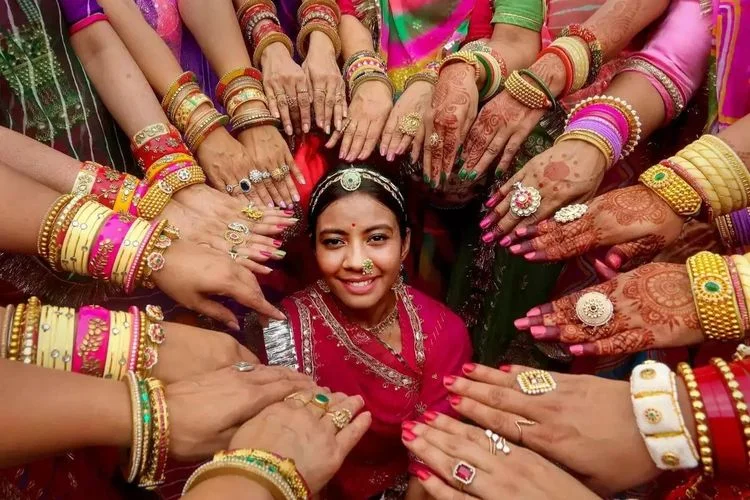 Teej celebrates the arrival of monsoon in Rajasthan. Also, tourists can witness the procession of Goddess Parvati in Jaipur.
Months – August-September
Unique attractions- Malpua and Ghewar (sweets of Teej)
2. Makar Sankranti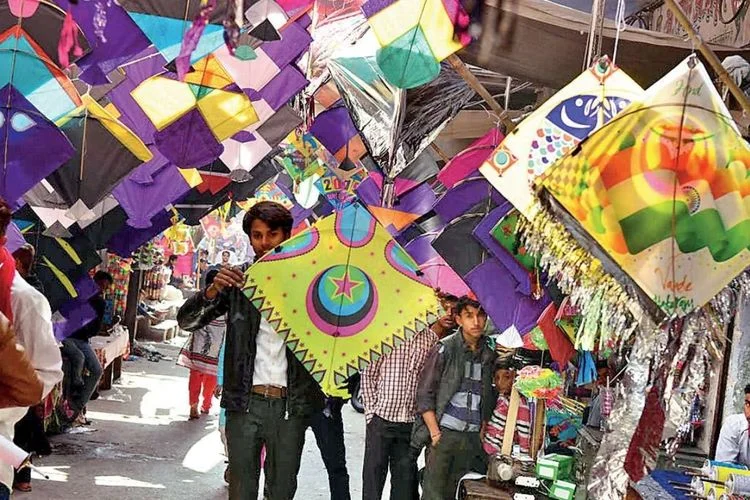 Makar Sankranti: Also called the kite festival, Makar Sankranti is celebrated all across Rajasthan in January. You can see Rajasthanis flying kites and enjoying several sweets on this occasion.
Month– January
Unique attractions-Fireworks, kites, Gajak
3. Jaipur Literature Festival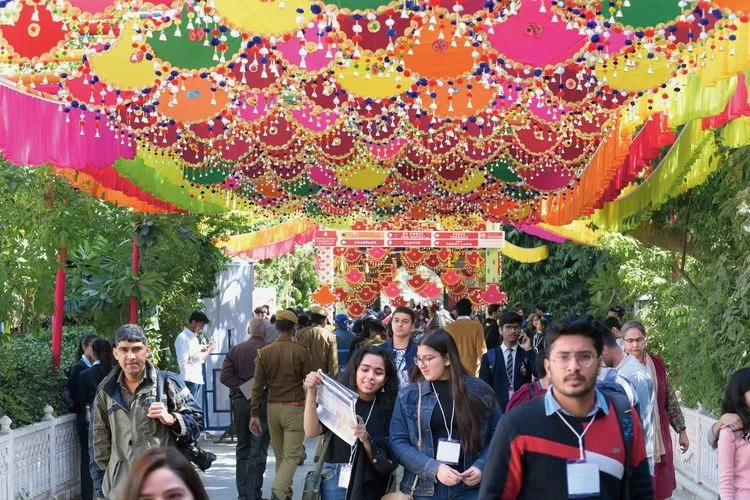 Jaipur Literature Festival: JLF is a world-famous literature festival. Many famous writers and Man Booker Prize winners attend this event to read, debate, and discuss at Diggi Palace, Jaipur.
Month – January
Unique attractions: Seminars, poetry shows, debate sessions
4. Pushkar Camel Fair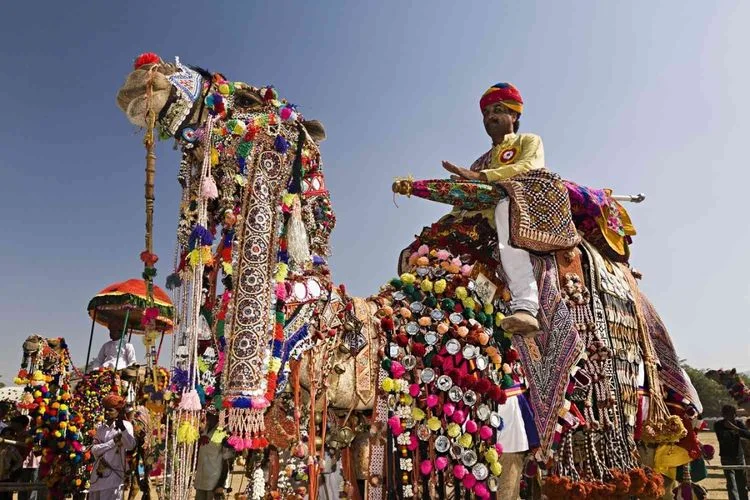 Pushkar Camel Fair: This is the most popular camel fair, attracting tourists from all across the globe. Highlights of the Pushkar Camel fair include the matka phod competition and turban tying competition.
Months– October- November
Unique attractions– Camel competitions, cultural shows
5. Rajasthan International Folk Festival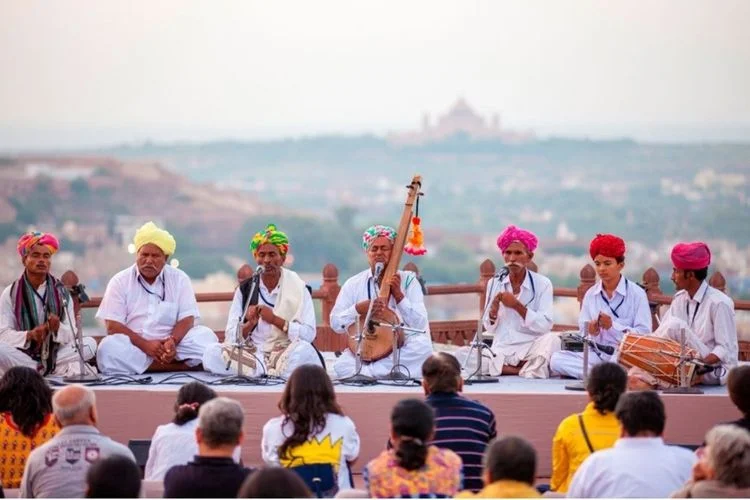 Rajasthan International Folk Festival: You can witness the vibrancy of the Rajasthan International Folk Festival in Jodhpur. This festival celebrates the dance, art, and music of Rajasthan.
Months– October
Unique attractions– Musical performances
6. Gangaur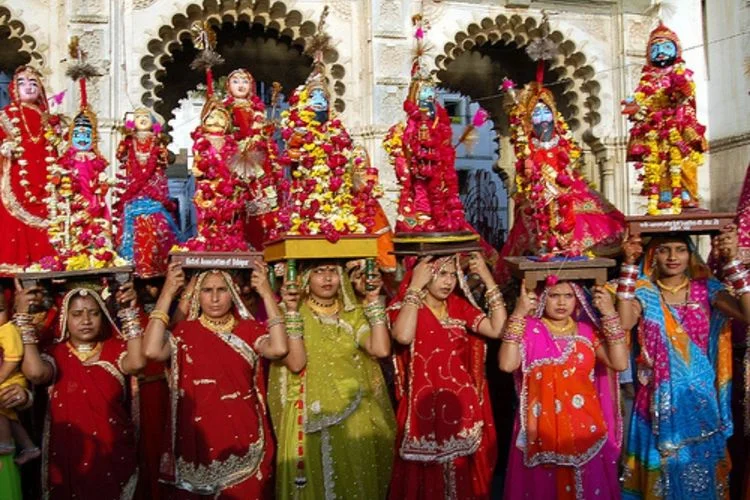 Gangaur: The Gangaur Festival is celebrated to seek the blessings of Goddess Parvati. You can get a sight of fireworks, folk dances, and elephant processions at this festival. Additionally, people celebrate Gangaur for 18 days.
Months- March-April
Key attraction- Folk dance, elephant procession
Languages in Rajasthan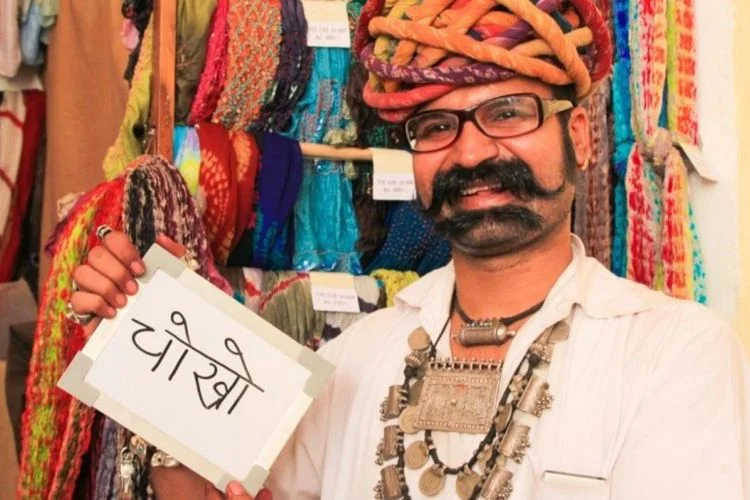 You can find 19 different languages in Rajasthan. The most prominent among these languages are Hindi, Rajasthani, and English. Furthermore, there are various dialects of local Rajasthani languages. These include:
Marwari: This is the major dialect in Rajasthan. People of western Rajasthan speak Marwari.
Jaipuri/Dhundhari: Jaipuri dialect is prominent in the southeast regions of Rajasthan.
Malvi: People speak the Malvi dialect in Ujjain, Indore, and Mandsor.
Mewati: Mewati dialect is mostly spoken in the Alwar region of Rajasthan.
Other dialects of Rajasthan include Kishangarhi, Harauti, etc.
Rajasthani Dance Forms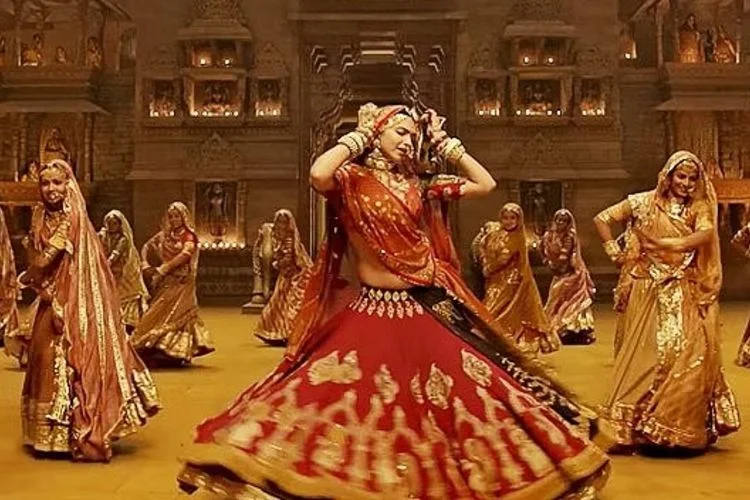 Ghoomar: Ghoomar is a famous dance form in Rajasthan. Travelers can see women in beautiful dresses clapping hands and twirling in this dance form.
Bhavai: Bhavai is truly a mind-blowing dance form of this state. Women dance within a plate while balancing six to seven pots on their heads.
Kacchi Ghodi: Men ride on puppet horses to perform Kacchi Ghodi dance. Further, this dance tells the popular stories of bandits of the Shekhawati region.
Kathputli: Kathputli dance is unique to Rajasthan. You will be able to see dancing puppets and learn about interesting mythological stories.
Melodious Rajasthani Music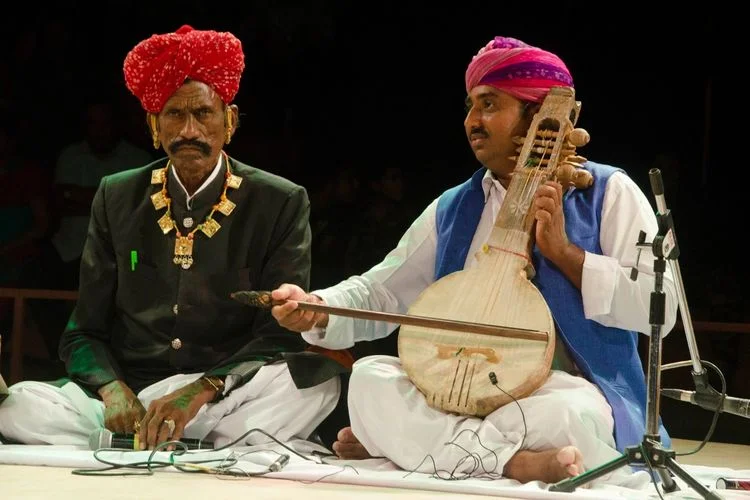 The main contributors to Rajasthani music are Langas and Manganiyars. Apart from this, famous groups for music in Rajasthan include Jogis, Mirasis, and Banjaras. You can listen to different songs from these groups. Further, every song has a specific purpose. For instance, Rajasthani artists perform songs that tell a romantic tale during weddings. To perform these songs, they use shehnai, dhols, and sarangi.
Local Cuisine/Foods of Rajasthan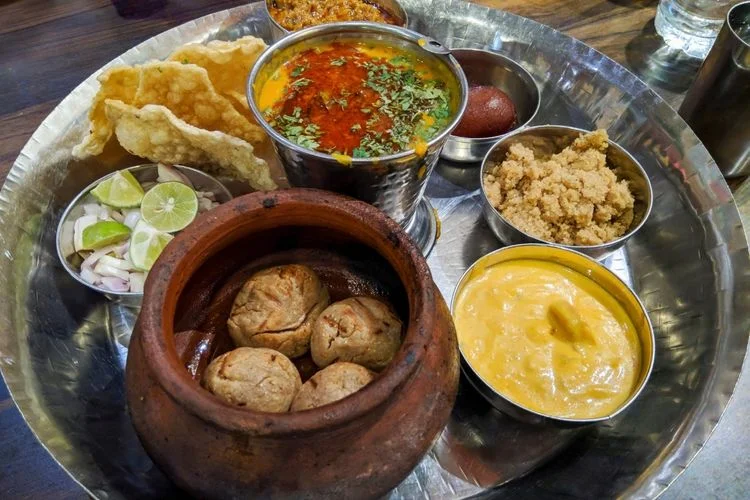 Rajasthan has a variety of delicious food and sweets for tourists. A must-try traditional dish of Rajasthan is dal bati churma. Apart from this, you should also try spicy items like kachori, mirchi bada, laal maas, and Bikaneri bhujia in Rajasthan. Sweets in Rajasthan include ghewar, moong dal halwa, and malpua. Here is a list of must-try dishes in Rajasthan with places to eat them:
| | |
| --- | --- |
| Food item | Best Place to Eat |
| Bikaneri Bhujia | Bhujia Bazar, Bikaner |
| Dal Baati Churma | Choki Dhani, Jaipur |
| Malpua | Pushkar |
| Kachoris | Kota Kachori( various branches in Rajasthan) |
| Mirchi Bada | Manak Balaji ( Udaipur) |
| Ghevar | Chhappan Bhog, Bikaner |
| Moong Dal Halwa | Narayan Mishthan Bhandar, Jodhpur |
| Balushahi | Laxmi Mishthan Bhandar, Jaipur |
| Gujia | Sodhani sweets, Jaipur |
| Laal Maas | Spice Court, Jaipur |
Art and Crafts of Rajasthan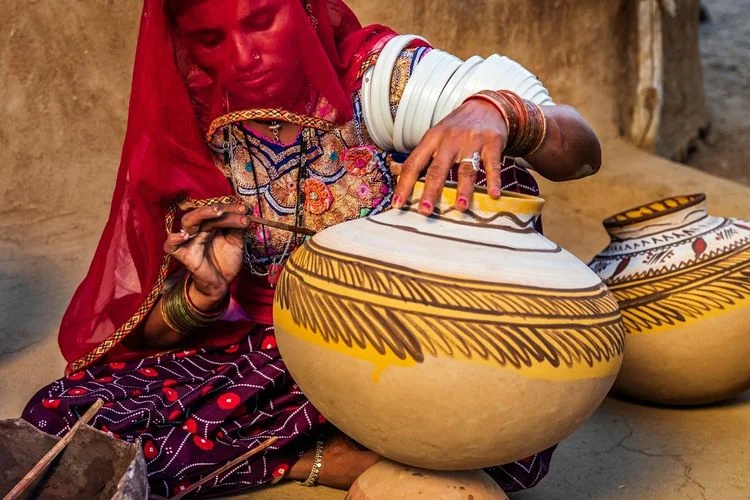 Rajasthan has unique art forms, which include blue pottery, miniature paintings, and embroidery. Apart from this, Rajasthani artists are also skilled in making jewelry and carving wood. Other notable handicrafts of Rajasthan include carpets, garments, leather items, and decorative items. Some of the most popular art and crafts of Rajasthan are mentioned below:-
Blue Pottery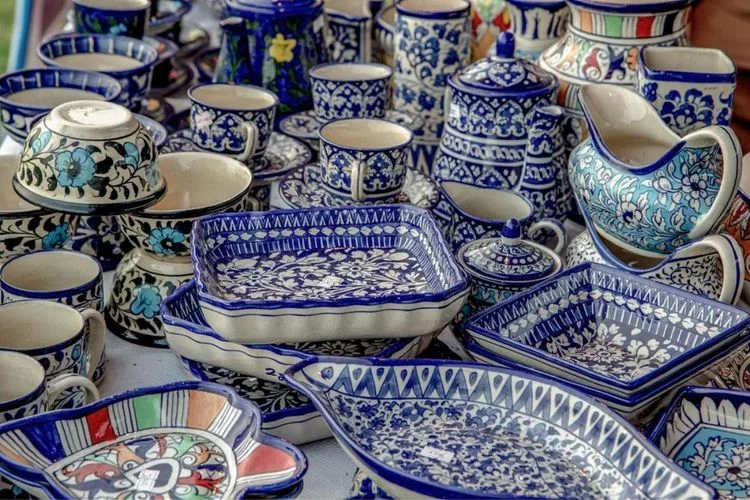 Jaipur is famous for its unique blue pottery. A unique thing about this pottery is that it is not made from clay. Instead, this pottery is made from multani mitti, glass, and quartz. Skilled artisans paint blue potteries to give them a royal look.
Jewellery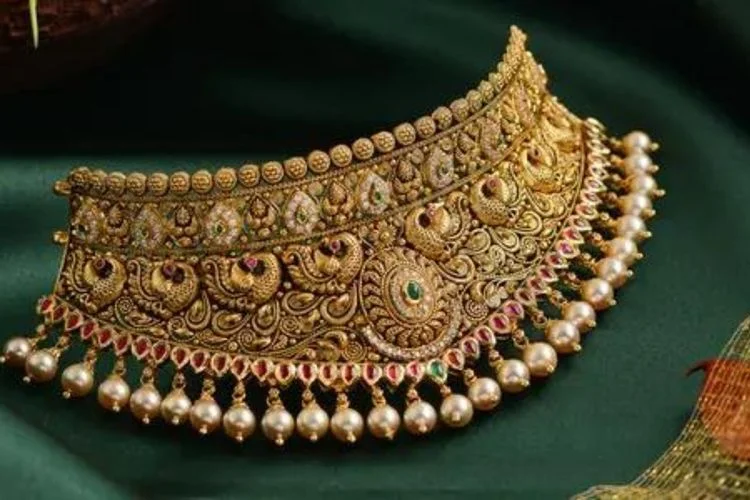 You can find hand-made earrings, bracelets, and bangles in Rajasthan. This jewelry consists of gems, metals, and precious stones. Kundan Minakari is a significant type of jewelry in this state.
Miniature Paintings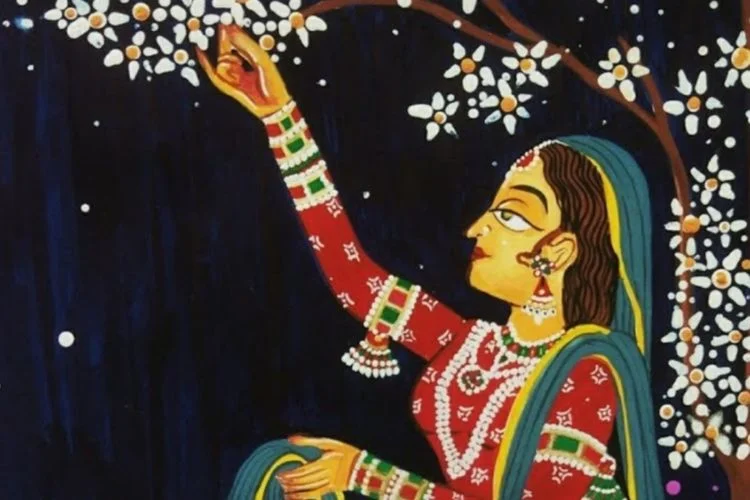 As the name suggests, miniature paintings are small paintings with beautiful artwork. These paintings developed significantly in the Mughal era due to the influence of Persian artists. Further, these paintings may depict stories like the love story of Radha Krishna.
Wood Work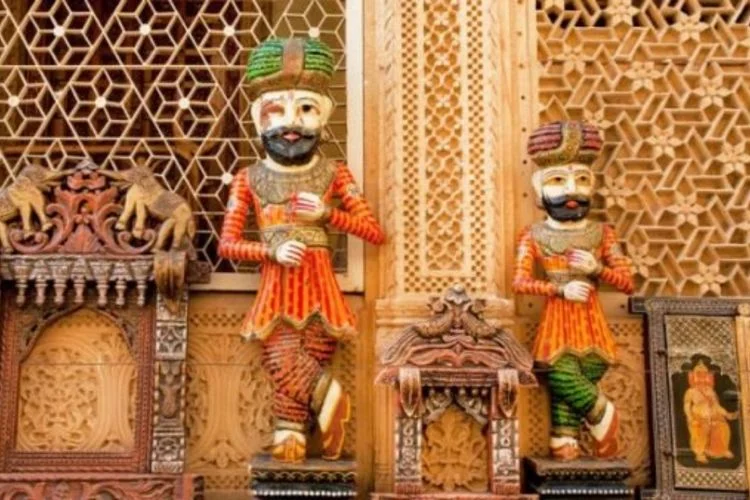 Wood carving in Rajasthan is a blend of Hindu and Mughal art. You can see exciting woodwork in the palaces of Jaipur and Bikaner.
Paper Making Industry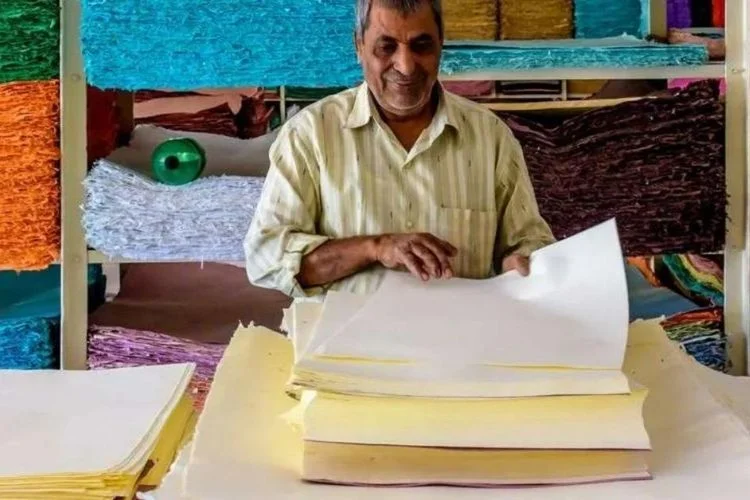 Rajasthan has a unique paper-making industry. These papers are hand-made and used for making gifts, diaries, and notebooks.
Rajasthani Embroidery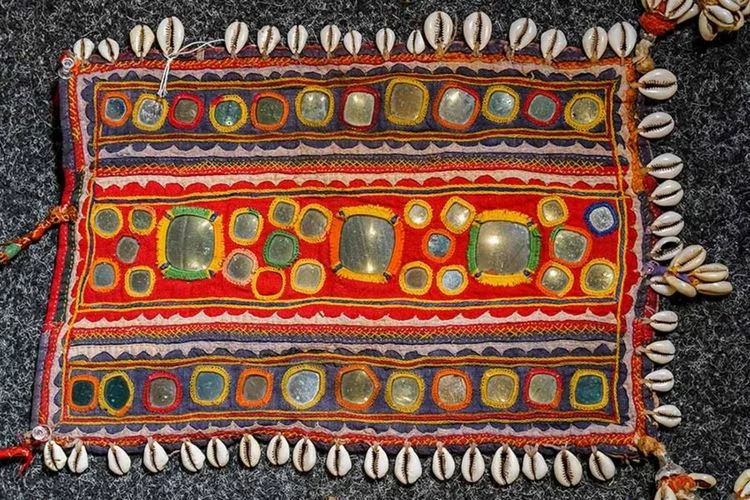 Embroidery is a distinct feature of Rajasthan. Also, you can find embroidery in many things like jewelry, bags, shoes, and leather. Among these, leather embroidery is the most popular.
Magnificent Architecture of Rajasthan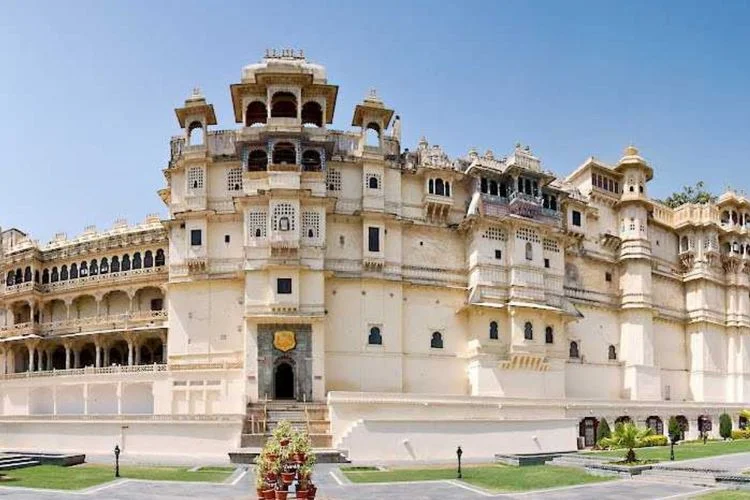 Rajasthani architecture is a blend of Hindu, Islamic, and colonial styles. Key elements of Rajasthani architecture are chhatris, jaalis, and jharokhas. Here is a list of buildings and monuments depicting the best architecture in Rajasthan:
Amber Fort, Jaipur: You should visit Amber Fort if you are interested in Rajput architecture. This fort is made from pink and pale yellow sandstone.
City Palace, Udaipur: City Palace uniquely blends Mughal and Rajasthani architecture. Also, the entire palace is made from marble and granite. Apart from this, you can see zigzag corridors, beautiful wall paintings and amazing mirrorwork in this palace.
Hawa Mahal, Jaipur: Hawa Mahal is constructed with red and pink sandstones. It is a fusion of Hindu and Mughal architecture. Furthermore, this mahal has 953 windows.
Patwon ki Haveli, Jaisalmer: You can find astonishing yellow sandstone work and mirror works in Patwon ki Haveli. The carvings and balconies of this haveli are perfect examples of unique Rajasthani architecture.
Chittorgarh Fort: Situated in Chhitorgarh, this fort is associated with bravery stories of Rajputs. Apart from this, the fort has seven gates and consists of Ratan Singh's Palace and Rani Padmavati Palace.
Wildlife
Here is a list of the best places to explore the wildlife of Rajasthan
| | |
| --- | --- |
| National Park/ Sanctuary | Location |
| Ranthambore National Park | Sawai Madhopur |
| Keoladeo National Park | Bharatpur |
| Chambal Wildlife Sanctuary | Dholpur |
| Kumbalgarh Wildlife Sanctuary | Kumbalgarh |
| Mount Abu Wildlife Sanctuary | Mount Abu |
| Desert National Sanctuary | Jaisalmer |
| Darrah Wildlife Sanctuary | Kota |
| Kailadevi Wildlife Sanctuary | Karauli |
| Sita Mata Wildlife Sanctuary | Pratapgarh |
| Tal Chhappar Sanctuary | Churu |
| Sariska National Park | Alwar |
Tips for Travellers in Rajasthan
Stay for two days in every city of Rajasthan to explore the true colors of Rajasthan.
Select your accommodation wisely. You may stay in a traditional haveli or a luxurious hotel as per your preference.
Choose an authorized guide with an ID from the state government or tourism board.
Research the best places to shop before shopping in the city. For instance, Johri Bazar is the best place to buy jewelry in Jaipur.
Visit the cultural hotspots of Rajasthan, like Choki Dhani in Jaipur and Bagore Ki Haveli in Udaipur, to immerse yourself in the culture of Rajasthan.
Conclusion
Rajasthan is the best place to visit in India for tourists because of its rich culture. In this article, we learned many things about the culture of Rajasthan in detail. We learned how tourists can explore various dance forms, listen to Rajasthani music, taste the local cuisine, and participate in the vibrant festivals of Rajasthan.
If you are also planning a trip to Rajasthan, you can book our Rajasthan Tour Package for an amazing travel experience.
FAQ's :-
Q: What are the tribes in Rajasthan?
Tribes in Rajasthan include Bhils, Damaria, Dhanka, Meenas, Patelia, Sahariya, Naikda and Nayaka.
Q: What are the popular folk tales of Rajasthan?
Popular Folktales of Rajasthan include Panna Dhai, Dhola Maru, Hadi Rani, and Wishing Tree.
Q: Which city is best to explore the culture of Rajasthan?
Jaipur is the best city to explore the culture of Rajasthan.
Q: Which is the largest college cultural fest in Rajasthan?
BLITZSCHLAG is the largest college cultural fest in Rajasthan hosted by MNIT, Jaipur.
Q: Which is the largest fair in Rajasthan?
Pushkar Fair is the largest fair in Rajasthan.
Q: What is the significance of turbans in Rajasthani culture?
A turban is the honor of Rajasthani men. Knocking off the turban signifies an insult. Also, placing a turban on someone's feet signifies surrender.
Q: What is the importance of jewelry in Rajasthani culture?
In Rajasthan jewelry is the representation of the status and wealth of women.
Q: What is the significance of havelis in Rajasthan's cultural heritage?
Havelis act as a status symbol for Marwaris and provide them a sense of security.
Q: What are the different forms of Rajasthani music?
Different forms of Rajasthani music include Pabuji ki Panch and Panihari.
Q: What are the traditional forms of Rajasthani entertainment?
Traditional forms of Rajasthani entertainment include music, puppetry, and dance.
Q: What are the customs and traditions of Rajasthani weddings?
Palla and Janev are the most important customs of Rajasthani weddings.
Q: What are some famous Rajasthani handicrafts and textiles?
Famous Rajasthani handicrafts and textiles include blue pottery and leather wear.