India holds with it its traditional authenticity in each and every facet from culture to history and attires to jewelry. Jewelry is the thing which grabs the attention of all ladies around the world. When it comes to India; the word jewelry becomes grander and majestic with the ancient and royal touch. Jewelry styles of India such as polka, Jadau, meenakari, temple style, tribal style, etc. which mostly made with precious metals of gold and silver, and embellished by precious and semi-precious stones. With a vast list of jewelry styles and designs, India has also a vast and creative list of jewelry accessories even for each of the body part (Indian ladies are Hugest jewelry lovers). So our effort to inspire you to follow the traditional Indian jewelry style while traveling to India with our intro to authentic jewel accessories. You can trace them easily in India sometimes while wearing them by Indian ladies or in markets to make you try it out. Check out now what traditional Indian jewelry pieces to pick from Indian bazaars!
8 Best Traditional Indian Jewelry That You Should See
1. Maang Tikka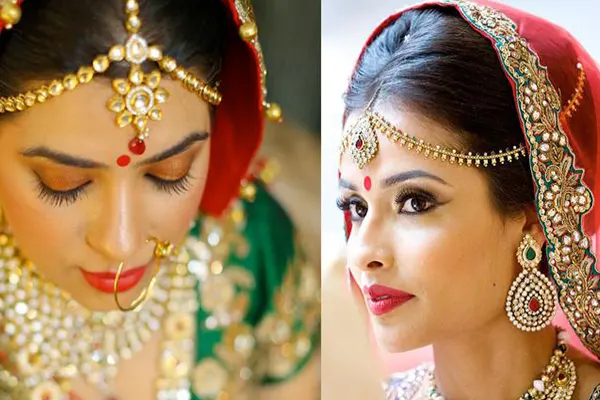 Maang Tikka is the traditional Indian forehead jewelry. It's a beautiful accessory worn on the parting of hairs on the head, generally worn on traditional occasions matching with traditional attires, but you may mix it up with your modern attire to add a spark to your look. International celebrities have tried Indian Maang Tikka on huge appearances to complement their look. So now it's your time to try this stunning accessory on your head.
2. Jhoomar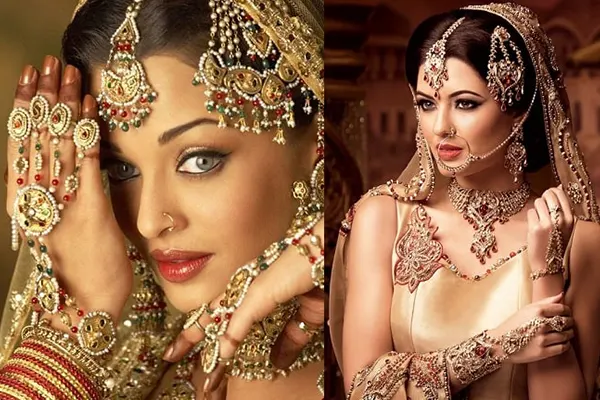 This is one more traditional Indian jewelry for hair, to be decorated on the left side of the head and usually, it was worn by ladies of the Muslim community. But nowadays it is worn and flaunts by all lovely ladies on all special days and the next turn is yours.
3. Nose Ring or Nose Pin (Nath)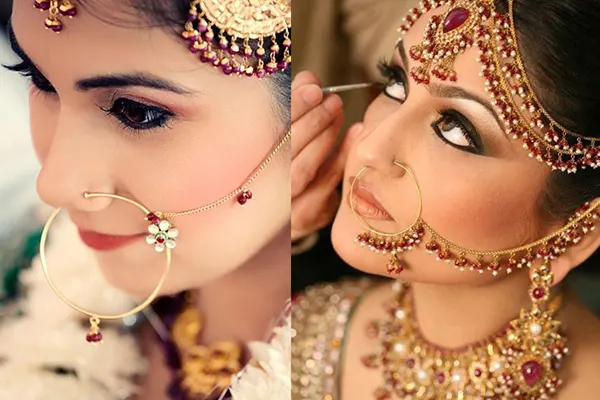 Nath is the local name of this nose decorating traditional Indian jewelry. So, this one for the cute little nose, take back your designed nose back with stunning nose pin (little stud on your nose) or nose ring (a small one or a large one, moon shaped) onto your nose, but you really need to endure little pain for that nose piercing. A little pain is no big harm to get the best look, as ladies are just too brave to bear all pains with high elegance. Nath is also the pride of an Indian bride!
4. Kamarband or Waistband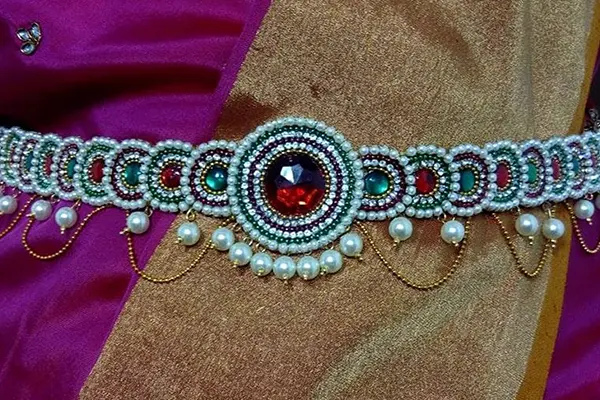 This is an authentic accessory comes in all styles- traditional Indian style, tribal style, temple style and many more and what you have to do is just pick your style for this cool cum elegant cum classic waistband pairing with your attire. Choose your waistband style in India.
5. Haath Phool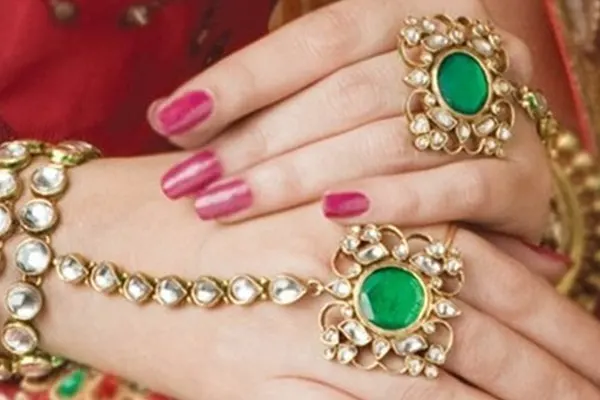 This is one amazing accessory worn on the gorgeous hands of ladies. "Haath" means hands and "Phool" means flower so let's keep it simple this ornament has floral designs which beautify your hands in a stylish way and this one can be worn with modern attires, for parties, with dresses, for the ethnic look and with everything else. Why don't you make your own trend to wear Haath Phool?
6. Baajuband or Armlet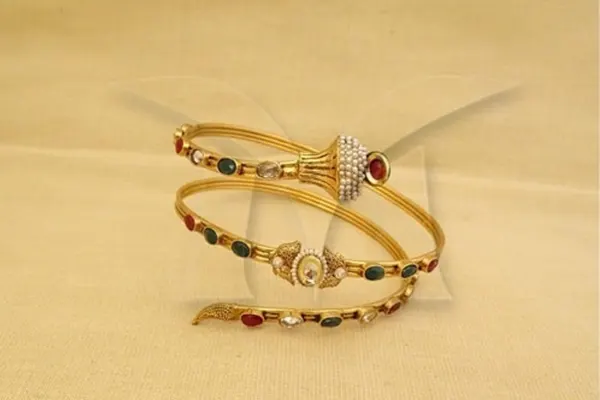 There is one traditional Indian jewelry for your arms too and that is also equally classic. You can find it in all styles, variants, and materials. Get ready to add the charisma to your style statement while wearing it on your arm. So search for one unique armlet for your arm.
7. Toe Rings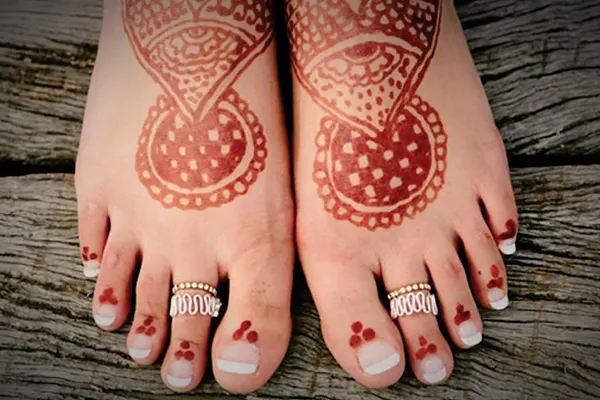 A small and insignificant part of your body, the toes but India takes to care for your perfect pedicure toes too with this tiny but graceful accessory- "Toe ring". It is worn so commonly in India by each married lady. You can choose the right design for you in your favorite metal- gold, silver, copper or any other materials. Ladies love toe rings!
8. Anklets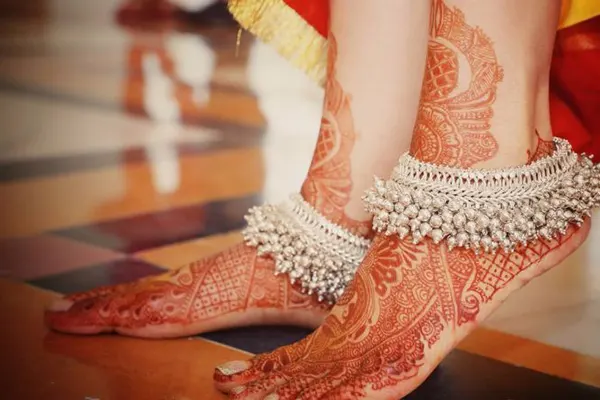 This stylish ornament is worn so gracefully in legs by ladies in India. Wearing Anklets is quite common in the ladies in the world around, however, ladies of India wear anklets in both of their legs unlike other parts of the world. Indian anklets are going to blow you away with its rich and funky designs. Come to India to wear anklets, not a bad idea at all!
So these are enough reasons to plan your trip for India and book an India Tour with the Leading Tour Operator in India LIH for all ladies out there, in fact, it's an elegant reason to come to India for these classic accessories. Go for it fast and purchase some of the finest and gorgeous traditional Indian jewellery!