Varanasi, Banaras, and Kashi are three names of one single city. Spiritual nation 'India' has treasured spiritual capital too. Varanasi is also known as the "Spiritual Capital of India," which is the oldest inhabited city in the world. Varanasi is one of the "treasures of Incredible India."
As the spirit of India lies in the city in the form of holy river Ganges, the lively Ghats, epic Temples, the age-old Culture and Traditions, etc., are some of the most delicate things to do in Varanasi.
This city availed its "Spiritual Capital of India" title because of the supernatural fact that Lord Shiva (Lord of moksha or liberation) himself built the town. That is why; it carries the importance of after-death rituals in Hindus to attain the ultimate moksha.
From spirits to death, this city lives all the charms of the journey of life. A trip to this artistic combination of physical and spiritual worlds is a must to discover more untold offbeat and supernatural stories recited by this holy city in a promising way. To find all the magical surprises you will encounter on your soulful journey to the "Spiritual Capital of India." So here is the list of things to do in Varanasi. Explore Varanasi with us during our famous Golden Triangle Tour Package with Varanasi along with other popular tourist cities of India:-Agra, Delhi and Jaipur.
Best Things To Do in Varanasi:-
1. Tour to Sarnath:-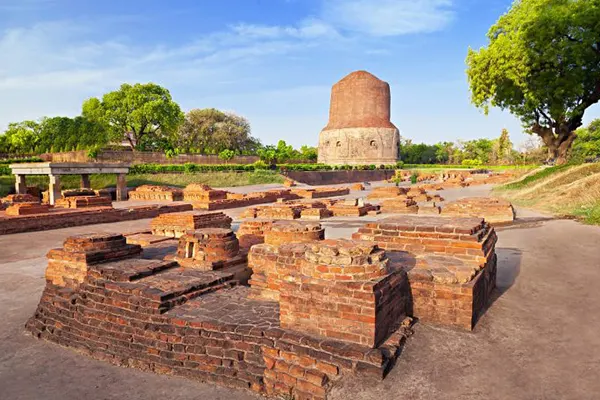 Sarnath is Situated 10 km away from the spiritual city of India, i.e., Varanasi. This site is top-rated because in the deer park of Sarnath, after achieving enlightenment in Bodhgaya, lord buddha gave his first Sermon, Dhamma here in which he taught about the four noble truths. Sarnath is where the Buddhist sangha, through the enlightenment of kondanna has finally come into existence. 
Singhpur village is situated a few kilometres away from Sarnath; this place is where the eleventh Tirthankara of Jainism has been born. The spiritual city of India, Varanasi, is known for its Hindu religious centre, while Singhpur's Sarnath is known for its Buddhist religious centre where lots of Buddhist monuments are situated.
There are many tourist attractions in Sarnath that you should pay a visit to. The main attraction of Sarnath is the Chaukhandi stupa built by Ashoka after he changed his religion to Buddhism. Some other attractions are Dhammek Stupa about this stupa the historians say of another country that it indirectly refers to UFOs and aliens, and the other is Mulagandha Kuti Vihar.
The national emblem of India, i.e., the lion, is also showcased in Sarnath. If you want to know more about the Buddhist religion, then this place is on the top list of things to do at Varanasi. Visiting this holy place, Sarnath, is one of the best things to do near Varanasi.
Timing:- 9:00 am to 5:00 pm
Entry fees:- INR 5 for Indian
                                    INR 100 for Foreigners
2. Early Morning Boat Ride in Ganges River:-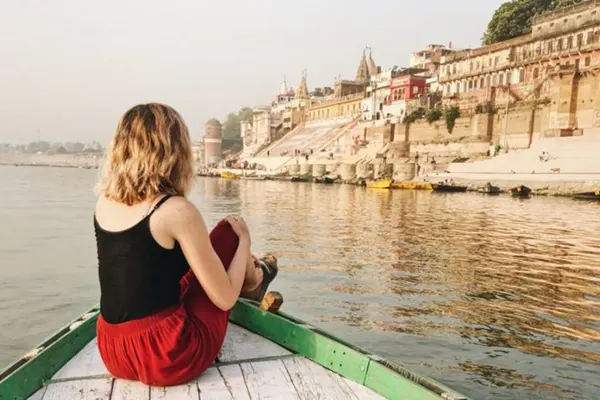 Make your Varanasi trip more special with peaceful boat rides in the holy waters of the Ganges. For the sake of extra serenity, try an early morning boat ride with the shiny rising sun and its magical reflections in the water, creating one of the brilliant sunrise moments of your life. Morning time is an ideal time to hear the peaceful tales of this holy city, the musical chirping of birds, the morning prayers, the hymns of sadhus (sages) on ghats, and the sound of the musical waters of river Ganges made with the reflection of intensifying Sun.
The best and most suitable time to enjoy a boat ride in the river Ganges is 5:30 to 8:00 am. The boat ride in the Ganges river is one of the Peaceful and Fun things to do in Varanasi that you will cherish for a lifetime. The boatman rides you to different places situated near the Ganges River and to the various ghats that give you a panoramic view of this region and the river Ganges.
Tourists can book their boats from the Manmandir area. The boat ride will take you from Dasaswamedh Ghat to Harischandra Ghat and then back. On the Dasaswamedh ghat, you can also go for the Aarti of the Ganges River.
Charges:- INR 2000 for 2 persons 
                                INR 1500 for 3-4 persons 
                                INR 1000 for 5-6 persons 
3. Explore Historic Ramnagar Fort:-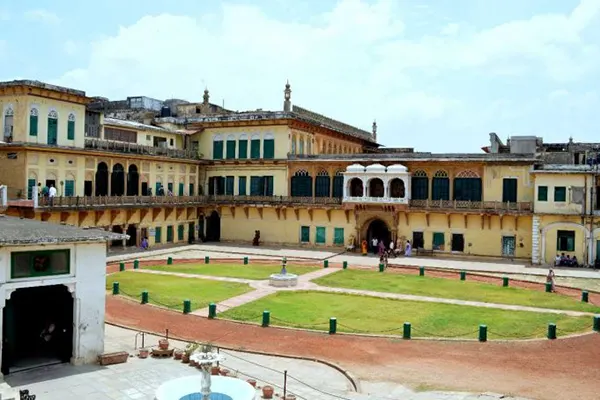 Reviews of Ramnagar Fort – 4.1 Rating by 13,845 Reviewers
On the eastern bank of the Ganges opposite Tulsi ghat, this holy city treasured the colossal fortress of Ramnagar. The fort also houses a Ramnagar fort museum showcasing vintage American cars, jewel-encrusted sedan chairs, an armoury of swords and old guns, ivory work, and antique clocks. The crème formal structure of the fort has got a big clock, which not only displays year, month, week, and day but also astronomical facts about the sun, moon, and gathering of stars. 
The more you go deep, the more you'll find the reasons to discover this fortress (the then home of Maharaja of the city) in Banaras, and it is among the list of top things to do in Varanasi India. This palace has open courtyards, balconies, and pavilions, and the fort is also used for filming various outdoor scenes. This fort is made up of cream-coloured chunar sandstone, which gives it a beautiful, durable, and sophisticated look.
Timing:- 10:00 AM – 12:00 PM and 2:00 PM – 4:30 PM
Charges:- INR 15 for adults
                               INR 10 for children
4. Visit Bharat Kala Bhavan Museum:-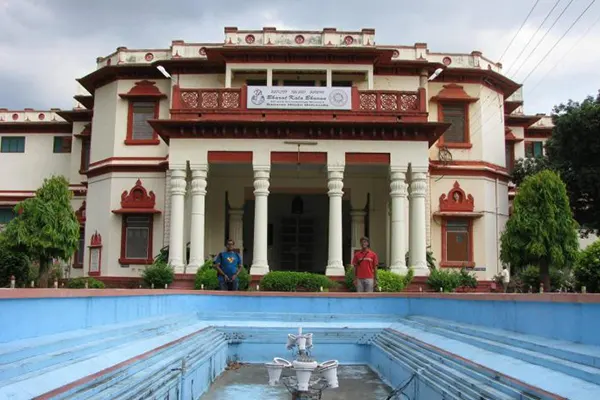 Review of Bharat Kala Bhavan – 4.5 Rating by 728 Reviewers
Bharat Kala Bhavan, situated in Banaras Hindu University, built by Madan Mohan Malviya. Bharat Kala Bhavan showcases more than 1,00,000 various artefacts collections such as- Buddhist and Hindu sculptures, manuscript, painting, brocade textiles, Mughal miniatures, pictures, a contemporary art form, bronze statues, terracotta beads, pottery, craft, ivory goods, jewellery and rare collection of Rajasthani, Gujrati and Pahari miniature paintings they all are part of the museum's collection. 
Mahatma Gandhi has visited here thrice, but on his last trip, he stated that the collection of Bharat Kala Bhavan is outstanding. Bharat Kala Museum is among the top places to see in Varanasi.
Timing:- 11:00 am to 4:00 pm
Charges:- 5 per head for domestic visitors
                               5 per head for Nidhi Gallery
                               2 per head for staff and students of other academic institutions of India
                              40 per head or foreign tourists 
5. Visit the temples of Varanasi:-
Varanasi is home to around 20,000 big and small temples. You can visit some of them, which are considered necessary in Hindu religion such as Kashi Vishwanath Temple of Lord Shiva and others which your soul tells you to visit. Visiting the temples of the spiritual city of India is one of the crucial things to do in Varanasi India. The reason to explore temples of this city is the brilliant architecture from bygone times these temples carry, all we can do is to adore and praise those beautiful artists. Here are some of the famous temples in Varanasi that you must Visit:-
Kashi Vishwanath temple:-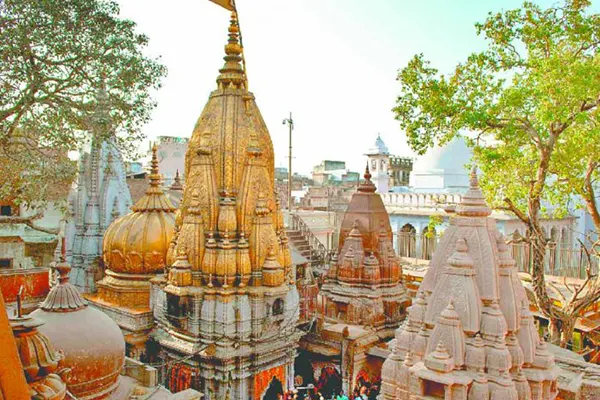 Review of Kashi Vishwanath temple – 4.7 Rating by 40,398 Reviewers
The Kashi Vishwanath temple of the city is the most devoted Shiva temple of India, also known as "Golden Temple" it is one of the most famous temples because Sikh maharaja Ranjit Singh has donated a massive amount of gold to this temple and this gold two domes of temples have been constructed. This temple is one and most significant among the Twelve Jyotirlinga (the holiest of Lord Shiva temples) of the country. Queen Ahilyabai Holkar of Indore builds this temple in 1780.
– Timing:- 9:00 am to 10:00 pm.
– Location:- Lahori Tola, Varanasi, Uttar Pradesh 221001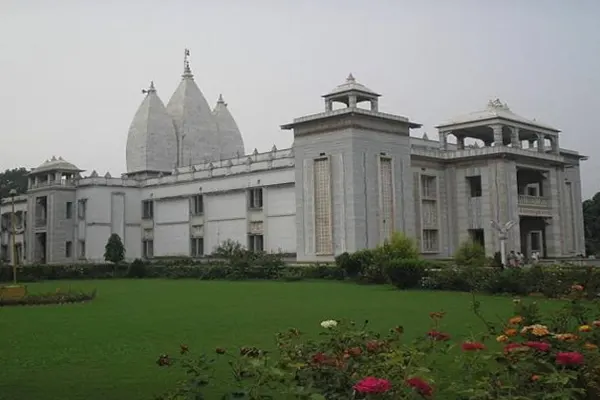 Review of Tulsi Manas Temple – 4.5 Rating by 4,148 Reviewers
This temple is dedicated to Lord Rama and is built-in 1964. Tulsi Manas temple is the place where Tulsidas wrote Ramayana, which is a Hindu epic in an Awadhi dialect of the Hindu language. The temple made of white marble and the walls of the temple are embellished with the story of Ramayana and verses and scenes from Ramayana.
– Timing:- 5:30 AM – 12:00 PM and 4:00 pm – 9:00 pm
– Location:- Sankat Mochan Rd, Durgakund Rd, Near Jalan, Varanasi, 221005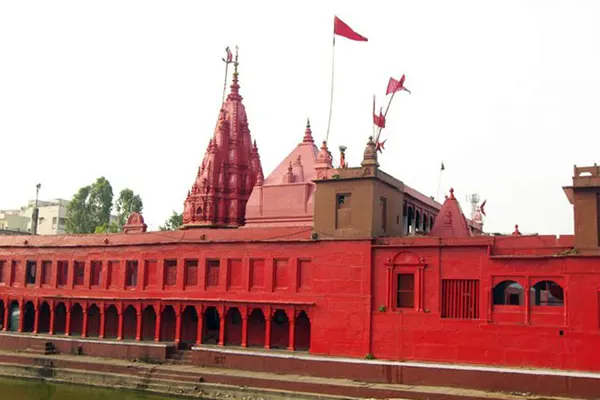 Review of Durga temple – 4.6 Rating by 9,376 Reviewers
Durga temple is one of the famous temples in Varanasi, built during the 18th century by Bengali Maharani. This temple is a perfect example of Nagara style of art and architecture and is colored red with ochre. The temple is dedicated to goddess Durga. According to some legends, it believed that the idol of the goddess Durga within the temple was made by the goddess Durga herself. Visiting this temple is among the best things to do in Varanasi, this one place you can't miss.
– Timing:- 5:00 AM – 12:00 pM and 4:00 PM – 9:00 PM
– Location:- 27, Durgakund Rd, Durgakund, Anandbagh, Bhelupur, Varanasi, Uttar Pradesh 221005
6. Shopping in Old Bazaars:-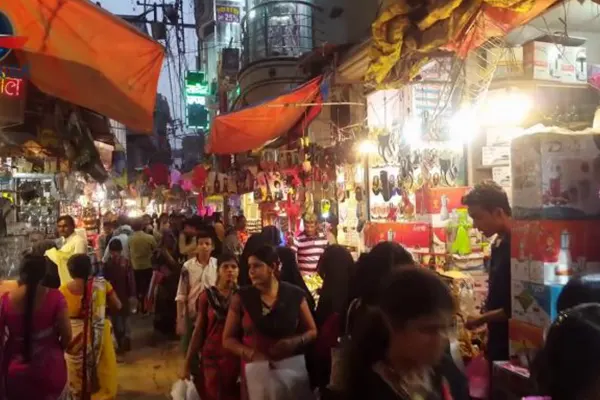 Shopping is among the fun thing to do in Varanasi during the evening or in the afternoon. Varanasi is famous for its Banaras silk sarees and its jewellery. Visit the local markets of Varanasi to purchase the items of your choice. Old Bazaars of Banaras are as high as your shopping spirits; you will discover tons of colourful knick-knacks holding the cultural charms. There are many things to buy from the local markets other than the banarsi silk saree is shining bangles, funky jewel pieces, shawls, carpets, stone sculptures, accessories, and a long list to locate. Shopping and Banaras are pretty excellent companions; that's what you're going to feel while shopping in Banaras. Some of the popular markets are:-
Thatheri bazaar is famous for its copper and metalwork. The locality filled with the large no. of the brass smith; that's why this market is known as Thateri bazaar. A large no. Images of god and goddess made here and a technique of metal work to make household objects also perfected here. It is also highly famous for brocades, silk and here you can also search for different antiques designed with stone trim work.
Vishwanath lane and Chowk:-
Another buzzing market in the city of Varanasi is Vishwanath lane and Chowk famous for its silk items, jewelry, colorful bangles, printed textured dupattas and banarsi sarees, these shopping markets has a lot to offer to the tourist of Varanasi. 
This market has a variety of things to offer from daily routine stuff to wedding outfits, ornaments, brocade textures, equipment, exquisite quality silk shawls, Zari work, and readymade clothing. The smell of Kapur or camphor spread out of every second shop in this famous market in Varanasi that surely will get you drunk on the divine. 
The Banaras silk emporium:-
Situated on the cantonment road, this emporium is a manufacturer, exporter, and wholesaler of traditional silk sarees, bed covers, and stoles offering reasonable prices and exceptional quality. This area is a must-visit place in Varanasi.
Shri Gandhi ashram khadi bhandar:-
Shri Gandhi ashram khadi bhandar sells kurta pajama, sarees, headscarves, and shirts. The fans of natural and organic products should visit here.
Things To Do in Varanasi at Night:-
1. Attend evening aarti ceremony at Ganges river:-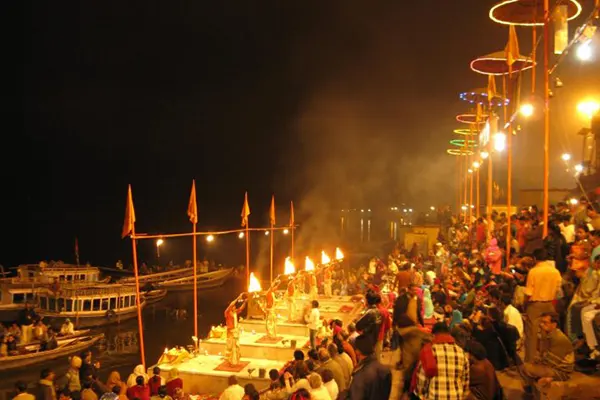 When we talk about things to do in Varanasi at night, the evening Aarti is on top of the list when you are thinking of planning a trip to Varanasi. Witness the beautiful rituals performed during the Aarti ceremony leaves you spellbound. 
Brass lamps of big sizes weighing 4.5 kgs used during the Aarti ceremony lift only when you can handle it. This event accompanied by a large crowd and devotees of Ganges river, aromas of flowers, the fragrance of incense sticks, and chants creates a beautiful sight and a heavenly blessing. 
During the Aarti ceremony, all the priests wear similar clothes. If you want to click the pictures, then you should arrive at the ghats with evening boats, as this will allow you to capture the beautiful image of this ceremony. The Aarti ceremony is started every evening at 6:45 am, and the sky at the time of evening shines with the light of lamps. Don't miss the Aarti ceremony on the Daswanand Ghat of Ganges river; it's a once in a lifetime best experience. This will 
2. Try Local Street food of Varanasi:-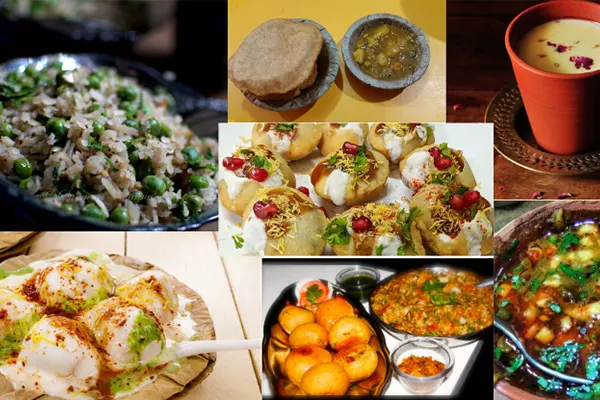 Taste mouth-watering local street food of Varanasi is a fantastic experience. In India, the true essence of cuisine and culture is Street food, and Varanasi has a lot to offer when it comes to food. Street Food is an integral part of Varanasi's culture. Varanasi's cuisine influenced by the nearby areas of Varanasi, such as- West Bengal and Bihar. The trip is incomplete if you are Going without tasting the street food. Trying the street of Varanasi is among the best things to do in Varanasi. Some of the most popular places in Varanasi to eat the street food that you can't miss while visiting Varanasi:-
Kachori sabzi is one of the most popular dishes in Varanasi. There are two kachoris to eat one is badi kachori filled with a mixture of spicy lentils or dal ki pithi, and the other is Choti kachori filled with a mix of spicy mash potato and this tasty dish served with aloo curry.
– Location:- Ram Bhandar, Thatheri Bazaar, and Kachori Gali
Choora matar is made up of flattened soaked rice in desi ghee and cooked along with raisins, green peas, saffron, and several spices. This dish is a famous snack in Varanasi. 
– Location:- Gopal mandir Gali
Gol gappe is also known as "meethe gol gappe." This dish is a sweet and spicy dish that is loved by everyone. This crispy gol gappe is filled with a mixture of mashed potatoes and then topped with Dahi, Sev, and chutneys with some spices. Pomegranate sprinkles on them for garnishing.
– Location:- Deena Chaat Bhandar, Gol Ganj
Baati chokha is a wheat flour balls filled with chana dal and spices inside. These balls are known as litties and served with chokha, which is prepared with boiled potatoes, eggplant, spices, and tomato. baati chokha is a famous food of Bihar and Varanasi too.
– Location:- Puran Das Road.
Tamatar chaat is a very spicy dish. It is made up of boiled, mashed potatoes, tomatoes, onions, green chilies, spices like- garam masala, red chili powder, and ginger and lastly garnished with fresh coriander leaves. And it is served in a bowl made up of Palash leaves known as dona. 
– Location:- Deena Chaat Bhandar, Dashaswamedh Road
Makhan malaiyyo is a famous dessert of Varanasi, which made by churning the milk to create a creamy texture. Then this milk is garnished and flavored with cardamoms, saffron, almonds on the top, and pistachios. The Persian style of cuisine influences this drink. It served in kulhads, which is a small glass made up of clay.
– Location:- Neelkanth and Kachori Gali
Varanasi has an excellent production of milk and dahi, and thus they make good use of it. Famous thandai of Varanasi made from seasonal fruits and ingredients like rabri, ice cream, rose essence, dry fruits, fennel seeds, vetiver seeds, pepper, magaztari seeds, cardamom, and saffron are add on this thandai and gives you a vibrant and refreshing taste.
– Location:- Blue Lassi Shop, Kachori Gali Chowk
Chena Dahi vada is one of the famous dishes of Varanasi. Vada which is made up of using lentils and is served with sweet yogurt sprinkled with jeera masala and salt. 
– Location:- Kahi chat bhandar, Godowlia market.
3. Fill mouth with Banarsi paan:-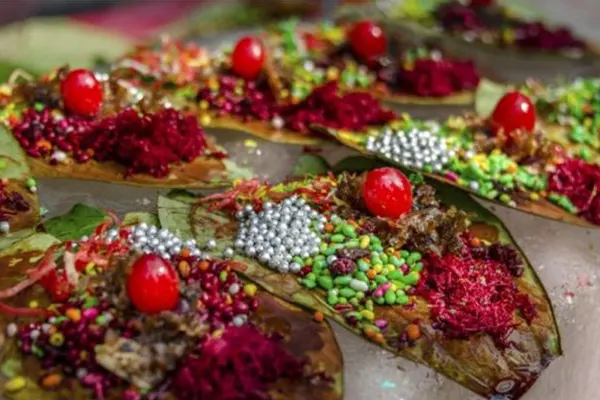 Paan, the local Indian mouth freshener, is a preparation made by wrapping betel nut and stuffed with kiwam, chuna, snuff, rose chutney, catechu, baba chutney wrapped in a betel leaf is very much cherished in India and that too of Banaras. Paan holds royal taste, and it stood out from a bygone imperial era. Banarsi Paan is famous all over the world after becoming part of the dinner menu of Barack Obama. Enjoy this exotic paan at the time of your stay here. Banarsi paan is among the list of things to do in Varanasi at night.
Location:- Ramchandra Chaurasia Tambul Bhandar 
4. Explore Varanasi On Foot:-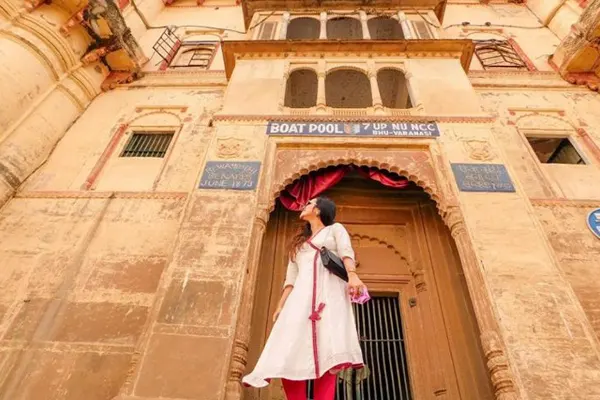 Explore the streets of Varanasi rather than automobiles because you never know what exactly you'll find something interesting while wandering the streets of Varanasi. Among the things to do in Varanasi, exploring the culture and streets of the holy city while walking the streets of Varanasi is an extraordinary and fascinating experience. If you have time, watch Agni pooja on the Daswanand Ghat, where Brahma sacrifices his ten horses in a Yajna. Walking on Varanasi street is among the top things to do in Varanasi at night. 
Offbeat Things To Do in Varanasi:-
1. Festival and Fairs in Varanasi:-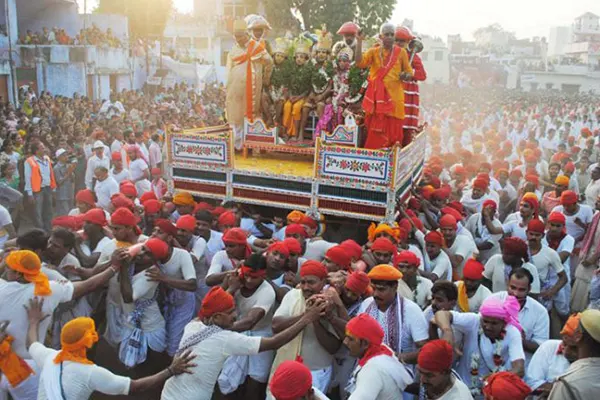 India is famous for its different festivals all over the world. Throughout the year, lots of fairs and festivals are celebrated here. Enjoying fairs and festivals is among the top list of offbeat things to do in Varanasi.
Bharat Milap Mela held in October or November for the celebration of Lord Rama when he came back to Ayodhya after 14 years of exile in the forest.
Mahashivratri is a massive festival in Varanasi, and it attracts almost thousands of devotees every year. 
A colorful fair is held every year on the Buddh Purnima to celebrate the birth of Lord buddha. 
The Ramayana held an entire month in which the story of Ramayana depicted through Drama. It hed every year during October- November.
The Dhrupad Mela is an Indian classical music festival held in March, and it is a 5-day festival on the Tulsi ghats that brings famous artists from abroad and India.
2. Head to Blue Lassi:-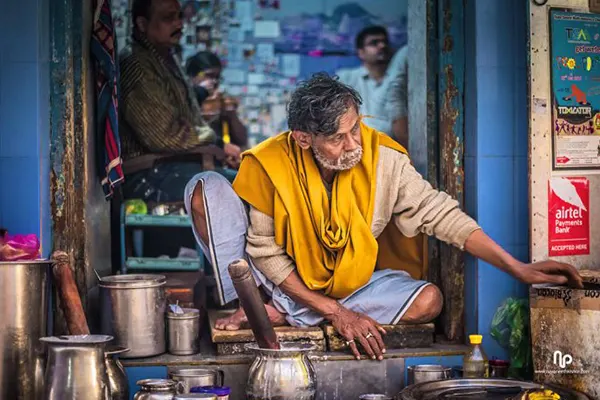 Reviews of Blue Lassi – 4.2 Rating by 2,336 Reviews
Blue lassi is a cafe that is running for almost 78 years. A lassi is a yoghurt drink that comes in 83 variety of flavours. Handmade by a man sitting on the porch. This cafe is a family venture; the photos on the wall are a testament to that. You can pick a base of Peach, Mango, banana, pomegranate, or other several flavours, and then this lassi is garnished with fruits and trimmed pistachios. This lassi of blue lassi shop will never stop to amaze you. While you visit here, definitely go and try lassi of blue lassi shop as it is one of the top things to do in Varanasi.
3. Cross the Ganges River via the Malviya bridge:-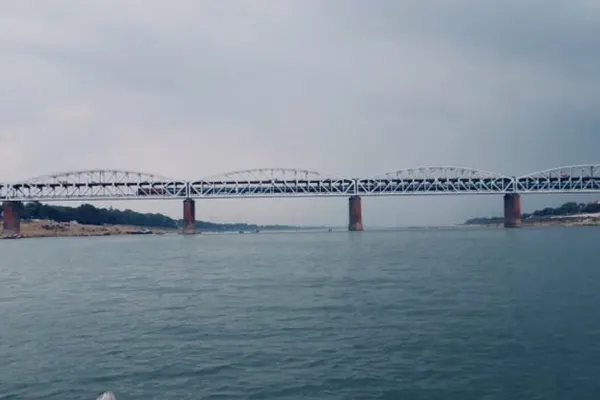 Reviews of Malviya Bridge – 4.4 Rating by 295 Reviewers
Cross the Ganges river with a double-decker bridge known as Malviya bridge and Dufferin bridge. It is one of the major bridges across the river. In a lower deck of the bridge, the railway track is there, and on the upper one, there is a grand trunk road. You can see a panoramic view from here of the Ganges river. Enjoying this View is on the list of things to do in Varanasi that you will cherish through a lifetime.
4. Walk peacefully along the ghats:-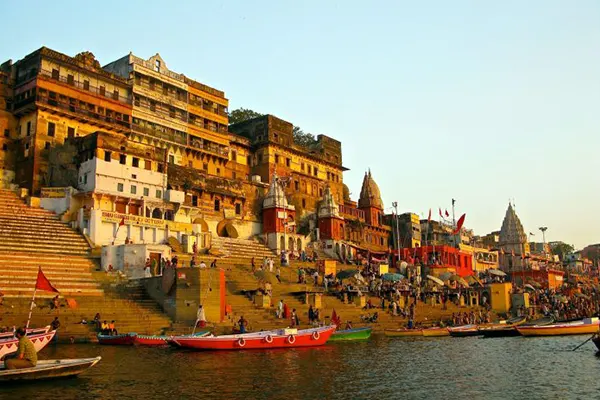 The city has a lot of ghats on the banks of the Ganges river. These are praying ghats, bathing ghats, and cremation sites for Hindus. These ghats are enthralling and alluring for the traveller as it is related to some mythologies and legend. Some of the significant essential ghats to visit are:-
Mata Anandamai Ghat

Manikarnika Ghat

Dashashwamedh Ghat 

Assi Ghat

Raj Ghat

Munshi Ghat 

Anandamai Ghat

Scindia Ghat

Lalita Ghat

Prachin Hanuman Ghat

Meer Ghat

Dr. Rajendra Prasad Ghat
Dashashwamedh Ghat is one of the most famous ghats and is nearby Kashi Vishwanath Temple. Therefore this is a beautiful place to visit during your visit to Varanasi. Apart from this, Lalita Ghat is also worth visiting; the number of festivities is organized here. 
5. Take a holy bath in the divine river Ganges:-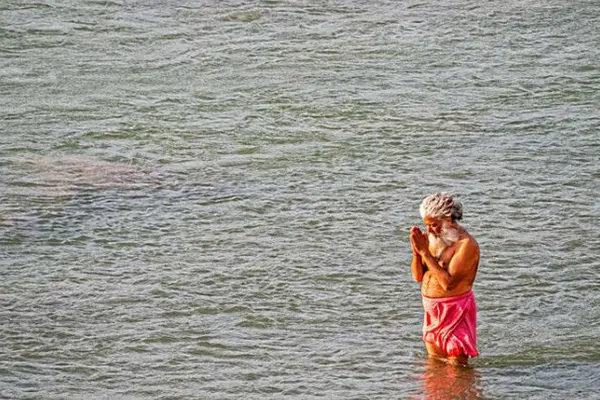 One of the most common things to do in Varanasi is to take a dip in the sacred river, the Ganges to remit all your sins with the holy water of this river, personified as Goddess in Hindu religion and Indians believe a bath in the sacred Ganges facilitates Moksha or liberation from life-death cycle. Thousands of Devotees have come down to this holy city to remove their sins most compellingly. Even the town hosts one of the largest gatherings of Earth- Kumbh Mela (Grand Pitcher festival of India) as per their schedule. So finally, Head here to solve the mysteries of life while having a holy bath in the River Ganges. 
Other Things To Do in Varanasi
Other Things To Do In Varanasi
Dhamek Stupa
Tibetan Temple
Alaknanda cruise Varanasi
Kashi Kailash Foundation
Jantar Mantar
ISKCON Varanasi
Sarnath Musuem 
Ahilyabai Ghat
Prachin Hanuman Ghat
Bharat Mata Mandir
Sarnath Buddhist Temple
Sankata Devi Mandir
Gyan Vapi Mosque
Chet Singh Ghat
Statue of Standing Buddha
Nepali Temple
Ashoka Pillar
Tridev Temple
Shri Vishwanath Mandir
JHV Mall
 Technical India
Alamgir Masjid
Sant Ravidas Ghat
 Ravidas Mandir
Panchganga Ghat
IP Sigra Shopping Mall
 Chet Singh Fort
Vishalakshi Temple
Rana Mahal Ghat
 Mulgandha Kuti
Darbhanga Ghat
Birla Mandir
Tomb of Lal Ghat
Shree Annapurna Mandir
Narad Ghat
 Ganga Mahal Ghat
Baba Kaal Bhairav
Vishwa Shanti Stupa
 Japenese Temple
Varanasi Fun City
Aqua World Varanasi
 Sarang Nath Temple
Subah-e-Banaras
Shri Batuk Bhairav Mandir
 Beniya park
So, Above is the list of things to do in Varanasi that will guide you while you visit Varanasi. This will be going to be an unforgettable India tour. You can plan your Holidays to Varanasi with LIH one of the Best North India Tour Operators. If you have any queries related to them what to do in Varanasi you can ask in the comment section below.
Best time to visit in Varanasi:
The best time to visit Varanasi is in the months of October to March when the temperature ranges up to 5-15 degree Celsius. The winter months are also the occasion of the Festival in Varanasi. Bharat Milap and Dussehra are celebrated in the months of September and October; this is why Diwali is celebrated.
How to Reach Varanasi
Varanasi can easily be reached by Road, by Train and by Air.
By Road:
Varanasi has excellent road access to cities such as Allahabad, Lucknow, Patna, Gorakhpur, and Ranchi. Many government and private buses run regularly from Lucknow to Varanasi, including some very comfortable, air-conditioned luxury buses. From Lucknow, the well-maintained national highways NH 2 and NH 28 (via Harlalka Road) lead to Varanasi. The journey takes about 6 to 7 hours.
By Train:
Varanasi Railway Station is connected from all over India. Mughal Srasi Railway station is the nearest Railway station to Varanasi from a 10 km distance.
By Air:
Lal Bahadur Shastri is the nearest airport, at a distance of 25 km from the City Centre. Regular domestic flights, as well as flights from Kathmandu and Thailand, are also available. From the air terminal, buses, auto, and cabs are easily accessible to the city.
FAQs on Things To Do in Varanasi
Q.1 What are the top 10 things to do in Varanasi:-
Varanasi is known as the holy city of India, and there are so many most excellent things to do in Varanasi. So here, we are mentioning you a list of the top 10 things to do in Varanasi:-
Take a bath in the Ganges river

Taste the mouth-watering street food of Agra. 

Shop for the banarsi silk saree

Do Early morning boat ride in the River Ganges

Go for the peaceful walk on the Ghats 

Taste the Famous Banarasi paan

Visit Sarnath

Explore the historical Ramgarh fort

Visit Bharat Kala Museum

Attend the evening aarti ceremony of River Ganges
Q.2 What are the Best things to do in Varanasi 1 day?
There are a lot of things to do in Varanasi in just one day like:- Visiting the Ramgarh fort, Exploring the street food of Agra, visit Sarnath, attending the aarti ceremony, and sunrise boat ride in Ganges river.
Q.3 What are some of the best things to do in under ₹ 5,700?
There are several things to do in Varanasi Under Rs. 5, 700. Some of the things are:-
Varanasi Sightseeing tour @ ₹1950
Sunrise Boat tour @ ₹1000
Food walk tour In Varanasi @ ₹500
Varanasi shopping tour @ ₹ 1000
Varanasi Temple tour @ ₹ 1250
Q. 4 What are some of the Best Places to Visit in Varanasi for the family?
Varanasi is a holy city in India and there are various places in Varanasi that you can Visit with your Family and they are:-
Sarnath tour
Take a boat ride in the Ganges river
Kashi Vishwanath temple
Tulsi Manas temple
Attend the Aarti Ceremony in Ganges river
Visit Historic Ramnagar Fort

Bharat Kala Bhavan

Aqua world Varanasi
Statue of Standing Buddha
Bharat Mata Mandir
Q. 5 What are some of the best hotels to stay in Varanasi?
Some of the Best Places to stay in Varanasi are:-
Ganges Inn
Guleria Kothi
Ramada Plaza, JHV
Hotel Surya Kaiser Palace
Palace On Ganges – Heritage Hotel
Ganges View Hotel Varanasi
Q. 6 What Can I buy in Varanasi?
Varanasi is famous for its Banaras silk sarees and its jewellery. Visit the local markets of Varanasi to purchase the items of your choice. So, here is the list what can you buy from Varanshi's market:-
Banarasi Silk Saree
Gulabi Minakari Products
Glass Beads
Wooden Toys
Flutes
Sweets
Hand made carpets
Bangles and other accessories
Q.7 Which month is best to Visit Varanasi?
The Best month to Visit Varanasi is November to February during winters. The average temperature is around 5-degree Celcius.
Q.8 How many do you need in Varanasi?
You can Visit Varanasi in 3- days of your tour. In just 3 days you can explore all the major tourist activities and sights that the city has to offer.
Q.9 Which Ghat is famous in Varanashi?
Dasaswamedh Ghat is a very famous ghat in Varanasi, it is where the aarti ceremony held every day. According to Hindu mythology, Lord Brahma built this Ghat to welcome Lord Shiva.
Q.10 What to do in Varanasi in 2-3 Days?
Following are things to do in Varanasi in 2-3 Days:-
Tour to Sarnath
Earling Morning Boating ride in Ganges river
Explore Historic Ramnagar Fort
Shopping in old Bazaars
Attend evening arti cerenomy at ganges river.
Pay a visit to the famous temple in Varanasi.
Explore the famous street food and Banarsi Paan in Varanasi.
Head to Blue Lassi.
Walk peacefully along the ghats
Explore Varanasi on foot.
Visit Bharat Kala Bhavan Museum.