Golden Triangle of India is an outstanding collection of India's three well-known tourist attractions, Delhi, Agra, and Jaipur. From the forts of the Hindu Rajput Kingdom in Jaipur to the capital of the Mughal Sultanate in Agra and Delhi, these three cities spell out India's rich cultural Heritage. While Travelling the Golden Triangle of India, you can see many tourist attractions, from Red Fort to India Gate, Agra Fort to Taj Mahal, and Amber Fort to Jal Mahal. Read our Golden Triangle India Guide to learn about Golden Triangle Tour. Explore a country full of contrasts with Golden Triangle tour packages full of remarkable monuments.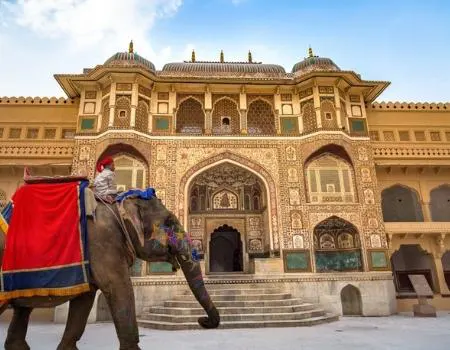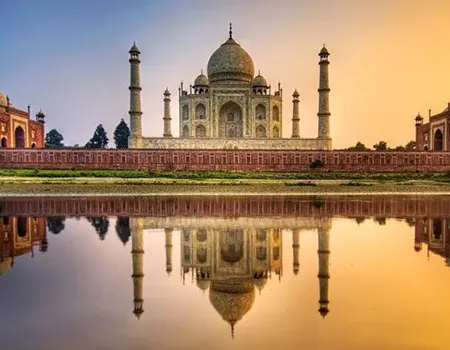 Golden Triangle Tour Packages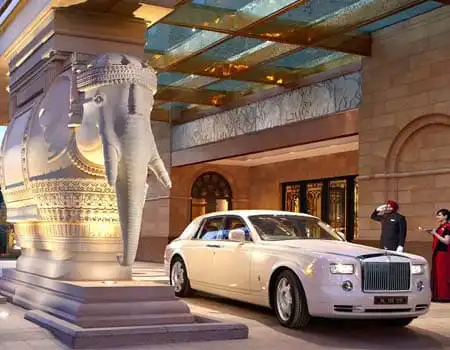 Luxury India Tour Packages
11 Famous Monuments to visit During Golden Triangle Tour
1) Qutub Minar, Delhi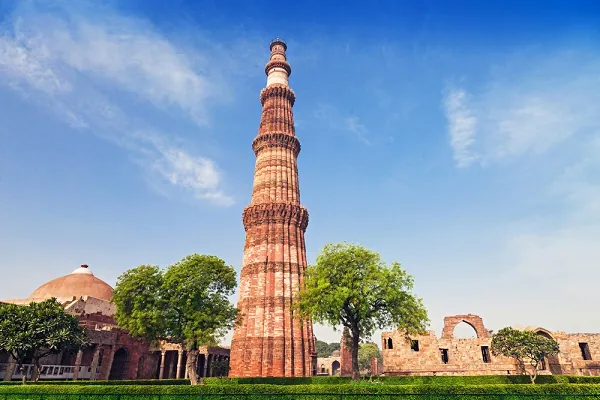 The Qutub Minar in Delhi, considered a tremendous historical attraction in India, is a valuable, protected structure in India. It is a part of the Qutub Complex, one of the most famous monuments to visit during the Golden Triangle Tour, and is recognized as a UNESCO World Heritage. Therefore, the Qutub Minar rises to a height of 73 meters and is made of red sandstone and marble. Moreover, the 379 steps of the spiral staircase are one of its prominent features.
Address:- Mehrauli, New Delhi
Timings:- Sunrise to Sunset (Opens all Days in a week)
Ticket Price:- ₹10 for Indians and ₹250 for Foreigner
2) Red Fort, Delhi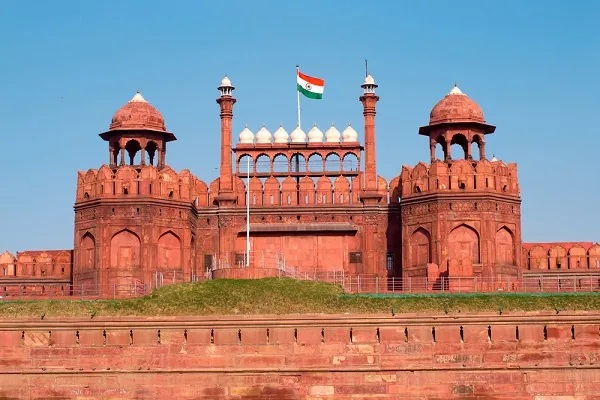 The Red Fort in Delhi, which served as the primary residence of the emperors of the Mughal Dynasty for more than 200 years, is a magnificent architectural wonder. The Mughal family remained there till 1857. Although it was the home of the Mughal emperors, the place served as the political and cultural center of the Mughal state and was the site of many important occasions. As a representation of India's struggle for independence, it is considered one of the best places to visit in Old Delhi.
Address:- Netaji Subhash Marg, Lal Qila, Chandni Chowk, Delhi
Timings:- 9.30 A.M. to 4.30 P.M. (Closed on Monday)
Ticket Price:- ₹10 for Indians and ₹150 for Foreigner
3) India Gate, Delhi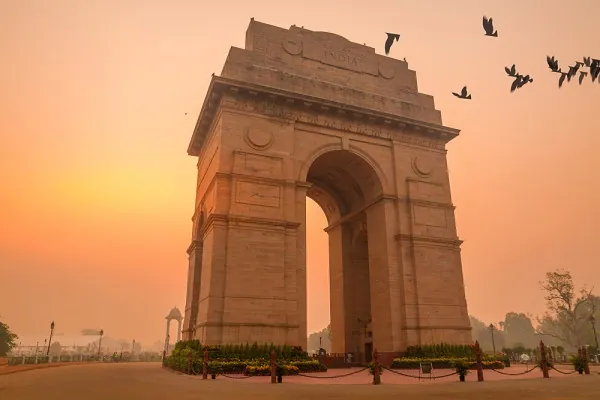 India Gate is the best monument to visit during Golden Triangle Tour. Originally known as the All India war memorial, built to honor the 82,000 Indian Army soldiers who died in World War I. Which spanned from 1914 to 1921; third Anglo, there was also the Afghan war. Moreover, the India Gate's architecture is famous worldwide because of its magnificent arch de Triomphe and the Gateway of India in Mumbai. Therefore, as per the architectural specification of the building, it is 42 meters high and 9.1 meters wide. Also, Granite and yellow sandstone have been used in the construction.
Address:- Rajpath Marg, India Gate, New Delhi
Timings:- 24X7
Ticket Price:- No Entry Fees
4) Humayun's Tomb, Delhi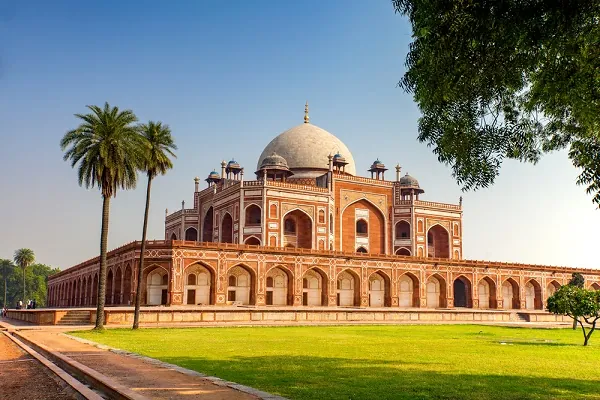 A popular tourist destination of Golden Triangle Tour. Humayun's tomb is an important historical site in India. It is the tomb of the Humayun, a famous Mughal Emperor of India. The tomb was designed by a Persian architect invited by the Bega Begum herself, Mirak Mirza Ghiyas, who came up with the idea for the tomb. Moreover, the tomb is made of Red Sandstone and White marble. It is not far from the Dina Panah fort and is known to be the first garden of a tomb found in the Indian Subcontinent. Also, it was declared the UNESCO world heritage site in 1993.
Address:- Opposite Dargah Nizamuddin, Mathura Road, Delhi
Timings:- 8 A.M. to 6 P.M.
Ticket Price:- ₹10 for Indian and ₹250 for foreigner
5) Taj Mahal, Agra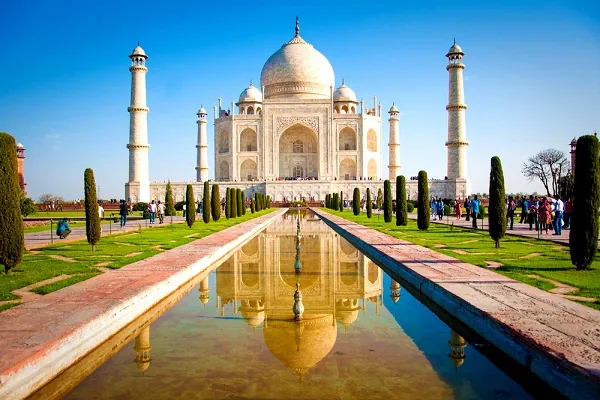 The Taj Mahal, one of the world's seven wonders, is prominently displayed on the south bank of the Yamuna River in Agra. One of the top tourist attractions in the Golden Triangle Tour of India is known as the "Symbol of Love". Also, it is considered the pinnacle of Mughal Architecture. Shah Jaha commissioned an ivory-white marble monument for his favorite wife, Mumtaz. Where previously the remains of the kings and Queens were, it is now honored by a memorial because it is a work of Art that is admired worldwide. The Taj Mahal has also been included in the UNESCO World Heritage site.
Address:- Dharmapuri, Forest Colony, Tajganj, Agra
Timings:- 6 A.M. to 6.30 P.M. (Closed on Friday)
Ticket Price:- ₹50 for Indians and ₹1300 for Foreigner
6) Fatehpur Sikri, Agra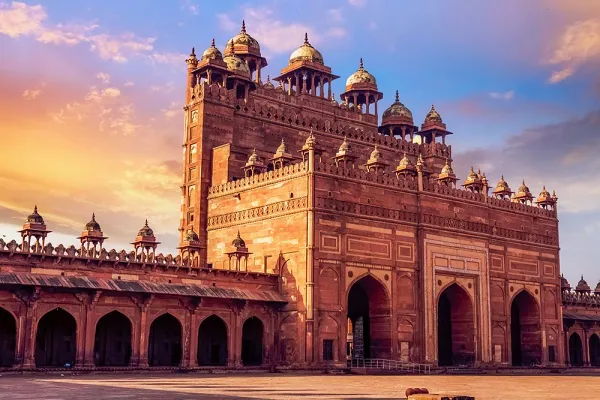 The former capital of the Mughal Empire was the town of Fatehpur Sikri in the Agra District. There are many exciting places in the city to discover. The massive Buland Darwaza, 54 meters tall and the first thing you see upon entering the town, can leave you in awe. The quiet interiors of the city are amazingly pleasing to the eyes and will leave you spellbound.
Location:- It is located 37 K.M. southwest of Agra City
Timings:- 6 A.M. to 6. P.M. (Closed on Friday)
Ticket Price:- ₹10 for Indians and ₹250 for Foreigner
7) Agra Fort, Agra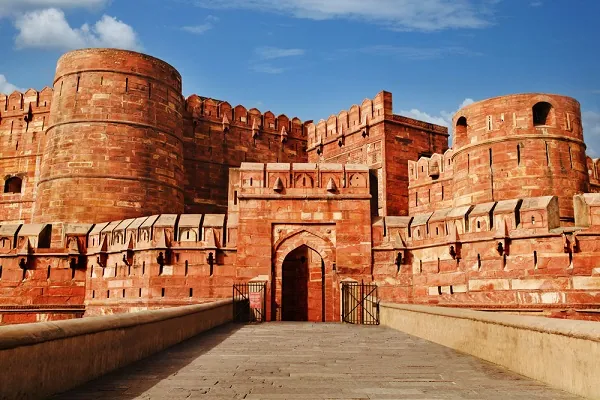 Agra Fort, one of the best monuments to visit During the Golden Triangle Tour in Agra today, was one of the most important forts during the Mughal Period. Through his rule until 1605, Akbar the Great made this fort like the Taj Mahal. Also, UNESCO recognized Agra Fort as a world heritage Site. History comes alive before you as you walk around the several places inside the fort, such as Diwan-i-Khas and the Khas Mahal.
Address:- Agra Fort, Rakabganj, Agra
Timings:- 6 A.M. to 6 P.M.
Ticket Price:- ₹50 for Indians and ₹550 for Foreigners
8) City Palace, Jaipur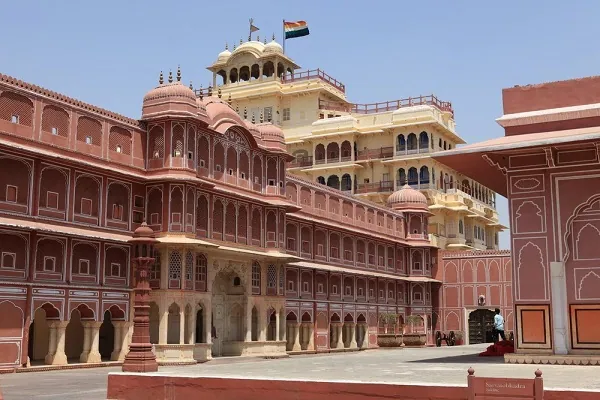 City Palace is one of the most famous monuments during the Golden Triangle Tour. Built between 1729 and 1732, ruled by Maharaja Sawai Jai Singh II. The place is a mixture of Rajput and Mughal architectural styles surrounded by massive walls. The city palace has preserved Rajput's grandeur in its timeless construction and luxurious decorations. Moreover, this palace's two most significant buildings are the Chandra Mahal and Mubarak Mahal. The palace has four entrances: Udai Pol, Jaleb Chowk, Tripolia Gate, and Virendra Pol. Every corner of the castle is decorated with beautiful carvings and artworks that bear the timeless symbols of the past.
Address:- Tulsi Marg, Gangori Bazaar, Kanwar Nagar, Jaipur
Timings:- 9.30 A.M. to 5 P.M.
Ticket Price:-
₹40 for Indians Adult and ₹25 for Children (5-12 yrs)
₹300 for Foreign Nationals and ₹200 for Foreign Children (5-12 yrs)
9) Jal Mahal, Jaipur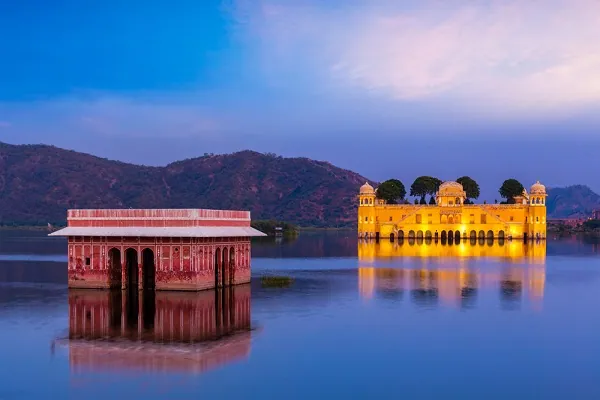 The magnificent and peaceful Jal Mahal is situated in the middle of Man Sagar Lake on the outskirts of Jaipur. It is a superb creation surrounded by Nahargarh Hills. However, the Mughal and Rajput architectural styles were merged to create one of the most beautiful palaces. Although the fort's entry is prohibited, the view from afar while on board the boat is enough to fascinate you. Also, the fort is illuminated at night and the reflection of the fort in the lake is stunning. The Jal Mahal has become a significant tourist attraction due to its beauty and peaceful environment.
Address:- Amber Road, Jal Mahal, Amber, Jaipur
Timings:- 6 A.M. to 6 P.M.
Ticket Price:- Free Entry
10) Hawa Mahal, Jaipur
You will be amazed by the majesty and grandeur of Hawa Mahal. It is a five-storied palace representing the splendid Rajput style and Honeycomb Pattern in architecture. The 953 small, expertly designed windows called Jharokhas are a significant attraction. Earlier, the royal ladies of the palace could watch the city of Jaipur and its activities behind these fantastic windows. Therefore, you can view the palace in the morning when the sun gently illuminates the monument.
Address:- Badi Chaupad, J.D.A. Market, Jaipur
Timings:- 9 A.M. to 4.30 P.M.
Ticket Price:- ₹10 for Indians and ₹50 for Foreigners
11) Amber Fort, Jaipur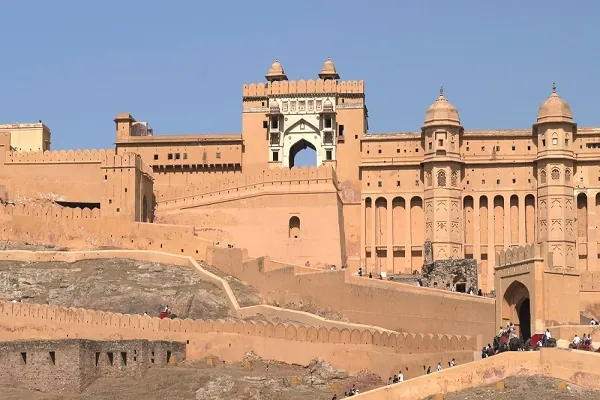 Amber Fort is one of the most stunning palaces to visit During the Golden Triangle Tour. Maharaja Man Singh I, built the fort in 1592, which served as the main residence of the Rajput king. However, this magnificent structure is famous for its architectural marvel and prominent place in Indian history. Also, it has winding staircases and intricate halls. Moreover, the Amber Fort and five other forts were included in the UNESCO world heritage Site list as part of the "Hill fort of Rajasthan" and are visited by over 5,000 tourists daily.
Address:- Devisinghpura, Amber, Jaipur
Timings:- 8 A.M. to 5.30 P.M.
Ticket Price:- ₹10 for Indians and ₹150 for Foreigner
Also Check:
If you want to spend time in Jaipur, Agra, or Delhi. LIH offers the best Luxury Golden Triangle tour package for foreign visitors, including comfortable Golden Triangle tours and exquisite accommodations. You can book luxury Golden Triangle travel packages from the United States, the United Kingdom, Australia, Germany, and other countries to see the Golden Triangle heritage in India.
FAQ's:-
Q.1 What to do in Golden Triangle India?
Explore historic landmarks like the Taj Mahal, Amer Fort, and Qutub Minar.
Experience vibrant markets, culture, and cuisine.
Visit museums, palaces, and temples.
Q.2 How to do the Golden Triangle India Tour?
Start in Delhi, then proceed to Agra and Jaipur.
Plan a 5-7 day trip for a comprehensive experience.
Consider guided tours or self-guided travel.
Q.3 How many days are required for a Golden Triangle India trip?
A 5-7 day trip allows for a well-paced visit to key attractions.
Q.4 How to reach each city of Golden Triangle India?
Delhi: Major international airport.
Agra: Train or road from Delhi (about 4-5 hours).
Jaipur: Train or road from Agra (about 4-5 hours).
Q.5 What is the best month to visit the Golden Triangle in India?
October to March, during the cooler, more comfortable season.
Q.6 Is India's Golden Triangle worth visiting?
Yes, it offers a rich cultural and historical experience, making it a must-visit destination in India.
Q.7 How much does the Golden Triangle tour cost?
The Golden Triangle tour cost ranges from Rs 28,000 to Rs 1,50,000.
Q.8 What is the Golden Triangle Tour itinerary?
India's Golden Triangle 7 days tour itinerary:-
Days 1-2: New Delhi
Days 3: Agra
Day 4-5: Jaipur
Day 6-7: Old Delhi