History of Khajuraho
Khajuraho, is located in the heart of India, is an apple of eyes of the tourists from the world over, looking forward to exploring the real India. People head here to explore the erotic facet of cultural and classical India.

Khajuraho is a small town of Madhya Pradesh (Central India) wrapped in gigantic Vindhya hills which shelter the celebrated "Khajuraho group of temples" designated as "World Heritage Site" by UNESCO, These monuments are one of the finest temple art in the world.
This small town was founded by Chandravarman, (son of Moon God- Chandra) and Ruler of Chandela Dynasty. The art significant temples are built here during the period of AD 950 to 1050. Originally there were 85 temples constructed, most of them vanished with time. Later in the year of 1838 during the British rule in India, British officer TS Burt rediscovered this intense temple art of India in the form of surviving 25 highly artistic temples. The temples here are segregated in three groups- Eastern, Western and Southern, as per their locating directions. Apart from that, there are also Jain groups of temples, which are widely visited as well.

So this is the saying that "Khajuraho is all about Erotica". The fact is only 10% of the sculptures are based on erotica, depicted by quite sensual poses on sculptures of temples. Now everybody wants to figure out, how come old and traditional India manages to acquire such erotic art from history? To solve this obvious most curiosity of the world, there are just some rumors, no constructive fact and figures are stumbled on yet, to justify those rumors. The only thing which can be sensed while strolling in these intensive art temples is, "They are presented from an era where men and women were as in tune with nature as with their own desires". However, few of the sculptures of the temples here can leave you in wonder and shock. But the rule to catch these brilliantly expressed structures is to look at them in the way they are carved, as they give a glimpse of a time when Hindu art and devotion reaches its apex.
[CTA_Tour_Package_Box]
About Khajuraho Temples
Most of the erotic sculptures in Khajuraho can be found out in Lakshmana Temple and Kendriya Mahadeva Temple, part of a Western group of temples. Western group of temples is a highly prominent zone and you can even find an audio guide too to visit all the temples of this zone, while other zones do not have such a facility. Apart from erotica, sculptures on temples resemble normal day to day living of residents of Chandela dynasty showing divine figures, celestial beings, women getting ready, Hindu deities, animals, war scenes, etc., all immortalized in stones.
The term "Khajuraho" includes the word "Khajura", that means "Date". It's well known that date palms got thorns. Living upon the name of the town, where many of the sculptures of temples reflect ladies removing thorns from their feet. Other than that, the Southern group of temples has got some newly excavated temples. All temples here are allowed to visit from sunrise to sunset.

Things to do & Places to visit
To enlighten the above words, we've got some "Khajuraho extras" to convert your Khajuraho trip into an exceptional expedition. Try these things while you will be in the intimate town of India-"Khajuraho".
Free your evenings to peep into the historic tales of this amazing temple art. Book your shows for the evening 50 minute "Khajuraho Light & Sound Show" at the Western Group, which traces the story of the Chandela kings and the temples from 10th Century to the present in mesmerizing voice of Bollywood legend "Amitabh Bachchan".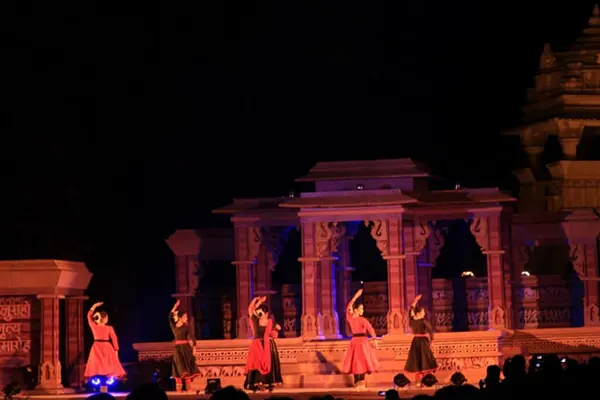 English language show: Oct-Mar. 6:30; Apr-Jun & Sep. 7:30
Spring and Khajuraho seem to be made for each other. When sounds of Sarod & Tanpura fill up the air to complement the stunning Indian Classical dance performances, set in the backdrop of the temples under the star-studded sky in gorgeous spring nights. Head for "Khajuraho Festival of Dances" held every year in the month of February. Or catch up some superb folk dance performances at Kandariya (a theater) at 7 pm and 8:30 PM organized during Peak season.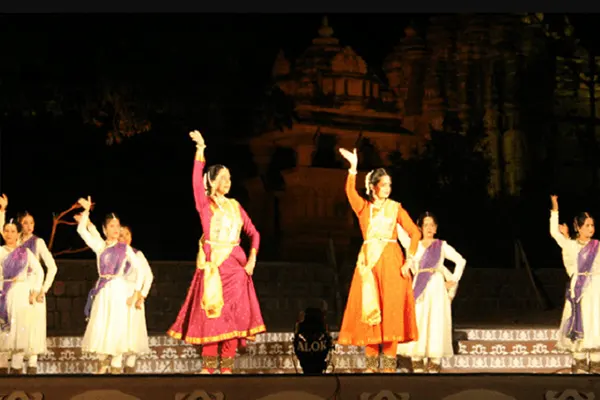 This temple town has much more to serve. Discover three of the museums in the vicinity of the temples – Archeological museum in Western group, Adivart Tribal & Folk art museum and Sahu Shanti Prasad Jain Kala Sangrahalya in Eastern group. Go deep into the fascinating history of this historic town with the museum visits.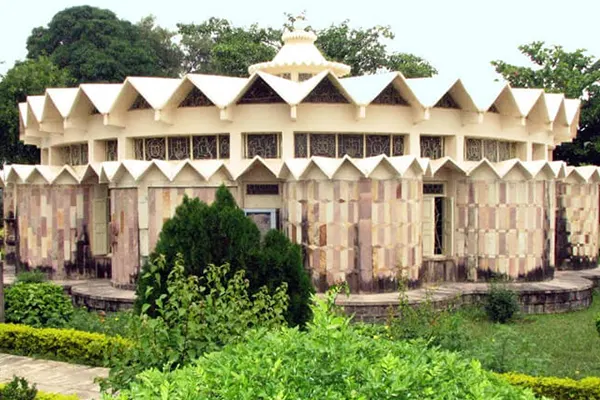 After the big time temple spree in Khajuraho, savor your time for shopping from the shops around the temples selling curiously funny knockoffs of the erotic art. Make your Khajuraho souvenir collection while strolling in shops like Shilpgram (having crafts from all around the country), MP emporium, Kandariya, and all others.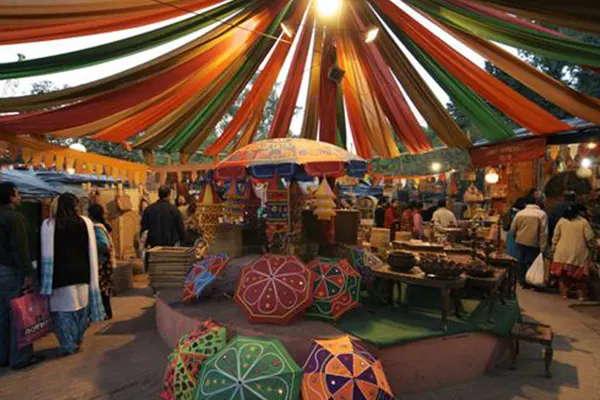 Catch up offbeat in folk town "Khajuraho", trek to Vindhya hills to find majestic Ajaigarh and Kalinjar forts of Khajuraho, situated nearby the town. There is another option of picnicking at nearby Benisagar Lake and Ranneh fall offering magnificent landscape glimpses of Khajuraho.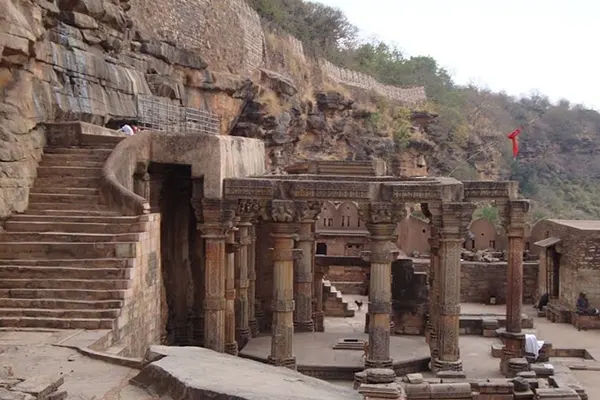 A bicycle ride around this relatively traffic free town to explore the small streets and the old residential area near the Eastern Group of temples is an exciting idea. Rent a bicycle here from one of the many stands in the town to make your day a riding day in Khajuraho. October to March is the apt duration to have a warm expedition in this wonderful town of India- Khajuraho.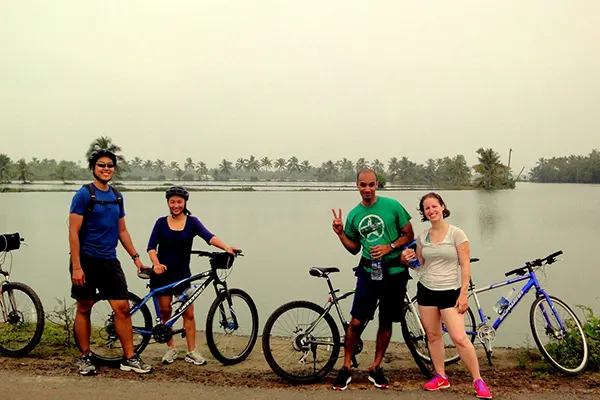 Have anything to charge your energies to explore completely the temples of Khajuraho, but best served here is the Khajuraho special "wood fire pizza". Savor your palate with lip-smacking "Wood Fire Pizza" at restaurants like Mediterraneo, Bella Italia, etc.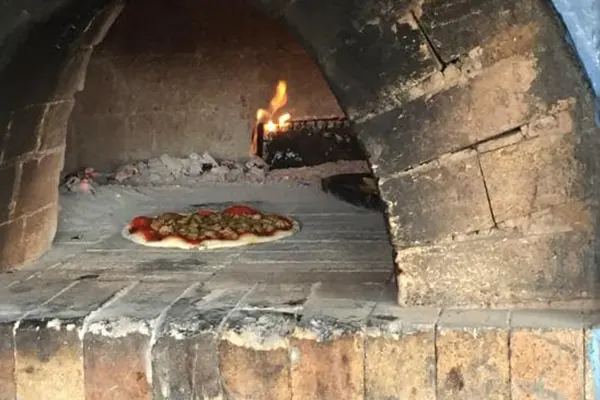 To reach to this wonderful town of India, one can avail options from the flight (as Khajuraho has its own local airport), train and bus. While in Khajuraho one can use private cabs/taxis, auto-rickshaws, rent bicycles or may use your feet (as it is a small town with amazing attractions).
Lastly but most lovely, Khajuraho will be more romantic and intense, if explored with the love of your life, holding each other's hands and trying to solve mysteries of these sensual temple art. All you will sense is a beautiful enhancement in your love and the interdependence and necessity of the soul mate in a relationship of two souls.
Now you know the trick to explore the erotica of India in a unique way. So it's time for action, it's time for Khajuraho. Go for it! and Book your trip to Khajuraho with LIH the Best travel company in India.