For lots of Wildlife lovers, surfing the dense jungles of India is the best holiday possible. If you're planning to visit Mysore these winters, we would like to recommend you add Bandipur Safari to the top of your vacation list.
Located in Karnataka, Bandipur National Park is famous for its rich biodiversity and provides one of the best Tiger Safari experiences in India after the Ranthambore National Park. The area covered by the park is 874 square km, which houses many endangered species of flora and fauna. The best thing about this park is – it habitats the largest number of wild elephants in South Asia and is controlled and shared by two major states, i.e., Tamil Nadu and Karnataka.
Due to a suitable location, i.e., on Mysore – Ooty highways, the park attracts numerous tourists every year. It offers an excellent opportunity for tiger sightseeing in their natural habitat along with other biodiversity.
The Bandipur Jungle Safari is a treat for people who love animals, adventure, nature, and photography.
While doing Bandipur National Park Safari Park, tourists can explore different safari zones of the park where Gypsy/jeep safari, canter safari, and elephant Safari are significant attractions for tiger sightings and other animals. The best time to visit this park is from October to March, but due to the massive rush during this time, you must make a Bandipur safari booking in advance. There is no Night Safari available in the park. If you opt for complete safari packages, then make sure that it includes all safari prices.
Bandipur Safari Zones
There are 5 zones for Safari in Bandipur, and the wildlife of each zone is sustained on different rivers passing through the park.
| | |
| --- | --- |
| Zones | Description |
| East Zone | The East zone of Bandipur safari is the best place for birdwatching and spotting carnivorous animals. The dry deciduous and moist deciduous trees of the region make the environment mesmerizing. |
| Central Zone | While on Bandipur Safari, you will come across the beautiful and astonishing Nugu River in the central region of Bandipur National Park, where you can spot animals resting in the river and quenching their thirst. The Himavad Gopalaswamy Betta is the highest summit located in this park. Mostly this park is famous for trekkers and pilgrims. The Hindu Temple and Sandalwood trees are the major attraction of this zone. Due to plenty of water holes, Elephant sighting is common in this region. |
| North West Zone | While moving towards the North West Zone, you will find the primary water source of the Bandipur safari park, i.e., the Kabini River, where tourists can enjoy boating and sighting varied wildlife during the summer season. The dry deciduous forest and tropical forests have dominated this area. The place looks more beautiful and enchanting during monsoon. |
| South Zone | Kabini River, along with 2 streams, runs through this region and hence more famous for adventurous activities like boating in backwaters. Bird watching and fishing are regular in the summer season when rivers get dried up. |
| North Zone | Kabini River, along with 2 streams, runs through this region and is hence more famous for adventurous activities like boating in backwaters. Bird watching and fishing are regular in the summer season when rivers get dried up. |
Types of Safari offered at Bandipur
#1. Jeep Safari / Gypsy Safari
The jeep/gypsy can accommodate 6 people at a time. It is the most comfortable and suitable safari for both adults and children. Jeep Safari can be booked in advance at the official website if not included in the Bandipur National Park safari packages.
#2. Canter Safari
The Canter can accommodate 15-20 at a time. For people who want to enjoy a safari in the group, the bus is the best option.
#3. Elephant Safari
The Elephant can accommodate only 4 adults at a time. Not suitable for people with small children.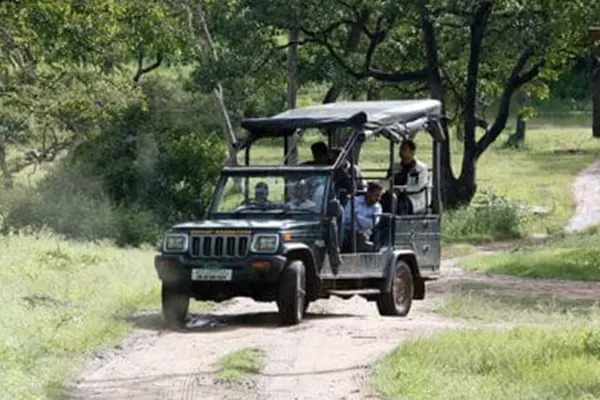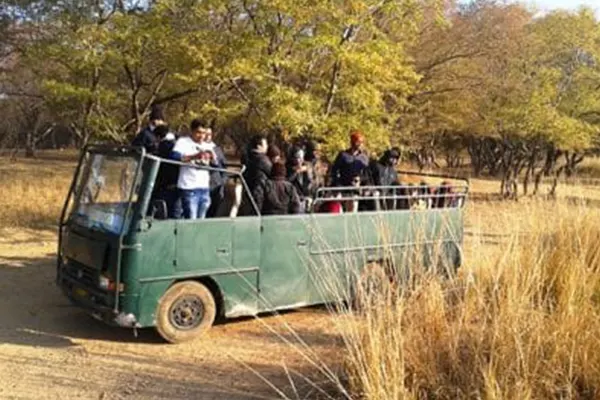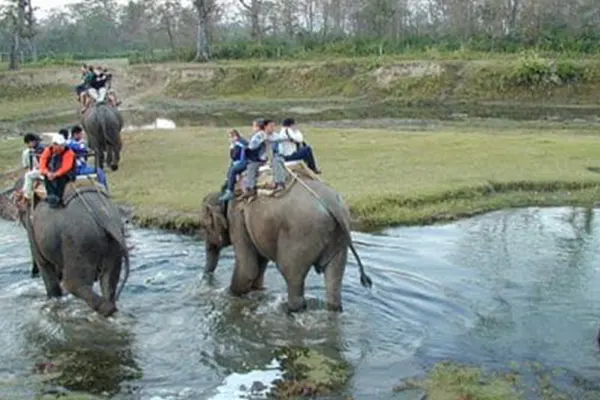 Bandipur Safari Cost and Duration
| | | |
| --- | --- | --- |
| Safari Name | Safari Duration | Safari Cost |
| Jeep Safari / Gypsy Safari | 2-3 Hours | INR 500/adult (including Entry and Guide fee) |
| Canter Safari | 2 Hour | INR 300/person (including Entry and Guide fee) |
| Elephant Safari | 1 Hour | 500/Person |
Note: Presently, Elephant safari is not allowed at Bandipur National Park due to commercial activity. But tourists can see the camp elephants located on the opposite side of the Bandipur Tiger Office. If you want to enjoy the best elephant safari in India then go for Safari in Jim Corbett National Park.
Best Time to Visit Bandipur Safari
Bandipur Safari is worth it when planned according to India's climatic conditions and the best season.
The winter season starts from October – March, considered as the best time for Bandipur Safari. During this season, one can have access to a variety of flora and fauna where wild animals can add to the beauty of nature.
The Monsoon season, i.e., between July to September, looks more enchanting due to good rain and gives tourists a comfortable environment to surf the dense jungles of Jim Corbett.
The Summer season is excellent for spotting Tigers due to warm weather conditions during the daytime. If you can bear the warmth, then this is the best time to visit the park.
Bandipur Safari Timings
| | | |
| --- | --- | --- |
| Type of Safari | Morning Trip | Evening Trip |
| Jeep Safari | 6:00 am – 9:00 am | 4:00 pm – 6:00 pm |
| Bus Safari | 6:30 am – 9:00 am | 3:30 pm – 5:30 pm |
| Elephant Safari | 10 am – 11:00 am | n/a |
How to Reach Bandipur National Park
By Road: There are good options if you opt for road transport, i.e., government buses, private buses, and cabs, which run through all major cities of Karnataka and Tamil Nadu.
By Airways: Bangalore International Airport is the nearest airport, 255 km. The nearest domestic airport is Coimbatore Airport is 84 km.
By Rail: Mysore railway station, i.e., 80 km away from the city.
Bandipur National Park Safari Lodges
Bandipur Safari Resort
The Windflower Tusker Trails Resort
Dhole's Den Resort
Bush Betta Wildlife Resort
Tiger Rench Resort
The Serai Resort
M C Resort
Vana Vihar Resort
Country Club Wildlife Resort
Thus, Bandipur Safari is the best safari adventure in South India. So plan a holiday with family and friends and book your Tiger safari in India with LIH the Leading Wildlife Tour Operator in India. Get ready to explore the different safari zones of Bandipur between October to November, which is ideally the best time to visit a park and explore wild species either in Jeep, Canter, or Elephant, whatever suits you the best. Many resorts and lodges are available near the park that provides various packages, which include many adventurous activities inside the park that are not usually available to all visitors. For more information, kindly leave your query in the comment section.
FAQs:
Q. Which Safari is Best in Bandipur?
Jeep Safari / Gypsy Safari.
Q. What time is Best for Bandipur Safari?
The best time to visit this place during summer is from March-May.
Q. Can we see the Tigers in Bandipur?
The Bandipur Tiger Reserve has become a popular destination for wildlife enthusiasts and nature lovers from across the world because of its rich biodiversity.
Q. Can we cross Bandipur at night?
The National Highway passing through Bandipur closes exactly at 9 Pm and opens again at 6 Am.
Q. Which Hill Station is near Bandipur?
Ooty. One of the best hill stations in India, Ooty lies at a short distance from Bandipur national park.
Q. Can we see animals in Bandipur?
Bandipur National Park harbours the Asian elephant, gaur, Bengal tiger, sloth bear, four-horned antelope, golden jackal and dhole.
Q. Which animals are important in Bandipur?
Bandipur is one of the most famous tiger reserves in the country, and naturally, the main attraction here is the Royal Bengal Tiger.
Q. What is Bandipur's Famous Food?
You might find local delicacies here like Dosa, Bisi Bele Bath, Jolada Roti, Idli, Vada, Sambhar, Rasam, Kesari Bath, Mysore pak etc to relish.
Q. What is the Nickname of Bandipur?
One of the municipalities of Nepal, Bandipur fully justifies its nickname "Queen of the Hills".