"India- the land of majesty", truly lives upon this designation. As it's an adobe of the world's largest population of "Bravest cat- Tigers". India got a total of 48 "tiger reserves" and "National Parks" as these Tiger Reserves of India are the safest home to these wild species. Tigers roam fearlessly in the jungles of India with sheer pride. These reserves are actual heaven for not only the animals but also for the visitors it attracts, because of the panoramic charm they hold. All Tiger Reserves in India are blessed with rich and rare flora and fauna. To sight this heroic carnivore and diverse landscapes, you need to have a real jungle expedition so that you can sense the goosebumps when the big cat comes around your jungle safari jeep. Here we are presenting you with top 5 tiger reserves in India for your daring jungle expedition.
Top 5 Tiger Reserves in India to Spot Bengal Tigers
1. Bandhavgarh National Park, Madhya Pradesh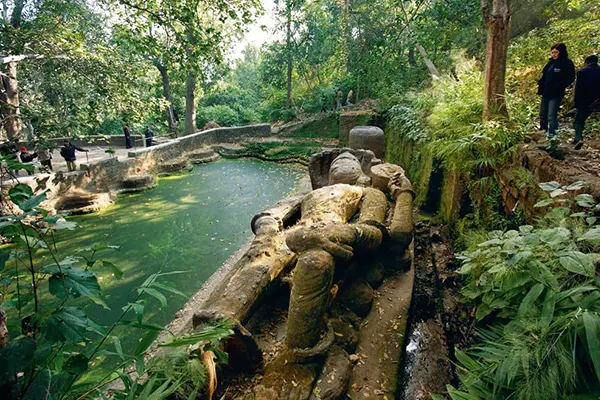 Bandhavgarh National Park is one of the most popular Tiger Reserves in India placed amid the Vindhya Hills of the Umaria district in Madhya Pradesh. Blessed with immense scenic beauty, this national park of India has the highest population of tigers in India. Apart from that here you may also spot other species of leopards, jackal, deer, rhesus monkey, hyena and 22 more species including rare species of migratory birds. It homes largest breeding population of leopards and various species of deer. The park has been divided into three major zones named Tala, Magdi, and Bamera. Out of all, the Tala zone attracts a major number of tourists as it offers the highest tiger sighting opportunities. Elephant shows are also organized in the Magdi zone of the park to increase the chances of spotting the king of the jungle. Bandhavgarh is the perfect habitat for various flora and fauna because of its mixed vegetations from tall grasslands to thick Sal forest
Indulge in excellent biodiversity of this Tiger reserve of India, a delight for wildlife photography.
Bandhavgarh at a Glance:
Area: 450 sq. km (Core area: 105 sq. km)
Altitude: 800 m above sea level
State: Madhya Pradesh
Location: Vindhyan Mountain ranges of central India
Temperature range: 42°C to 2°C
Annual Rainfall: 1200mm
Best time to visit: February-June (Closed 1 July-15 October)
2. Sundarbans National Park, West Bengal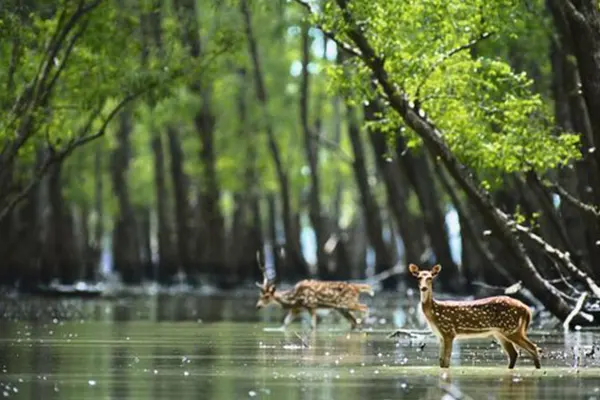 Home of Royal Bengal Tiger, Sunderbans is listed in UNESCO's world heritage site list with world's largest delta having dense mangrove forests. The Sundarban region has got its name from Sundari trees, once found majorly here. The reserve is a heaven of wonderful rivers- Muriganga, Saptamukhi, Thakurain Malta, Gosaba, Harinbhahga, and Raimangal. Hence this gorgeous ecosystem is accessible by motorboat rides, available here in multiple rivulets of the park.
It is the only mangrove forest in the world that is the home of the Tigers. You can explore the other wildlife of Sunderban that beholds Jungle Cats, Fishing Cats, Axis Deer, Wild Boar, Rhesus Monkeys, Mongooses and the largest Estuarine Crocodiles in the world. Sunderban is the breeding ground of immense variety of birds like Heron, Egret, Cormorant, Fishing Engle, White Bellied Sea Eagle, Seagull, Tern, Kingfisher as well as migratory birds like Whimper, Black-tailed Godwit, Little Stint, Eastern Knot, Curlew, Sandpiper, Golden Plover, Pintail, White-eyed Pochard and Whistling Teal. Come and discover a wide variety of aquatic and reptile life that includes Olive Ridley sea turtle, hard-shelled Batgur Terrapin, Pythons, King Cobra, Chequered Kill back, Monitor and Lizards including the Salvatore Lizards.
Follow the pug marks of Royal Bengal tiger in jungles of Sunderbans.

Sundarbans at a Glance:

Area: 2585 sq. km (Core area: 1330 sq. Km)
Altitude: 7.5 m above sea level
State: West Bengal
Location: Sunderbans delta of East India
Temperature range: 34 degrees C and 20 degrees C,
Annual Rainfall: 2000mm
Best time to visit: September-May (Closed 1 July-30 September)

3. Ranthambore National Park, Rajasthan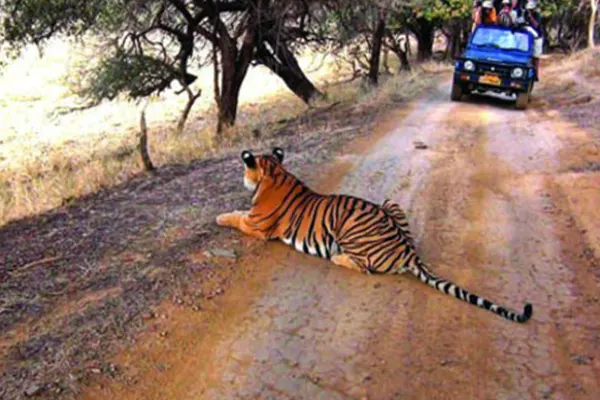 Situated between Aravalli and Vindhyanchal ranges, this blissful tiger reserve of India is blessed with mesmerizing natural beauty with the dwelling of around 61 tigers. It is part of Sawai Madhopur district of Rajasthan. It is among one of the best places in India to see tigers in their natural forest habitat. Spot other species such as leopard, crocodiles, sloth bears, jackals, Indian foxes, hyenas, and various bird species in this adventurous jungle of India. Scenic beauty is at its best here at Ranthambore, you'll find a variety of flora in the jungle which makes it a combination of deciduous forest and a grassy meadow. The park is dwell of multiple lakes, old forts, and one of India's largest Banyan tree. The facility of jeep safaris and canter safaris are available in the park to get amazing glimpses of tigers.
Ranthambore is a celebration for nature enthusiasts, history cherishes, and wildlife photographers.
Ranthambore at a Glance:

Area: 392 sq. km (Core area: 275 sq. km)
Altitude: 215 to 505 meters above sea level
State: Rajasthan
Location: Aravalli and Vindhya Mountain ranges of West India
Temperature range: 37°C to 9.1°C
Annual Rainfall: 800mm
Best time to visit: November to March. (Closed July – September)
4. Jim Corbett National Park, Uttarakhand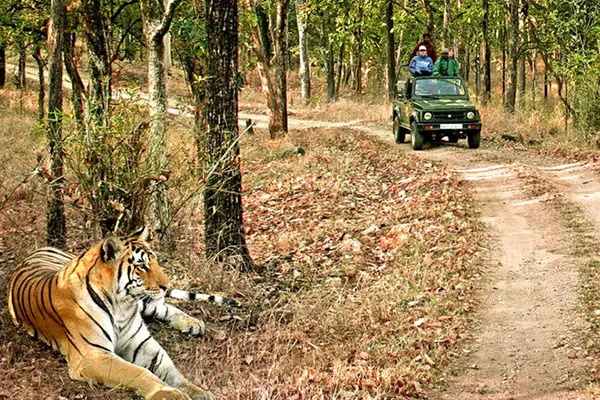 Jim Corbett National Park is the oldest National Park in India established in the year 1936 to save the rare Bengal tigers. Blessed with wonderful panoramic views from the breathtaking landscapes situated at Corbett, this tiger reserve of India is not only home to tigers and other natural species of animals and birds, but also a paradise of extremely rare flora. The Park, renowned for the rare species of tigers, majestic leopards, and elephants, is adobe of many rare species of mammals, birds, and reptiles. As per data, it inhabits more than 25 species of reptiles, 585 kinds of birds, and over 50 varieties of mammal species. Converting it an ecotourism paradise, the park has 488 different species of plants and trees. It's a dense moist deciduous forest mainly consists of sal, Haldu, peepal, Rohini, and mango trees. The panoramic biodiversity of the park is based on its abundant hills, river belts, muddy depressions, grasslands, and a large lake. Because of all this, we say Jim Corbett National Park is one of those Tiger Reserves of India, which one should never give a miss.
Jim Corbett at a Glance:
Area: 1,318.54 sq. km (Core area: 521 sq. km)
Altitude: 360 m and 1,040 m above sea level
State: Uttrakhand
Location: Foothills of Himalayas
Temperature range: 42°C & 5°C
Annual Rainfall: 1400-2800 mm
Best time to visit: November-June (closed from July to September)

5. Periyar National Park, Kerala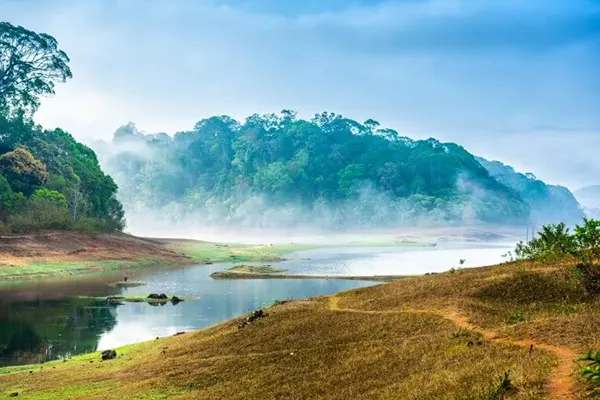 Situated in Thekkady district of Kerala, Periyar Tiger Reserve in India is a picturesque forest having a beautiful hilly background. Hence it holds vast opportunities for mountain treks. Place of rich biodiversity and magnificent flora and fauna, Periyar is also renowned for elephants as well as brave tigers. White tigers are also found in the tiger reserve of Periyar. You never know you may spot the King Cobra in the jungles of Periyar, as it not only houses a variety of mammals and birds but also rarest rare species of reptiles. The flora of the reserve consists over 1965 flowering plants including 171 grass species and 143 species of orchids. To make Periyar expedition extra special, it is surrounded by agricultural regions, especially plantations of tea, cardamom, and coffee. Have a fragrant trek in the blissful jungles of Periyar- the adobe of Indian White tiger.
Periyar at a Glance:

Area: 925 sq. km (Core area: 305 sq. km)
Altitude: 1200 m to 1700 m above sea level (The highest peak is the 2,019 m (6,624 ft) high- Kottamalai)
State: Kerala
Location: Middle of Cardamom Hills of South India
Temperature range: 21°C to 24°C
Annual Rainfall: 250 mm
Best time to visit: October-February (Remains open whole year)

That was the top of India's tiger reserve and also delights for thrilling wildlife photography. Head here to capture adventure moments and adventure flicks.

Happy Adventure Journey to India!