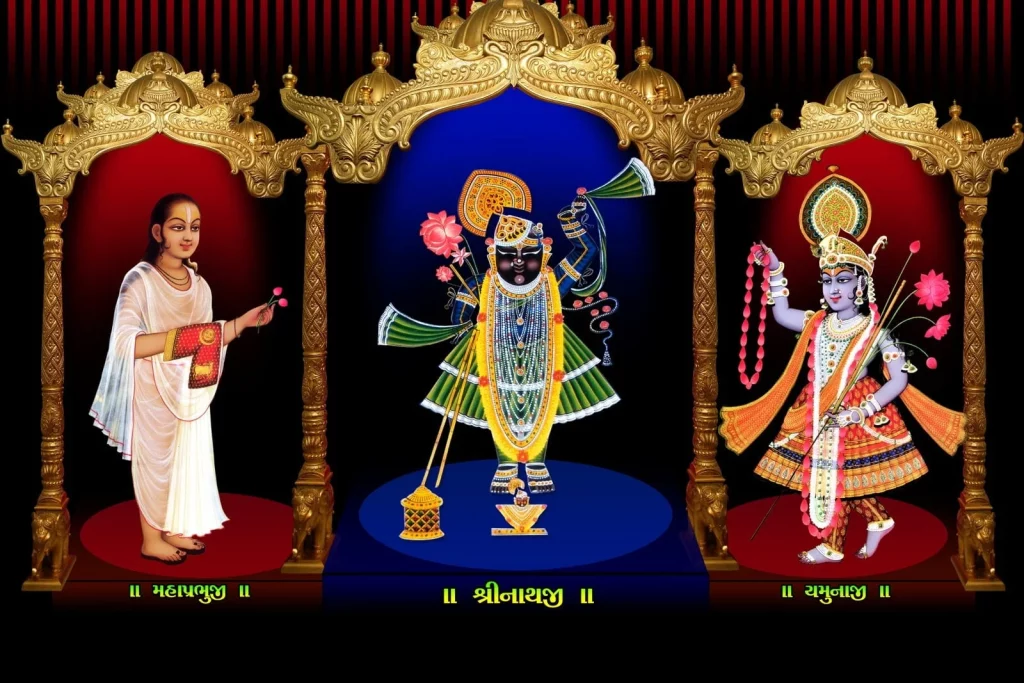 Shrinathji Temple is a famous temple of Lord Krishna and has the idol of Shrinathji (seven-year-old Krishna). This temple is situated on the banks of the Banas River in Nathdwara, Rajasthan. Further, the temple is popular among devotees because it holds a significant position in Hindu religion and mythology.
In this article, you will learn about the history, timings, and rituals of this temple. Further, you will also learn about the rules and the best time to visit this temple.
History of Shrinathji Temple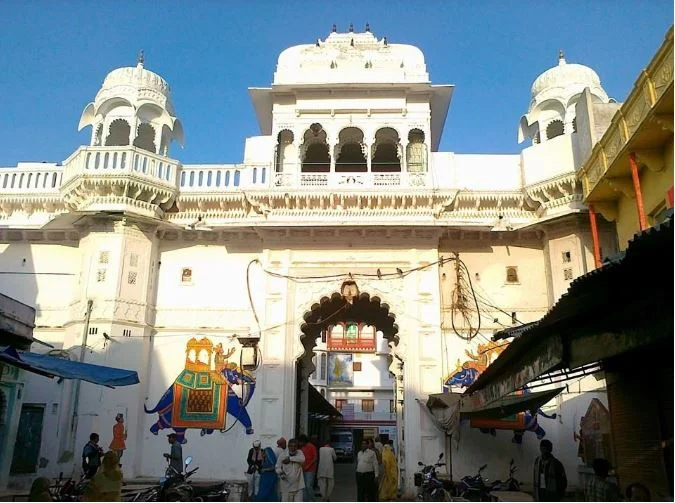 According to popular belief, the idol of Shrinathji manifested from Goverdhan mountain in the 12th century BC. To protect the idol from the Mughal emperor Aurangzeb, the priests decided to shift the idol to another place on a cart.
On the way, the wheels of the cart sunk deep into the mud. The priests interpreted that Lord Krishna did not want to move further. This led to the establishment of the the Temple in 1672.
Legend of Shrinathji Temple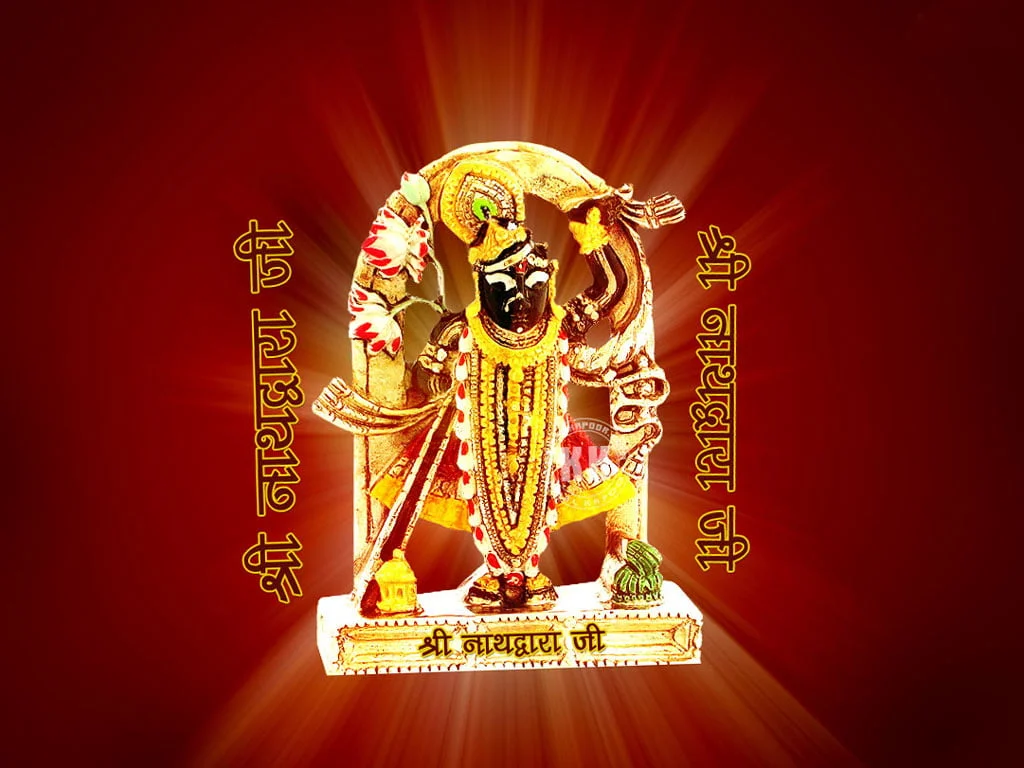 As per Hindu scriptures, Lord Krishna used to visit Mewar to meet a beautiful princess called Ajab Kunwari. She always insisted the Lord to stay with her. As a consequence, Krishna promised that he would permanently shift to Mewar one day. Devotees believe that Shrinathji Temple is a representation of that promise.
Best Time to Visit Shreenathji Temple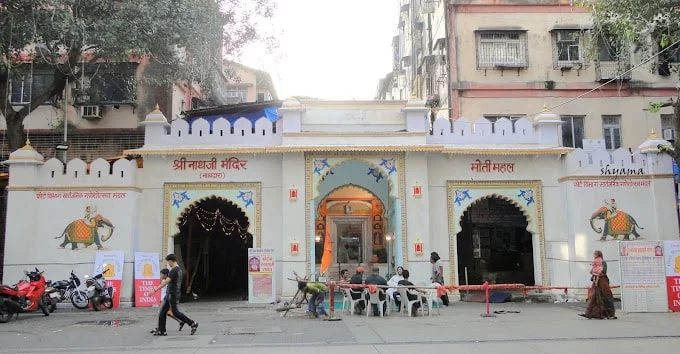 To avoid extreme heat, you should visit this Temple between September and February. These are the months of the winter season in Rajasthan. The temperature during this time will remain around 26 degrees.
Furthermore, travelers can also plan their visit during festivals like Janmashtami to witness the true spirit of this temple. However, you should avoid visiting Shreenathji Temple during the summer season as the temperature can go up to 42 degrees.
Online Booking at Shrinathji Temple
Travelers can book many services from Shrinathji Temple site, including:
Shri Samagri Seva Bhent online( donation of dry fruits, fruits, etc.)
Shriji Seva online(donation)
E-Manorath sea online
Cottage Booking online
Architecture of Shrinathji Temple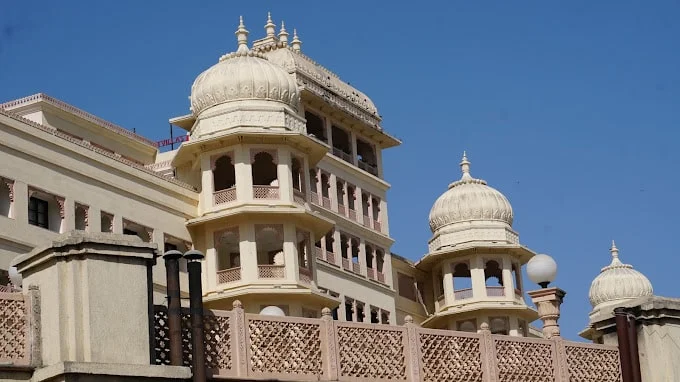 The architecture of this Temple is similar to the temple of Nanda Maharaj (Krishna's father). The architectural style resembles a haveli. Also, this temple has courtyards with service rooms and a main gate to enter the temple.
You can see a shikhara or kalasha at the crown of the temple. Also, the crown has seven flags, which are a representation of 7 houses of Pushti Marg. Apart from this, Temple has storerooms for flowers, milk, betels, and sweetmeats.
How to Reach Shrinathji Temple?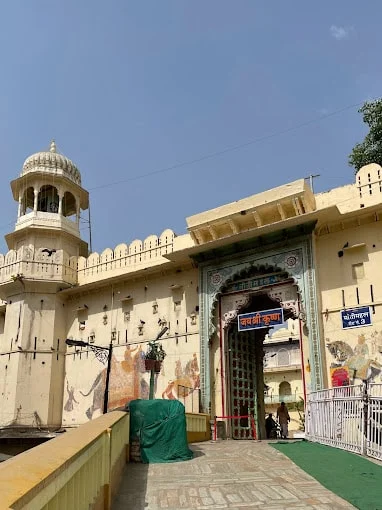 By Air: You can reach Udaipur Airport, which is about 60 kilometers away from Nathdwara. From there, a traveler can take a bus or a taxi to reach the Temple. Taxi charges from the airport to Nathdwara city is Rs. 700.
By Train: If you wish to travel by train, you must reach Udaipur City Railway Station. It is situated 50 kilometers away from Nathdwara. Apart from this, you can also reach the Mavli Junction. Then, hire a taxi or take a bus to Nathdwara.
By Road: A tourist can book many Volvo buses to reach Nathdwara from cities like Jaipur, Ahmedabad, Mumbai, and Delhi. You can also opt to travel by cab or a personal vehicle.
Darshan timings and Entry Fees
Temple timings in Shrinathji Temple are from 5 AM to 12:30 PM in the morning. In the evening, darshan timings are from 4 PM to 8:30 PM.
Table representing darshan timings:
Day
Darshan Timings


Monday
5 AM to 12:30 PM
4 PM to 8:30 PM


Tuesday
5 AM to 12:30 PM
4 PM to 8:30 PM


Wednesday
5 AM to 12:30 PM
4 PM to 8:30 PM


Thursday
5 AM to 12:30 PM
4 PM to 8:30 PM


Friday
5 AM to 12:30 PM
4 PM to 8:30 PM


Saturday
5 AM to 12:30 PM
4 PM to 8:30 PM


Sunday
5 AM to 12:30 PM
4 PM to 8:30 PM
Table representing aarti timings:
| | |
| --- | --- |
| Aarti | Timings |
| Mangla Aarti | 5:45 am to 6:30 am |
| Shringar Aarti | 7:30 am to 8:00 am |
| Gwal Aarti | 9:05 am to 9:20 am |
| Rajbhog Aarti | 11:15 am to 11:55 am |
| Uthapan Aarti | 3:35 pm to 3:50 pm |
| Aarti | 4:30 pm to 5:55 pm |
Entry Fees at Shrinathji Temple
| | |
| --- | --- |
| General Darshan | Free |
| Registration fee for online booking(one time) | Rs. 50 for mukh darshan and Rs. 350 for sanmukh darshan |
Rituals in Shrinathji Temple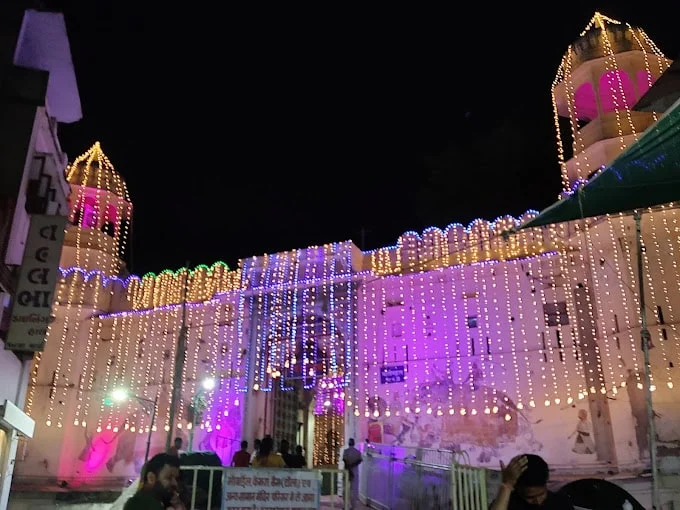 Following rituals are performed in Shrinathji Temple:
Mangla Darshan: Mangla Darshan is the first darshan and aarti of Lord Shrinath for the day. Visitors can participate in the aarti.
Shringar Darshan: Shrinathji Temple is famous for shringar(dressing-up) of Lord Shrinath. In this darshan, you can see the lord in a beautiful dress.
Gval Darshan: This is the time when Shrinathji wanders in the field with his cows. In Gval Darshan, devotees offer sweets and tulsi leaves to the Lord.
Rajbhog Darshan: Devotees offer food to Shrinathji in Rajbhog Darshan. This is the mealtime of the Lord.
Utthapan Darshan: Utthapan darshan is conducted after Lord Shrinathji wakes up from his dreams in the afternoon.
Sandhya Aarti Darshan: In this darshan, Shreenathji returns to the temple with his cows.
Festivals in Shrinathji Temple
Holi: A lot of devotees gather in the Shrinathji temple to celebrate Holi. You can see them playing with Gulal and Abil (pink and white powders).
Diwali: Devotees beautifully decorate the Shrinathji temple on Diwali. You can also see priests performing special poojas at this festival.
Annakutta: Annakutta festival is celebrated one day after Diwali. The priests offer 2500 kilograms of rice to Shrinathji. In the evening, the devotees can eat rice prasad.
Janmasthmi: Lord Krishna was born on Janmasthmi. Shrinathji temple is a must-visit destination on Janmasthmi. You will be able to see a 21-gun salute for Lord Krishna.
Rules of Shrinathji Temple
Travellers should bathe before entering the temple and wear clean clothes in the temple.
Visitors should carry themselves according to the customs of the temple.
Travellers are not allowed to smoke or drink in the temple.
You should refrain from chewing tobacco, gutka, or spitting inside the temple.
Women can not wear mini skirts, shorts, sleeveless tops, and crop tops inside the temple.
Women should prefer wearing traditional clothes like a saree.
Men can wear dhoti, pajamas, and trousers with a shirt/upper cloth.
You can not take a mobile phone, bag, or camera inside the temple.
Tips to Visit Shrinathji Temple
Travellers should avoid visiting the temple on weekends.
If you want to avoid crowded places, do not visit during festivals like Janmashtami and Holi. The whole temple is crowded with devotees on festivals.
You may need to stand in long queues for the darshan of Shrinathji.
If you want to visit the temple during festivals, book hotels, flights, etc., in advance.
You should plan your stay for 2-3 days to explore this temple.
You can find lockers outside the temples to store your mobile phones, laptops, etc.
You may contact the priests of Shrinathji temple for a special darshan/VIP darshan. You will not have to stand in long queues if you opt for a special darshan.
You can park your vehicle in the parking lot of the temple for a nominal fee.
Don't forget to taste the Rabdi of Nathdwara streets.
Accommodations Near Shrinathji Temple
There are several options for travelers to stay in Nathdwara. These include hotels, cottages, and Dharamshalas.
Hotels to stay in Nathdwara are:
The Sky Imperial Hotel
The Sky Comfort Hotel
Hotel Gokul Inn
Vrinda Hotel
Radhika Hotel
Hotel Gopi Kunj
Here is a list of Dharamshalas managed by Nathdwara Temple Board:
| | | |
| --- | --- | --- |
| Dharamshala | Location | Contact number |
| Dehliwali Dharamshala | Dehli Bazar | 9819109459 |
| Delwarawali Dharamshala | Manek Chowk | 9819109459 |
| Daya Bhawan Dharamshala | Naya Bazar | 9819109459 |
| Keshav Bhawan Dharamshala | Naya Bazar | 9819109459 |
| Laxmi Nivas Dharamshala | Naya Bazar | 9819109459 |
| Chhoti Dharamshala | Choupati Bazar | 9819109459 |
| Sakhi Bai Dharamshala | Lambi Sarak, opp. Govind Bhawan | 9819109459 |
| Bisanima Dharamshala | Govind Chowk | 9784231946 |
Places to Visit Near Shrinathji Temple Nathdwara
Eklingji Temple, Udaipur
Sanwariya Seth Temple, Chittorgarh
Haldighati
Charbhuja Temple near Nathdwara
Ranakpur Jain Temple, Sadri
Kumbalgarh Fort in Kumbalgarh
Mount Abu
Rana Pratap Memorial in Haldighati
Dwarkadish Temple in Kankroli
Chhitorgarh Fort, Chhitorgarh
What Can I Buy in Nathdwara?
You can buy the following things in Nathdwara:
Handicrafts
Antiques
Pichwai Paintings
Leheria Sarees
Imitation Jewellery
Prasad of Shrinathji like Bundi Ladoo, Mohanthal, etc.
What to Eat at Nathdwara?
You should eat the Prasad of Shrinathji temple and the street food of Nathdwara.
Shrinathji temple Prasad: The Sagar Prasad of the temple is a must-try food for visitors. Sagar Prasad is made from ghee, almonds, and sugar.
Street food in Nathdwara: Travellers can try Thandai, Rabdi, Poha, Dhokla, Masala Milk, Sabudana Vada, etc., at Nathdwara.
Conclusion
In this article, we learned about the history and architecture of Shrinathji Temple, Nathdwara. Shreenath ji temple is one of the greatest Hindu temples of India which you must visit during your next trip to Rajasthan. Further, we explored various ways of reaching this temple. Apart from this, we also learned about the festivals celebrated, darshan timings, and rituals performed in this temple.
If you're planning to visit Shreenath Ji temple in the near future then, you can book our Shrinathji Temple Nathdwara Tour Package for a seamless travel experience.
FAQ
Q: What is the full name of Shrinathji?
The full name of Shrinathji is Shree Goverdhan Nath Ji.
Q: Who built the Shrinathji Temple of Nathdwara?
Goswami Damodar Das Bairagi Ji built the Shrinathji Temple in 1672.
Q: What is the distance between Udaipur and Nathdwara?
The distance between Udaipur and Nathdwara is 46.1 kilometers via NH 58.
Q: What is unique about Shrinathji Temple?
Shrinathji temple is known for its legends of Lord Krishna.
Q: What is the popular item of Nathdwara?
Sweets are a popular item of Nathdwara.
Q: Who is the chairman of the Shrinathji Temple Board?
Goswami Vishal Nathdwara is the chairman of the Shrinathji Board.
Q: Who found the idol of Shrinathji?
Vallabhacharya found the idol of Shrinathji at Mathura.
Q: What is the address of Shrinathji temple?
The address of Shrinathji Temple is NH8, Shiv Nagar, Nathdwara, Rajasthan, 313301.
Q: Is photography allowed inside the Shrinathji temple?
No, photography is not allowed inside the Shrinathji Temple. Moreover, cameras are prohibited inside the temple.
Q: Can non-Hindus visit the Shrinathji Temple?
Yes, non-Hindus can visit the Shrinathji Temple. The temple welcomes people of all religions.
Q: What is the significance of the Annakut Utsav celebrated in Shrinathji Temple?
Annakut Utsav is a significant festival in Shrinathji as it celebrates the day when Lord Krishna lifted the whole Goverdhan mountain on his little finger.
Q: What is the Jhulanotsav, and when is it celebrated?
The Jhulanotsav is a tribute to the games played by Lord Krishna with Radha and Gopis in Vrindavan. This festival is celebrated in July-August.